New orb display at Minster
A contemporary metal orb has been installed at York Minster to display sections of glass from the Great East Window during its restoration.
It's the biggest expanse of medieval stained glass in Britain, maybe even the world and it's been described as the English equivalent of the Sistine Chapel. But York Minster's Great East Window is currently covered up for a major restoration project.
That work means some of the large panels of glass that normally tower high over visitors have been brought down to ground level giving visitors a unique chance to see them close up. The finishing touches are being made to a new exhibition and James Webster's been for a preview.
The Acting Dean of York admits at first he took some persuading that putting a giant metal orb on the floor of the Minster was a good idea, but now Rev Canon Glyn Webster says he is noticing details in the glasswork which he has never seen before.
Advertisement
£20m is being spent on renovating York Minster's Great East Window which has provided the opportunity to bring some of the panels to ground level for a new display within a giant metal orb. The Heritage Lottery Fund has given a £10.5m grant and spokesperson Fiona Spiers says it's a great project.
The Chamberlain of York Minster says he is thrilled to have a selection of panels from the building's Great East Window at ground level for a new display. Richard Shephard has been showing our reporter James Webster some of the intricate details in the glasswork.
The designer responsible for putting a contemporary metal orb inside York Minster to display a selection of newly restored glass panels from the Great East Window says he deliberately didn't want anything which would just blend in with the gothic architecture.
Paul Lee says he was determined to install a structure which would create a sense of intrigue and have a jewel-like quality.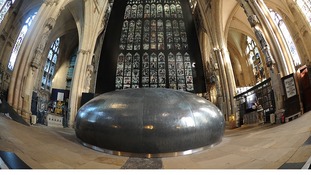 A new metal orb is to go on display at York Minster showcasing the £20m restoration of the glass which makes up the Great East Window.
Read the full story
Advertisement
Back to top