Job fears at Rotherham Hospital
Union leaders have raised fears about suspected number of job losses because of £50 million budget cuts over the next 3 years.
UNISON is calling on hospital managers to reveal more about their plans for jobs and services at Rotherham Hospital. Last week it was announced that 750 jobs would go at the hospital – including nursing staff and administrators such as medical secretaries.
Last week's shocking revelations were incredibly worrying for people in Rotherham. Hospital managers are now prepared to talk about the scale of the job cuts, and we understand that the hospital's board has already agreed to begin formal consultation on redundancies from December 1st. They have many questions to answer. They must come clean about the timescales involved and what exactly they are consulting on – is the whole workforce being put at risk of redundancy or only sections of it and which sections?
The people of Rotherham will also want to know what cuts on this scale will mean for local services. Everything is under review at the moment it sems. Health services are too important and jobs too hard to come by at the moment - patients and staff have the right to know the truth."
– Pam Johnson, UNISON head of health in Yorkshire and Humberside
As many as 750 jobs are to be axed from the Rotherham's local health service to meet Government spending targets.
Rotherham NHS Trust says it needs a "smaller hospital, with substantially fewer beds", and a smaller workforce to save £50 million over the next four years.
Advertisement
In a report presented to the board by its chief executive it says
"compulsory redundancies are inevitable"
and there is a need for a smaller hospital with substantially fewer beds.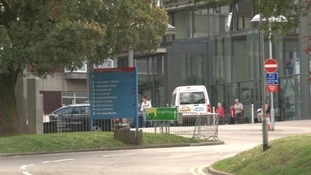 Unions today said plans to cut the budget at Rotherham NHS Trust could mean the loss of 750 jobs.
Read the full story
"The NHS continues to face tough times financially and the trust therefore needs to identify ways to continue to improve our services for patients whilst being even more efficient. Our staff are our biggest asset, but also our biggest cost and we are exploring how to best manage and substantially reduce our costs whilst ensuring we continue to provide quality healthcare and fulfil our commitment to the people of Rotherham to build a healthier future together."
– Brian James, Trust Chief Executive
Advertisement
The union warned that Rotherham will not be the last hospital to announce cuts as many are struggling to cope with the impact of funding cuts, rising patient numbers and the legacy of Private Finance Initiative debt.
"This is terrible news for patients and for the local community who will lose vital health services. Cutting nursing staff at a time when we have an ageing population and have already lost nearly 6,000 nurses since the ConDems came to power should worry everyone who relies on the NHS in Rotherham. This announcement will be a devastating blow for families in the run-up to Christmas. The jobs market is incredibly tough. People will struggle to find other work.
– Pam Johnson, Union official
Rotherham NHS Foundation Trust in South Yorkshire said it faced a "very challenging financial future" The Trust declined to put a figure on possible job losses, but Unison said it could mean 750 cuts among nursing staff, clerical workers and medical secretaries.
Back to top