Remembrance Day
Events are happening across the Calendar region to mark Remembrance Day
School children in Barnsley paid their own tributes to the fallen today with a special ceremony for them at the town's war memorial. It's the fourth year the event has been held, and children made their own wreaths to lay on the monument outside Barnsley town hall.
Advertisement
Two war memorials in West Yorkshire have been rededicated to carry the names of two soldiers from the Yorkshire Regiment who died in Afghanistan earlier this year. Sarah Clark reports.
The sacrifice of foreign forces based in this country in World War Two has been remembered in North Yorkshire. At Elvington near York, villagers turned out for an Armistice Day parade and service to remember 1,200 French airmen killed while based at the airfield there. Michael Billington reports.
A singer from Chesterfield has released a single to support the armed forces. All the profits from Laura Ashby's track "Soldier's Wife" will go to the Help For Heroes charity.
Service personnel are being given free admission to Market Rasen Racecourse today for its jump racing fixture and family day. Collections will be made during the race meeting to raise money for the Royal British Legion.
We traditionally race on Remembrance Sunday at Market Rasen Racecourse and, as this year the day falls on the 11th of the month, we have decided to make it an extra special occasion for our armed services. We are delighted to offer free admission to all servicemen and women - and we know that our visitors will donate generously to 'Treats for our Troops', especially with Christmas not being too long now and many service personnel being overseas and away from their families."
– Pip Kirkby, General Manager
Advertisement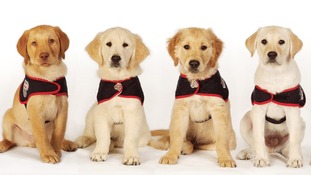 A campaign is launched to fund the training of assistance dogs for injured men and women of the armed forces and emergency services.
Read the full story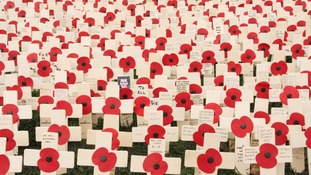 A war veteran has spoken of his battle for recognition of the sacrifice made by those who served in Japan after the atomic bomb was dropped on Hiroshima.
Eighty three year old John Watkins, who's from Boston in Lincolnshire, wants a medal to be awarded to former British troops, as it has been in Australia.
On Remembrance Sunday millions will pause to reflect on the countless lives lost in wars over the past century.
For Margaret Charlesworth the pain of her loss is only too fresh in her mind. Her son Anthony from the Yorkshire Regiment was one of six soldiers killed by a bomb blast in Afghanistan earlier this year. She says she still can't comprehend that he's gone.
Load more updates
Back to top