Potholes blight region's roads
Yorkshire and the Humber has been named as the worst place in the country for potholes.
Potholes are worse in much of our region than anywhere else according to a new survey. The AA says its drivers are more worried about the condition of roads in Yorkshire and Northern Lincolnshire than anywhere else. James Webster reports:
National
The president of the Automobile Association, Edmund King, said "about a third" of AA members had made insurance claims in the past two years as a result of cars being damaged by potholes.
Advertisement
John Topping from Ripon recently ended up with a £150 bill for the damage caused to his car by potholes. He wants councils to compensate motorists whose cars need repairs and also wants local authorities to spend more money on evening up the road surface before problems are caused.
National
Tony Ball, chairman of Transport for the Local Government Association said too much of the budget for resurfacing roads is spent on filling in holes, and not enough on resurfacing.
Speaking to Daybreak he said, nationally there is a £3 billion budget to fix potholes, but that too much of the money is spent on "reactive, as opposed to proactive."
Mr Ball added that local councils need more upfront funding to fix the solution.
National
A report has found that £10.5 billion is needed to fix the potholes in England and Wales.
Motorists told Daybreak that councils should fix the roads because they are "all over."
One woman said: "I think it's disgusting and I think it's really damaging my car. It's about time the council did something with all the road tax, council tax and all the rest that we pay them."
National
Constantly mending damaged roads, rather than dealing with potholes in a "planned and cost-effective way" is "nonsensical and costly to the country", AIA chairman Alan Mackenzie said.
The Department for Transport's potholes review was a welcome initiative and concluded that 'prevention is better than cure'.

When you add up all the costs incurred by not following this advice, it's hard to understand why central Government cannot find a way to invest in this much-needed work and save on higher costs in the future.
– Alan Mackenzie, Asphalt Industry Alliance chairman
Advertisement
A mechanic from Barkers Garage in Ripon says they are regularly called on to fix the damage caused to vehicles by potholes. James Dickinson has to repair bent wheel hubs and damaged suspension springs.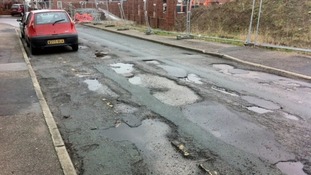 Roads in our region are some of the worst in the country for potholes. 40 per cent have rated the roads in Yorkshire as poor or terrible.
Read the full story
Back to top