Injured National jockey rides again
Grand National winning jockey Ryan Mania has been declared fit enough to ride again after being injured at Hexham race meeting.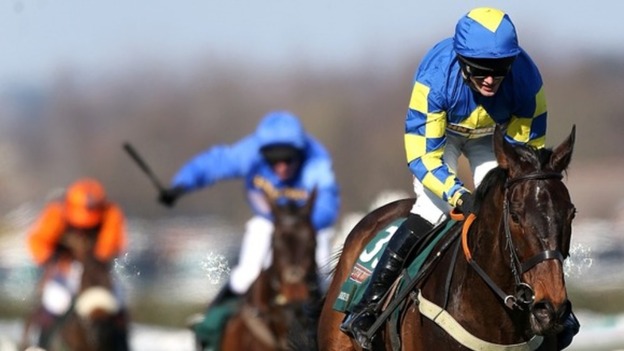 Grand National winner Aurora's Encore, trained on the moors high above Bingley by Sue Smith, will try to add the Scottish Grand National to his wins at Ayr tomorrow.
If he does he would be the first horse to do the double since Red Rum back in the 1970s. He has got decent form in the race - he finished second in it last year. And he won't be an outsider like he was at Aintree, where he won at 66-1.
The Racing Post has just tweeted that Ryan Mania can ride again.
The paper tweeted: "Grand National-winning jockey Ryan Mania has been cleared to return to race-riding by the BHA. He is due to partner Auroras Encore at Ayr."
It has been re-tweeted by Mania himself.
Advertisement
National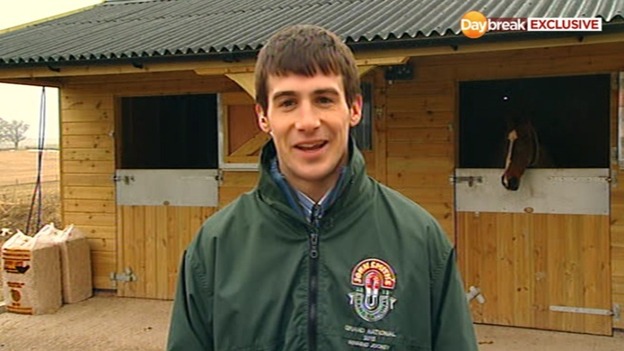 Grand National winning jockey Ryan Mania has admitted that his fall at Hexham "felt really bad" as he described being then hit by a horse.
He told Daybreak: "When it first happened it felt really bad, I was a bit concerned. But after lying for a couple of minutes, feeling came back and I thought it's maybe not as bad as I first thought."
Mania, who nearly quit the sport over a lack of opportunities, added: "I was aware that one of them [the horses] hit me. You do hear them fly past your head."
National
After being discharged from hospital Grand National winning jockey Ryan Mania said he was, "feeling a bit tired and a bit sore, but other than that I'm doing OK. Nothing serious."
He also described what he could remember from his fall in the Hexham on Sunday:
Asked if he should have been riding so soon after his National win Mania said: "it's my job to ride"
Grand National champion has tweeted he will be discharged from hospital today.
He said: "Delighted to be getting out today. Looking forward to getting home to see friends & family. Would also love to see GN2013 replay."
National
Grand National winning rider Ryan Mania's agent Bruce Jeffrey says the jockey could still be released from hospital today.
Grand national winning jockey ryan mania still at hospital awaiting MRI scan, still hopeful of being released from hospital later today.
The announcement came in spite of doctors saying he will remain in for another night as a precautionary measure.
Advertisement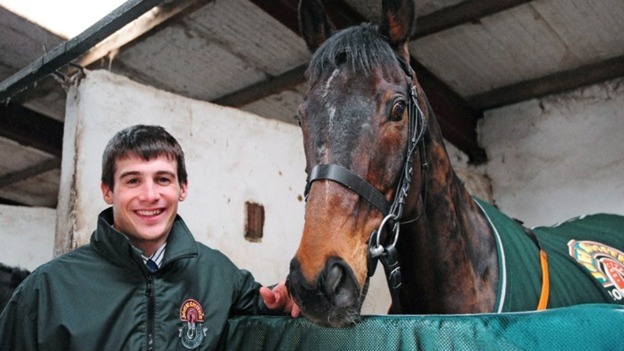 A hospital in Newcastle says Ryan Mania is comfortable and in good spirits but he will remain in for another night as precautionary measure.
He is still to have his MRI but it too is being done as a precaution.
Mania looks to have escaped serious injury from his fall at Hexham yesterday.
After Yorkshire-trained Auroras Encore's win in the Grand National on Saturday we want your views on the race. Organisers made safety changes to the fences this year and every horse and jockey returned safely. So, is the race cruel or not? Visit our Facebook page to vote and leave your comments.
National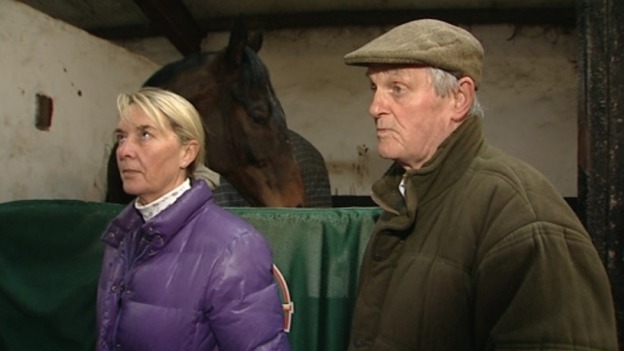 Sue Smith, who trains Grand National winner Auroras Encore, says jockey Ryan Mania is going to recover from the injury he sustained in a nasty fall at Hexham.
She told Daybreak: "It wasn't so good there for an hour but… thankfully it looks as though all is going to be well."
She added: "[It] looked to be a very unfortunate fall, it was another horse that's trodden on him."
Husband Harvey said: "These lads fall every other day so he'll soon bounce back.
"It's part of the job."
Mania guided outsider Auroras Encore to a shock victory at Aintree racecourse on Saturday.
National
Grand National winning rider Ryan Mania's agent Bruce Jeffrey has tweeted the jockey's progress, after Mania suffered a heavy fall during his ride at Hexham.
News regarding national hunt jockey ryan mania, he will detained overnight for precautionary mri scan tomorrow morning. Will update tomorrow
Ryan and his family appreciate all the kind wishes and would like to thank you all very much.
Load more updates
Back to top