Police horse Bud
A West Yorkshire police horse, who was punched by a football fan after violence broke out at the Newcastle versus Sunderland match, is back home.
A fan who was filmed punching a West Yorkshire police horse after a football match has apologised.
Hundreds of fans caused trouble for the police after Sunderland beat Newcastle 3-0 at the weekend. But today Barry Rogerson said that he's actually an animal lover, and that he has let his family down.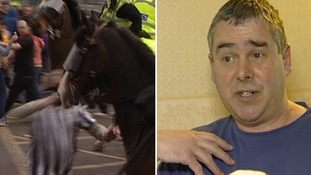 A football fan who was filmed attempting to punch a police horse has told ITV News that he is ashamed of his actions.
Read the full story
Advertisement
National
The man seen punching a police horse during the football violence in Newcastle at the weekend has insisted he is an animal lover.
Barry Rogerson, 45, from Morpeth in Northumberland, was caught on camera lashing out at a police horse before he was hauled to the ground by officers.
Read: Police horse 'fine' after football fan punch attempt
Speaking to newspapers today, the unemployed factory worker accepted he acted stupidly, but said the horse startled him and made him panic.
He told the Daily Mirror: "I reacted stupidly. I did not go out to attack a horse.
"I love animals - I've got three dogs, a fish pond out the back and I feed foxes across the road."
He said the pictures made the incident look worse than it was but that he had no excuse.
West Yorkshire Police have tweeted that Police Horse Bud has received dozens of messages of support in the post. Bud was attacked in football riots in Newcastle at the weekend.
A West Yorkshire Police horse who was attacked in football riots at the weekend is back recovering in his paddock today. This was Bud at home in Wakefield this morning - after his ordeal in Newcastle yesterday
He was controlling crowds at the Newcastle versus Sunderland match when a fan apparently tried to punch him. His alleged attacker was arrested and bailed. Bud's handlers say he's now doing well.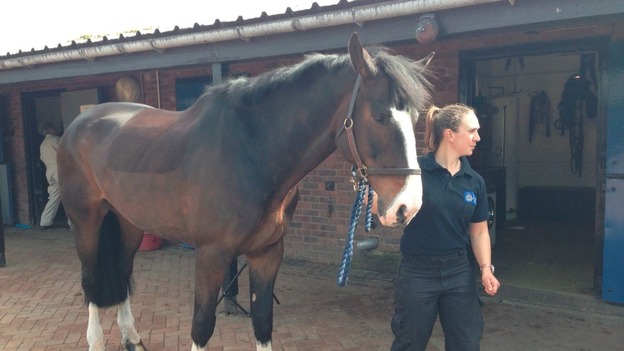 Advertisement
Back to top