Food bank demand rises
The Trussell Trust charity says over 10,000 people in Yorkshire and Northern Lincolnshire have received at least three days' emergency food handouts during the last 12 months - that's triple the amount than in the previous year.
Central
Chris Mould, director of the Trussell Trust has said food banks are help for those who have no other option.
A leading charity says spiralling living costs, a lack of job security and benefit changes mean more people than ever in our region are struggling to feed themselves.
The number of people using food banks has tripled in the past year in Yorkshire and North Lincolnshire. Many of those in need are working but cannot afford to feed their families.
Advertisement
Tyne Tees
The Prime Minister David Cameron has faced questions over the rise in demand for emergency food and food banks.
The question came as part of today's Prime Minister's Questions in the House of Commons.
Over 10 thousand people across our region can't afford to buy food. Startling figures out today show that the number of people using foodbanks is higher than ever and there are fears more families will be pushed into poverty in the coming months. Kate Walby reports.
Asked whether David Cameron was concerned about the massive increase in people using foodbanks under his Government, the Prime Minister's official spokesman said:
Recognising that these are tough economic times is why the Government has been taking the action it is in a number of areas to help families, including through measures around fuel duty and council tax.
– David Cameron
The Trussell Trust says the number of people turning to them for help was a "wake-up call to the nation". The charity claims the impact of welfare reforms that came into force this month has already sparked an increase in numbers passing through their doors.
Of those helped over the last year 126,889 were children and most recipients were working-age families
30% of people helped were referred as a result of benefit delays
15% because of benefit changes
Overall, the charity helped nearly 100,000 more people than it had anticipated
Source: The Trussell Trust
Advertisement
National
Oxfam's Director of UK Poverty, Chris Johnes, has warned that welfare reforms could tip even more people into food poverty:
These shocking figures show that a perfect storm of spiralling living costs, lack of decent, secure jobs and benefit changes are making it impossible for many people to feed themselves or their families.

It's clear there is a massive hole in the safety net when so many more people are being forced to rely on emergency food handouts.

We are worried this could be just the tip of the iceberg as changes to the welfare system already in the pipeline could rip apart the safety net with devastating consequences for those who rely on it.
– Chris Johnes, oxfam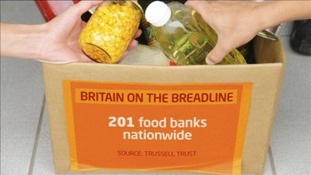 Back to top