Hepatitis C testing in Lincoln
Health experts are spending the day in Lincoln explaining the dangers of leaving hepatitis C undiagnosed and offering free tests for the disease.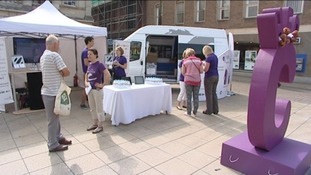 Health experts have spent the day in Lincoln testing people who could be at risk of having undiagnosed hepatitis C.
Read the full story
There is a health warning today about a disease many people don't even realise they have got. Experts have spent the day in Lincoln advising people about the dangers of leaving hepatitis C undiagnosed. It can cause severe liver problems and even prove fatal.
It is estimated almost 14,000 people in our region have the disease but more than half don't know they've got it. James Webster has the story.
Advertisement
Statistics show there are an estimated 14,000 people in our region who could have hepatitis C though experts say half aren't aware of it, and only 3% of those will be seeking treatment. In 2012 the Health Protection Agency published the following estimates of infected people:
Lincolnshire - 1453
North East Lincolnshire - 526
North Lincolnshire - 506
North Yorkshire - 1298
York - 725
Sheffield - 2083
Wakefield - 1145
Barnsley - 791
Rotherham - 932
Hull - 1691
Bradford - 2609
The most recent national estimates suggest that around 216,000 individuals are chronically infected with hepatitis C in the UK. It is passed through blood to blood contact. Factors that can cause an increased risk of the disease include:
Receiving a blood transfusion or organ transplant before 1991.
Current or past drug use including sharing of needles or snorting equipment.
Blood transfusions or medical procedures in a developing country.
Tattoos or piercings with unsterilised equipment.
Sharing razors or toothbrushes with someone infected.
Men who have sex with men are also at a higher risk of contracting the disease.
For further information you can visit the Hepatitis C Trust website or call its helpline on 0845 223 4424.
People out doing their shopping have been stopped all day in Lincoln and encouraged to have a quick mouth-swab test to see if they have undiagnosed hepatitis C. Helen Waby is one of those who volunteered to be screened and explained the simple process to us:
A former drug user who now lives in Lincolnshire says he beat hepatitis C after seeking treatment during his rehabilitation. Brian Burns contracted the disease after 23 years on drugs, 12 of those on heroin. Now he has been clear of drugs for five years and hepatitis C for three.
A nurse from Lincoln who specialises in dealing with patients with hepatitis C is helping out at today's roadshow in the city, testing people who want to find out if they have the disease. Karen Murray has been explaining what the process is and what the options are for anyone who tests positive.
Advertisement
Health experts have arrived in Lincoln on a mission to identify the thousands of people across England and Wales who do not realise they have hepatitis C. The disease, if left undiagnosed, can cause serious liver damage and even death. This new roadshow is offering quick tests for the condition.
Our World Hepatitis Day message is clear: if you think you have ever been at risk of hepatitis C, get tested. It can save your life. People are needlessly dying from this preventable and curable disease because they simply don't know they have it. What a waste of lives; and it's also a waste of money. If the health service can't see the human imperative of increasing testing, they should at least be able to understand the economic case.
– Charles Gore, Chief Executive of The Hepatitis C Trust
Back to top