Bruce gets parking ticket
The long-awaited Leeds Arena opened with a show by Bruce Springsteen last night. The excitement was tainted slightly after The Boss was given a parking ticket.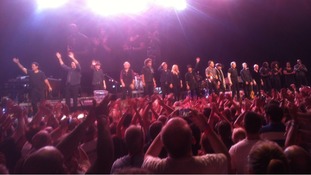 Of the 13,500 fans that packed out Leeds Arena for Bruce Springsteen's visit, a lucky few were picked out by Bruce and invited onstage.
Read the full story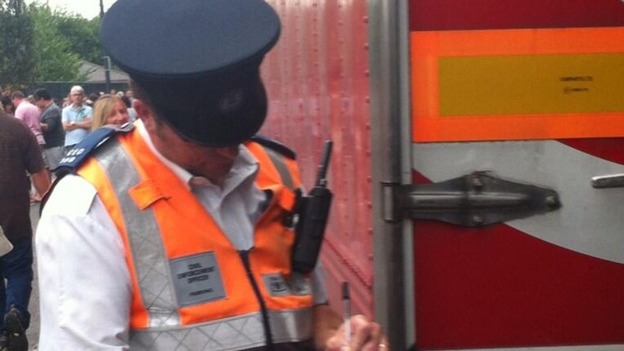 This is another fan's picture of a traffic warden - described as "over-zealous" by the leader of Leeds City Council.
He put a ticket on the vans carrying Bruce Springsteen's equipment after he performed at Leeds Arena last night.
The ticket has now been revoked.
Advertisement
As ITV Calendar cameras arrived at Leeds Arena, traffic wardens were ticketing vans being used to store equipment as workers de-rigged a VIP tent used for the Bruce Springsteen gig.
It came after a Leeds councillor branded a parking ticket given to The Boss' van - which was storing his equipment last night - as "stupid".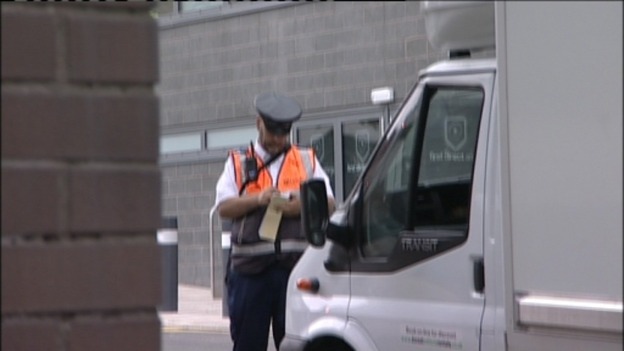 More vans connected to the Bruce Springsteen gig in Leeds last night are being issued with parking tickets - despite last night's outcry.
One of The Boss' equipment vans was given a ticket last night - a move already branded as "stupid" by council leader Keith Wakefield.
But as ITV Calendar cameras arrived today, there were more tickets being handed out.
This time they were being slapped on vans used as part of the de-rigging process.
Workers have been dismantling the VIP tent which was used for Springsteen and his supporting acts last night.
Traffic officers told us they were parked on double yellow lines - but workers said there was absolutely no-where else to put their vans.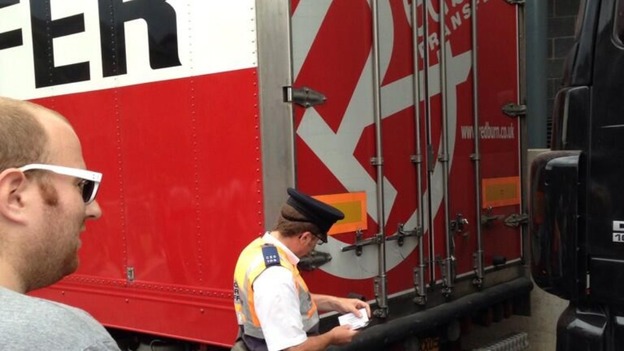 One Springsteen fan captured the moment an over-zealous traffic warden issued a ticket to one of the vans carrying Bruce Springsteen's equipment ahead of his gig at the Leeds Arena last night
The parking ticket did not stop fans - or Bruce - enjoying themselves. During his three-hour concert, The Boss said: "You could play anything in this hall and it would sound good."
12-year old Tadhg Collins from Guiseley was picked by Bruce to sing with him on stage - he said: "It was really scary. i think he just saw me because I was on my dad's shoulders. It felt really cool, but I was really nervous."
Advertisement
Bruce himself certainly wasn't put off Leeds after getting the parking ticket.
After last night's gig he told Leeds Arena bosses: "Leeds, you've got a great venue. I've really enjoyed it. A lovely place to play".
There are reports more vehicles connected to the Bruce Springsteen concert last night are being given parking tickets this morning.
The trucks are thought to belong to a hospitality firm.
Earlier Cllr Keith Wakefield, leader of Leeds City Council, said lorries delivering equipment were supposed to park off-site before being called nearer the arena.
Leeds City Council have released this statement after a traffic warden was spotted issuing a parking ticket to Bruce Springsteen's van as he opened the new Leeds Arena.
"We're investigating this urgently but clearly we're not going to ticket trucks that are legitimately there for gigs. When you prepare a city to open and host a huge, state-of-the-art new venue, you're bound to get the odd teething trouble. It was a massive operation to get Leeds ready for what has turned out to be an incredibly-successful arena opening night."
– Leeds City Council spokesman
Load more updates
Back to top