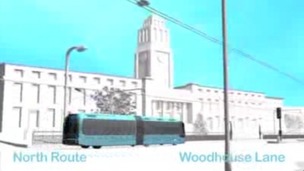 A drop-in session takes place today for people who want to know more about the trolleybus scheme coming to Leeds.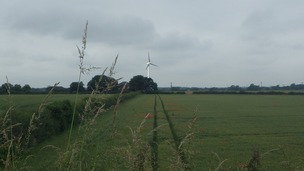 Villagers in York are protesting against plans for a new wind turbine in Upper Poppleton.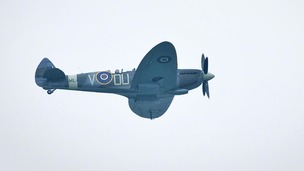 An operation to excavate dozens of British Spitfires buried in Burma during the Second World War is set to begin next year.
Live updates
New wet computer tested
Scientists show off new computer cooling system
Scientists in Leeds have helped to develop the new computer server unit, cooled by specially engineered fluid, which is the first of its kind in the world. Liquid has been used to keep electronic components cool before, but this is the first time a completely enclosed system has been developed.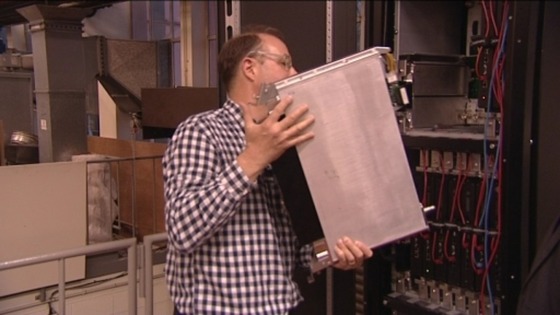 New wet computer tested
Scientists in Leeds test new 'wet computer' system
A new 'wet computer' is being tested by scientists at Leeds University. The system, designed and built by Iceotope in Rotherham, uses a specially engineered fluid to keep the electronics inside the computer server cool, rather than fans which are both noisy and costly to run.
Scientists hope the new system could slash the carbon footprint of internet data centres by dramatically reducing the amount of electricity they need to use. The system's designers estimate that power consumption for cooling could be cut by between 80% and 97%.
Advertisement
M1 upgrade
Extra lane for M1 in South Yorkshire
Plans to convert the hard shoulder of the M1 in to a traffic lane in South Yorkshire will be unveiled today. Work on the ten mile stretch will start later this year.
Digital picture of Leeds to go on display
A digital portrait of Leeds will be revealed later.
From Leeds United to Skyfall, the topics that get Leeds talking online have been captured for the first time in a huge picture, commissioned by EE and produced by world renowned digital artist Brendan Dawes to mark the arrival of 4g in the city.
It will be on display at Leeds City Museum from today.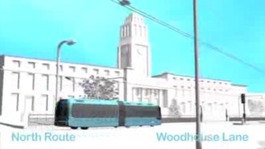 A drop-in session takes place today for people who want to know more about the trolleybus scheme coming to Leeds.
Read the full story
The Rail Minister Simon Burns has been in York to see the old and the new working in harmony at the city's rail sites. First he saw the start of work on the new rail operating centre.
Network Rail says it will allow them to deliver a modern, efficient service and retain rail jobs in the city. He also officially opened a new turntable which has been relocated from London with a little help from an old locomotive which Harry Potter fans will recognise as "Hogwarts Castle". **
Advertisement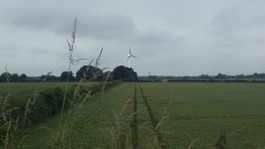 Villagers in York are protesting against plans for a new wind turbine in Upper Poppleton.
Read the full story
Council launch consultation on superfast broadband
Councils in northern Lincolnshire have started a public consultation on plans to bring superfast broadband to at least 90 per cent of homes and businesses in the area by 2015.
North East Lincolnshire Council (NELC) and North Lincolnshire Council are working together to deliver the project locally.
People can download a copy of the public consultation document here
Age UK search for Internet Champion
Age UK is searching for an internet champion over the age of 55. The Internet Champion 2013 will be someone over 55 whose life has been changed for the better by learning to use the internet.
The charity is hoping they will inspire the 713,000 people in Yorkshire and the Humber who have never been online.
31% of older people say they do not use the internet because they feel they have "no need for it"
24% of older people say they are "too old to use the internet"
We know first-hand that the internet can have a massively positive effect on the lives of older people. Despite five million people aged 65+ across the country having used the internet, we know that there as many still to be convinced about the benefits of the Web. Therefore we're looking for someone aged 55+ to be our Internet Champion who can demonstrate to their peers all that the internet can offer."
– David Mortimer, Head of Digital Inclusion at Age UK

Find out more here.
Leeds and Bradford to become super-connected cities
Leeds and Bradford are to become the UK's first super-connected cities outside of London
It is due to new mobile connectivity technology from Virgin Media Business.
In the first phase of the cities' plans to provide people with better connectivity 'small cell' technology – shoebox-sizeddevices that transform the mobile experience by boosting capacity - will go live from January 2013.
1.2 million people will have access to free public Wi-Fi that's three times the speed of 3G services, but this technology signals the beginning of a hyper-connected, digital future for citizens and local businesses.
Load more updates