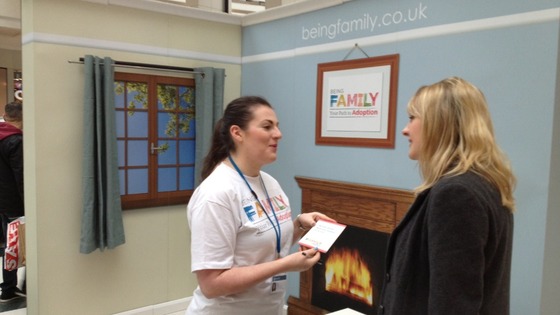 The region's first official Adoption Day was launched today - with an unusual campaign.
Yorkshire and the Humber's Adoption Consortium - supported by local councils, set up a pop-up "living room" at the White Rose Centre in Leeds, hoping to attract prospective parents.
The project is called "Being Family", and the aim is to find homes for around 850 children who need them in the area.
A 30 second TV advert will also run on ITV Yorkshire.
Nic Haughton, Manager at the Yorkshire and Humber Adoption Consortium, said: "The aim of the new Yorkshire and Humber Adoption Day is to encourage more potential adopters to come forward. Our unique advertising campaign is designed to maximise awareness of our Being Family initiative.
"We want to bust some of the myths about adoption, about age, marital status and income levels. We want people to think "maybe I could do that" rather than rule themselves out."
"We have over 850 children from the Yorkshire and Humber region waiting to be matched with approved adopters right now and the numbers are growing, Please do visit our 'pop-up' road shows."
Carrie Hughes, an adopter from Leeds, added: "We decided to adopt after I suffered several miscarriages.
"I can't put into words how rewarding adopting our child has been for us. You are giving a child a good home and a happy life with loving parents."
Find out more at www.beingfamily.co.uk or contact 0300 222 5934.