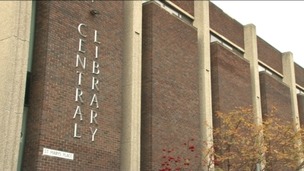 Barnsley Council says library services need modernising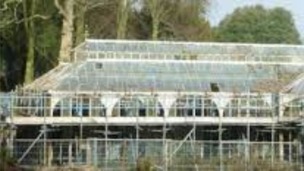 Finishing touches are being added to the £3.74m restoration project of Wentworth Castle's Victorian conservatory.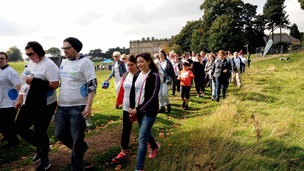 Hundreds of people have taken part in a walk in Barnsley to raise awareness of the impact of Alzheimer's Disease.
Live updates
Human chain library protest
The campaigner leading the fight against the closure of Barnsley library says closing the current building will make the service in the town far worse. David Gibson is organising a petition against the councils proposals. He gathered demonstrators in a human chain around the building earlier.
Human chain library protest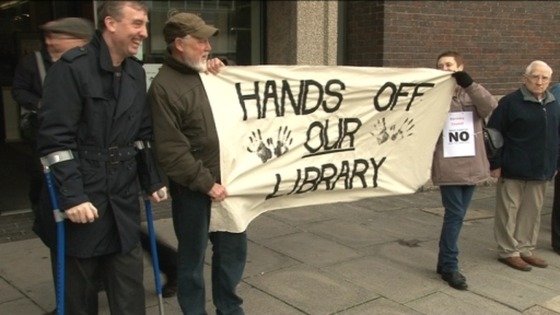 Hundreds of campaigners who want to save Barnsley Central Library from closure have formed a human chain around the building. They waved home-made banners chanting "Save Our Library". They have organised a petition against council plans to close the library to make way for a new sixth form college.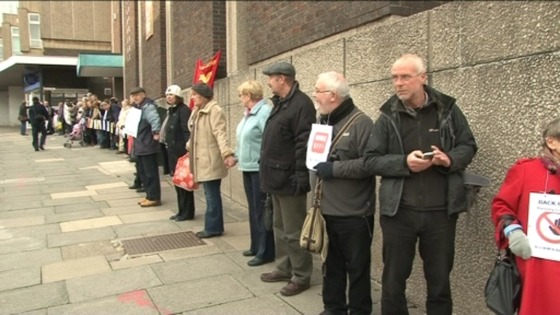 Advertisement
Human chain library protest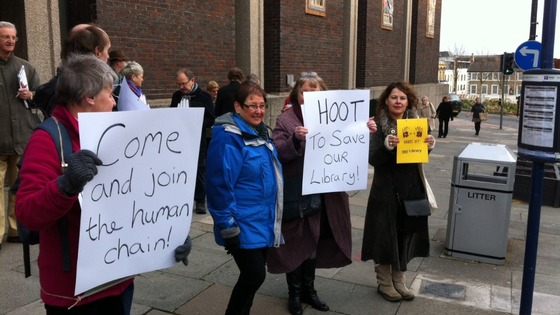 Human chain library protest
Campaigners angry at plans to demolish Barnsley's central library have been protesting in the town by forming a human chain around the building. The council have put forward plans to tear down the library to make way for a new sixth form college.
More than 2000 signatures have so far been collected against the plans. A four week consultation period is underway.
A Victorian greenhouse at Wentworth Castle near Barnsley has been restored to its former glory thanks to more than £3.5m of investment. It's now said to be one of South Yorkshire's most spectacular greenhouses.
Dickie statue reinstated
Dickie Bird says he is "thrilled and delighted" to see his statue back in Barnsley.
It had been removed to have a higher plinth built to discourage people hanging things off his outstretched arm.
Sculptor Graham Ibbeson says the statue was designed to be on a raised platform, but he doubts the six foot height boost will discourage any light hearted pranks.
Advertisement
Dickie statue reinstated
A ' Higher Up Dickie' unveiling at midday today in Barnsley will feature songs and celebrations.
The Bar-Steward Sons of Val Doonigan will sing their tune ' Lift Dickie Up Where He Belongs'. Dickie is doing the honours himself.
The statue will be placed higher, as revellers used Dickie's outstretched umpire's finger to hang rude items.
Dickie statue reinstated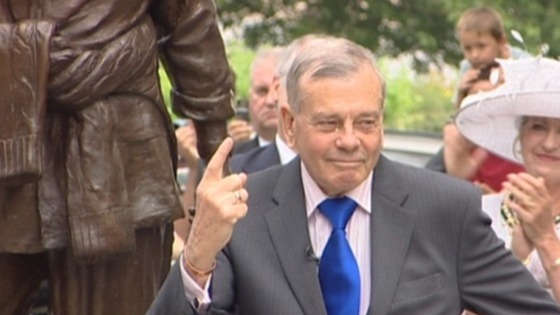 The statue of cricket legend Dickie Bird will be unveiled today in Barnsley - for a second time.
But this time, the sculpture will be elevated to stop people hanging rude items on his outstretched finger.
Mr Bird, who has been spotted removing the items himself, said he was not offended by this.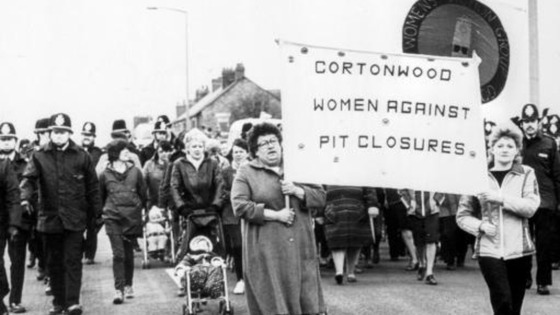 Experience Barnsley is looking for women who were involved in the Women Against Pit Closures movement for a new exhibition in the town.
The impact of the miners' strike of 1984/85 had a huge effect on the lives of many miners and their families in Barnsley and across the country. Next year is 30 years since the strike took place.
Many women were involved in campaigning on the picket lines, running soup kitchens and looking after their families too. The Women Against Pit Closures movement started in Barnsley, and spread all over the country.
Experience Barnsley are looking for women to share their experiences and memories, t-shirts, banners, pamphlets and photographs for a special exhibition to mark 30 years since the strike in 2014.
They are inviting women to come to the town hall today between 10am to 3pm to meet the team and talk to the Experience Barnsley Youth Panel about their experiences.
The exhibition will run alongside a whole programme of events and activities in 2014 in conjunction with National Coal Mining Museum, Barnsley Civic and the NUM to tell the story of the miners' strike.
Police are appealing for witnesses after a motorcyclist died following a collision in Barnsley. The incident happened in Boulder Bridge Lane, Carlton, near to the junction with Shaw Lane, at about 12.50pm on Wednesday..
A 27-year-old man was riding an off-road blue and black Yamaha motorbike when the bike left the road and was in collision with a wall.
The man, from Cudworth, Barnsley, was taken to hospital, where he later died
Load more updates
Back to top