Five people were treated for smoke inhalation after a blaze at a house in beverley early this morning.
Three people had escaped the blaze at the property in Newton Drive by jumping from a first floor window. Two others hescaped by using a ladder.
All five adults a 48-year-old man, 49-year-old woman, 24-year-old man, and two 20-year-old women were treated for smoke inhalation, four of them at Hull Royal Infirmary. The 49-year-old woman was also treated for a suspected broken ankle.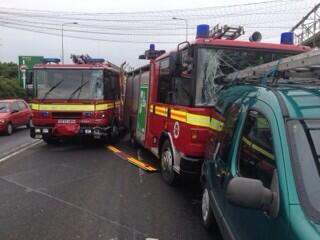 Advertisement
The family of a baby boy from Beverley in East Yorkshire never thought they would celebrate his first birthday.
Ruben Weber-Jackson was born with a hole in his heart, but after two lots of open heart surgery doctors have been able fix the hole - with tissue from a cow's heart.
James Webster reports:
A baby boy from Beverley has now passed his first birthday after doctors mended a hole in his heart with tissue from a cow.
Ruben Weber-Jackson's parents thought he might not survive after the heart defect was found shortly after he was born.
He needed two open-heart operations and now his mum is relieved that he is behaving like any other child his age:
Police in Hull are searching for a man who failed to appear at court in January.
45-year-old Leonard Haddlesey originally from Beverley was due to appear at Hull Crown Court back in January 2014, but failed to turn up.
Mr Haddlesey is now wanted on a 'Fail to Appear Warrant' issued by Hull Crown Court.
Officers believe he could be living locally still, possibly in the Anlaby area or East Hull, but has done very well to evade capture up until now.
An investigation has started into the sudden death of a man in Beverley.
Police were called out to Trinity Lane last night where a 45-year-old man appeared to have been taken ill in the back of a van.
When the arrived the man had died and an investigation has started to establish what happened. Officers say they do not suspect anyone else was involved, but the cause of his death remains unexplained.
Advertisement
Family and friends of an East Yorkshire teenager have now raised hundreds of pounds in her honour.
Nineteen-year-old Emily Morfitt was killed in a crash on Mothers' Day.
Those closest to her have walked round Beverley to raise money for charity.
James Webster reports:
Family and friends of a teenager who was killed in a car crash on Mothers Day have now raised hundreds of pounds in her memory.
Emily Morfitt's vehicle left the road near Woodmansey back in March.
Her friends - who all shared her love of horse riding - organised a charity walk through Beverley yesterday.
They did a complete lap of the town and raised £850 for a horse sanctuary.
The family of a girl who died in a car crash in the early hours of Mother's Day, have spoken of their loss.
Emily Morfitt, 19, was killed when her blue Ford KA left the road near the Token Spire Business Park in Beverley and came to stop in an adjacent field. She was pronounced dead at the scene.
Emily's father, John Morfitt, said:
"Emily had turned 19 just nine days before this tragic accident. She left school early with three A Levels and started work in Brown's Department store in Beverley. Her dream however was to become a professional tattooist.
"On Saturday we went to sleep as a complete, loving family. We woke on Mothering Sunday to find that our precious angel had been taken from us. No words can describe our loss.
"We have lost one of life's good people. A truly kind human being who had everything to live for who had that rare ability to make people smile and who never held grudges.
"As a family we can only thank her for 19 fantastic years together. As I write this tears are streaming down my face. She did not deserve this. RIP Emily, the world has lost a fantastic person but heaven has a new bright shining star. "
Along with her father John, Emily has left behind her mother Joanne, a 15-year-old sister Abi, a brother Tommy who is 13, and her boyfriend Jak.
A driver has died following a crash in the early hours of this morning.
The accident happened at 4am on the A1174 Hull Road between Beverley and Woodmansey.
The victim's silver Ford Ka left the carriageway before coming to rest in a field close to Lakeminster Park.
They were pronounced dead at the scene.
Police are appealing for anyone with information to contact them.
Load more updates