Police are appealing for any information that could help them find a man who has been missing for four days.
28-year-old Justin English from Kirton near Boston has not been seen sinse 18th September. At that time, he was wearing a Tesco uniform but he may have changed since then. He may also be wearing a puffa jacket. He is described as 6'2", of thin build, with short mousey brown hair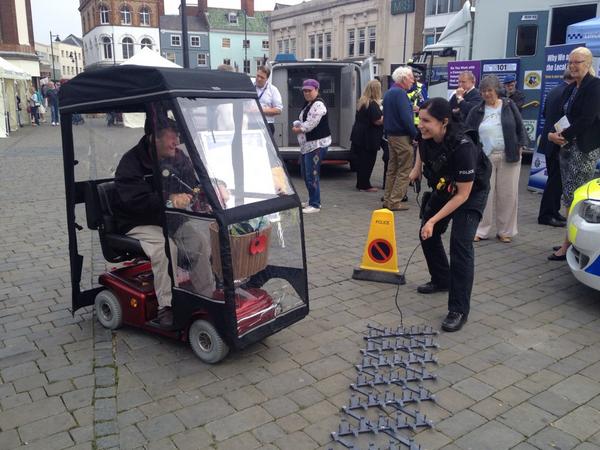 Advertisement
Former Tory minister Neil Hamilton has announced that he wants to contest the Boston and Skegness seat at next year's general election for UKIP.
Former Tory minister Neil Hamilton has announced that he wants to contest the Boston and Skegness seat at next year's general election for UKIP.
Mr Hamilton left politics when he lost his parliamentary seat in Cheshire in 1997 after becoming embroiled in a cash for questions scandal but joined UKIP three years ago and is now the party's deputy chairman.
He has now applied to be on the shortlist of UKIP's candidates for Boston and Skegness. The current Conservative MP Mark Simmonds recently announced he would not be seeking re-election.
Police are appealing for witnesses after a woman was attacked in Boston.
It happened around 4.25am this morning (Saturday 16, August) when the 27-year-old woman was assaulted by a man on Liquorpond Street in the town.
The woman was not hurt but was very distressed and shocked by the incident.
"We are still in the process of tracing and speaking to witnesses but at this point there is no detailed description of the offender. " said Detective Sergeant Matt Sharp
The Boston and Skegness MP Mark Simmonds says there's nothing suspicious about his resignation.
The Foreign Office Minister announced earlier that he will be standing down next year.
Speaking to BBC Radio 4's World At One, Mr Simmonds was asked if it would have made sense for him to remain as a Foreign Office minister, given the situations in Gaza and Iraq.
The Prime Minister understandably wanted to have a new minister coming in to replace me once I told him I wasn't intending to stand at the next election."
– Boston and Skegness MP Mark Simmonds
Shadow Foreign Office minister John Spellar said the resignation raises further questions about Mr Cameron's judgment and is a "another blow to a Government already reeling" from Lady Warsi's departure.
While No 10 said Mark Simmonds' departure was agreed at the reshuffle, it means the Foreign Office has lost two ministers in one week.
Read the full story ›
Advertisement
Boston and Skegness MP and Foreign Office Minister Mark Simmonds has resigned and will be standing down in 2015.
More to follow...
A 19-year-old man has died and two people are being treated in hospital for serious injuries after being in a crash in Boston.
It happened around 10.30am on Sunday August 10, when two cars were in collision at Main Road in Brothertoft.
The teenage driver of one car was taken by air ambulance to hospital but died a short time later. The couple in the other car were taken to Lincoln County Hospital.
Witnesses are urged to contact police.
Boston Borough Council has tonight given its backing to plans for a massive redevelopment in the town that includes 500 homes and a new stadium for Boston United.
BREAKING NEWS: Boston Borough Council are 'minded to grant' planning permission for #TheQuadrant by a majority of 10-2.
The Quadrant will be at Wyberton, on either side of the A16. the development which will also include a sports centre and retail park has been opposed by some local residents.
The plans will still be sent to the secretary of state for approval.
A ninety-four year old war veteran from Horncastle says he will go to prison before paying a parking fine which he got when he helped a friend get onto a bus.
George Chester got the ticket after stopping on a road in Boston. He says he was only gone from his vehicle for a few minutes - but was still handed a £35 penalty notice.
That is now risen to one hundred and five pounds but George says he simply will not pay. He also says they filled out the ticket incorrectly, and therefore it is invalid. Adam Fowler reports.
Load more updates