Sheffield boxer Kell Brook is celebrating becoming the IBF world welterweight champion after beating Shaun Porter in California. His win now sets up the potential for a domestic tussle against Amir Khan with both men eventually eyeing a bout against pound-for-pound king Floyd Mayweather who holds the WBC and WBA straps.
"I knew I was born to do this. I've come over here to his back yard from little England and I'm the champ." ... [Referring to a potential fight with Amir Khan] ... "The British public want it. He'll probably say that I need to win another title for the fight. I know he doesn't like me. The fact is, he is getting it. I'm the champ of the world."
– Kell Brook told Sky Sports
Amir Khan later told BBC Radio Five Live that he would be up for a fight against Kell Brook describing it as the fight UK fans want to see and one which they have been talking about for a long time.
Luke Campbell has won his first professional fight in America. The boxer from Hull beat Steve Trumble, who weighed in four pounds lighter, with a second round stoppage.
Luke Campbell now has an unbeaten run of seven fights since turning professional. His opponent, Steve Trumble, had a record of 13 wins and 30 defeats before this weekend's bout.
Advertisement
Sheffield boxer Kell Brook has tweeted his reaction to beating Shawn Porter in California to take the IBF world welterweight title: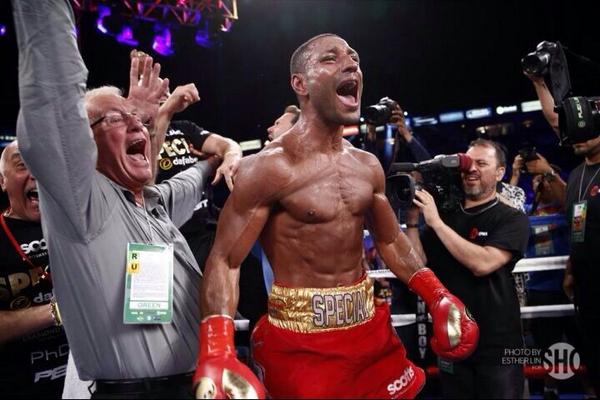 The early rounds between Sheffield's Kell Brook and Shawn Porter were tight affairs with Porter showing more aggression getting forward but Brook getting the better shots in and using the jab.
Brook was cut at the end of second but the wound did not appear to be deep and the 28-year-old gave a good showing in the third but Porter was still looking the busier despite not particularly troubling his opponent. Porter sustained a cut at the end of the sixth and Brook rocked the American with a big uppercut in the closing stages of the next with the Briton beginning to look on top in the middle stages.
Brook was now the aggressor, taking the fight to his opponent at every opportunity, perhaps sensing that he would have to impress to be handed a points decision in Porter's home country. And so it proved, with the judges handing Brook the decision as the Yorkshireman improved his record to 33-0 and inflicted a first professional defeat on Porter.
Kell Brook is the new IBF welterweight champion after claiming a majority decision over Shawn Porter in Carson, California.
The fighter from Sheffield had been waiting 18 months for his title shot after seeing three clashes with Devon Alexander fall through, with Porter taking advantage to defeat Alexander and claim the belt. But Brook took his chance when it came in a tight and, at times, untidy clash with the judges handing him the contest 114-114, 117-111, 116-112.
The World Title challenge bout this weekend could be Kell Brook's best chance at holding the belt according to his coach.
Brook initially planned to fight Devon Alexander almost two years ago, but the clash was cancelled twice.
Since then, Alexander was beaten by Shawn Porter and Brook's coach Dominic Ingle says his man can not leave anything in the ring:
Advertisement
After nearly two years Kell Brook is now just a day away from his chance to claim the IBF World Title.
John Shires has spent time with the Sheffield fighter as he makes the final preparations for the fight in California:
World Title challenger Kell Brook says he is ready to take on Shawn Porter in this weekend's fight in California.
The bout has been challenged several times and the Sheffield boxer has been waiting for 18 months to get a chance to take the belt.
He told John Shires his new fitness programme has him at the top of his game:
Kell Brook's fitness team say they are putting him through his paces so he can cope with any fight.
The Sheffield born boxer faces Shawn Porter this weekend for the IBF World Title.
Alan Ruddock told John Shires athletes are not always pleased to see him:
Sheffield boxer Kell Brook will finally compete for the IBF World Title this weekend after 18 months of waiting.
The fight has been cancelled several times, but Brook says he is now ready to take on Shawn Porter:
Load more updates