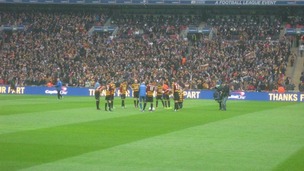 The dust has settled but there are no recriminations about City being thrashed against Swansea City at Wembley.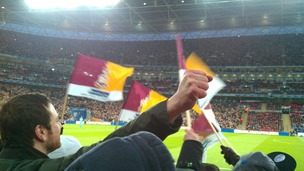 Despite a 4-0 scoreline, our Bantams blogger describes today as 'something special'.y.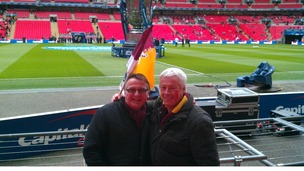 The latest from our blogger Kevin Mitchell as he takes his seat at Wembley stadium.
Live updates
Supporters of Arsenal and Hull City are set to unite during this Saturday's F.A Cup with Budweiser Cup Final at Wembley Stadium to remember the 56 victims of the Valley Parade fire disaster.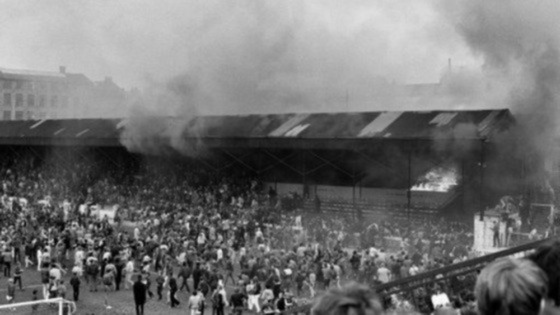 Although no official mark of remembrance has been scheduled for the final, fans of both Hull and Arsenal are planning to hold a minute's applause in the 56th minute after interest in the idea grew rapidly in recent days across social media.
Last Sunday saw the city of Bradford and Lincoln join together to mark the 29th anniversary of the disaster and to remember the 54 Bradford fans and 2 Lincoln fans who tragically lost their lives in the fire.
Valley Parade memorial
Advertisement
Valley Parade memorial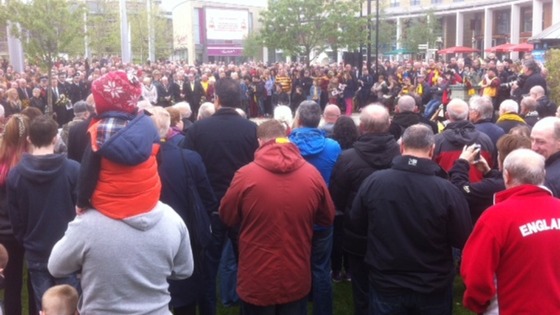 Hundreds have gathered in Bradford's Centenary Square to mark the 29th anniversary of the Bradford City fire disaster.
The fire at the match against Lincoln City, on May 11 1985, began at 3.40pm - but in less than 4 minutes it engulfed the stand. 56 people died.
Valley Parade memorial
A remembrance service in Bradford today marked the 29th anniversary of the Valley Parade fire.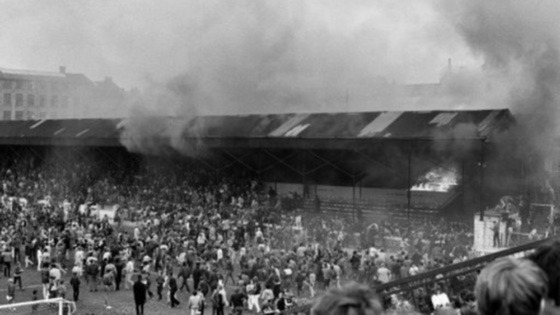 Fifty-six people died when fire ripped through the stand at the Bantam's final home game of the season against Lincoln.
There will be a minute's silence before the Lord Mayor of Bradford and representatives from Bradford City AFC and the Mayor of Lincoln will lay a wreath.
The Lord Mayor, Coun Khadim Hussain, said: "I feel it is important that we take time each year on May 11, to remember those who died or were injured in any way by the tragic events of that day.
"They went to watch a football match and didn't come home and this continues to touch the lives of so many people in the district. I hope people will come to Centenary Square and pay their respects."
Bradford City have confirmed that Gary Jones will be leaving the football club when his current contract expires in the summer.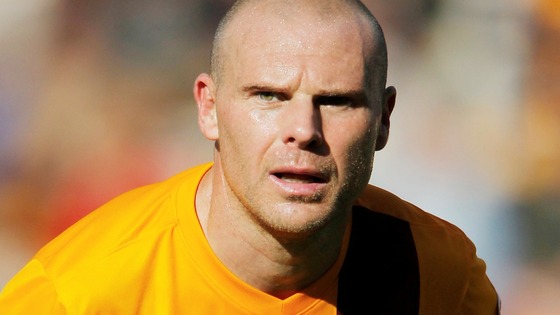 Jones, who turns 37 at the beginning of next month, will leave the Coral Windows Stadium after Bantams boss Phil Parkinson elected not to offer the City skipper a new deal with the club.
The Birkenhead-born midfielder will depart the Bantams having made exactly 100 appearances for City over the past two seasons, 93 of which came from the start. In his 93 starts for the club, Jones was captain on each occasion.
He signed from Rochdale in June 2012, and captained the team to the Capital One Cup Final and promotion into League 1 in his first season at the Coral Windows Stadium. The all-action performer was also named as the club's Player of the Year for that season.
Jones finishes his career with Bantams have led them to an eleventh placed finish in their first season back in League 1, scoring six goals in the process. Speaking about Jones and his successful time at City, Parkinson was quick to heap praise on his departing skipper.
"He has been a superb role model for our younger players and he has put his heart and soul into the club every single day for the last two years. I cannot speak highly enough of him both as a person and as a football player.
"I wish him all the very best for the future, and I am sure the fans will be quick to do likewise."
Roy Hodgson has lashed out at the 10,000 people who have signed up to a petition calling for former Bradford City youth player Tom Cleverley to be excluded from England's World Cup squad.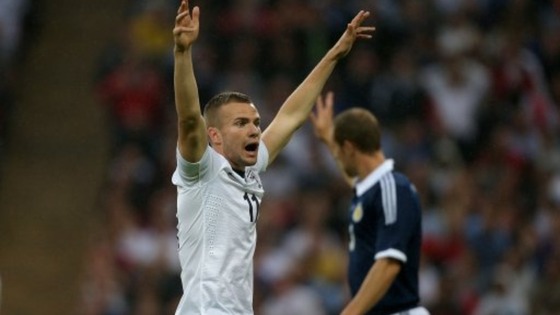 Cleverley has come in for strong criticism this season for his performances for Manchester United, but the midfielder remains a regular in the national set-up.
One England fan - Glenn McConnell from Blackpool - took exception to Cleverley's latest call-up last month when he launched an online petition calling for the 24-year-old to be "banned" from the World Cup.
McConnell hit out at Hodgson for handing the "inept" Cleverley 13 caps when the midfielder, in his opinion, does not possess "any genuine qualities whatsoever".
Over 10,000 people have signed up to the cause online. Some of them have left derogatory comments on the webpage that hosts the petition - something that England manager Hodgson is not happy about at all.
Cleverley himself said recently he was annoyed at being a scapegoat for United's recent troubles.
The re-emergence of Jordan Henderson has cast doubt on whether Cleverley will make the 23-man squad for Brazil.
But Hodgson refuses to ditch the Manchester United midfielder, who played the first nine games in England's World Cup qualifying campaign.
Advertisement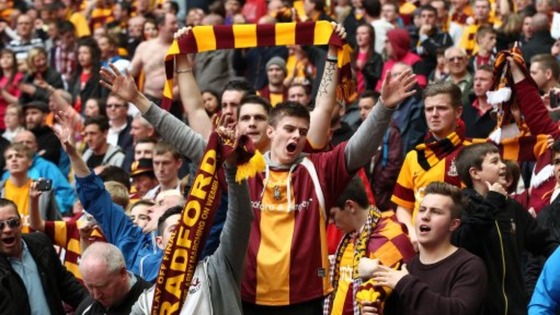 A film detaling the history of Bradford City and their journey to last year's Wembley appearances will go live online tomorrow morning.
The video will be available here from 9am on Saturday
Transfer deadline day: Follow all the deals
Bradford City have completed the signing of Hull City striker Aaron McLean.
The 30 year old - who scored on his last appearance for the Tigers in their recent FA Cup victory at Middlesbrough - is expected to make his debut for the Bantams in the Yorkshire derby at Sheffield United on Saturday.
Dean Windass, who played for both Hull and Bradford, says he'll be a big assett:
Transfer deadline day: Follow all the deals
Bradford City have captured striker Aaron McLean on a permanent deal from Premier League side Hull City.
McLean, 30, put pen to paper on a two-and-a-half year deal at the Coral Windows Stadium.
Click below to watch the Bantam's new frontman scoring for Hull in the FA cup against Middlesbrough:
Transfer deadline day: Follow all the deals
Bradford City have captured striker Aaron McLean on a permanent deal from Premier League side Hull City.
McLean, 30, put pen to paper on a two-and-a-half year deal at the Coral Windows Stadium.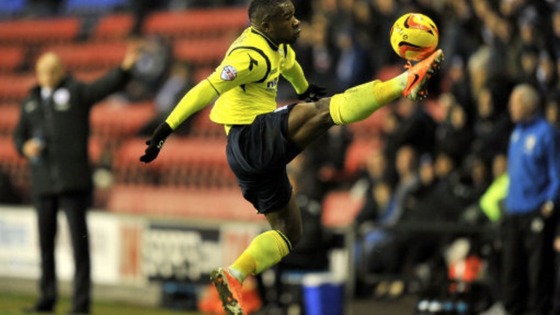 Subject to receiving the relevant clearances, McLean, who has over 120 career goals, will now go straight into City's squad for their Yorkshire derby at Sheffield United on Saturday.
A delighted Phil Parkinson said: "I'm thrilled by the arrival of Aaron.
"He is someone I have monitored for a while now and he has a proven record at this level.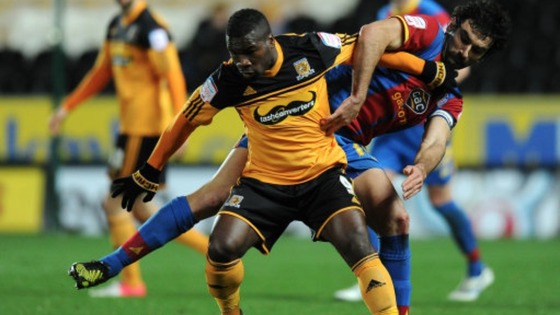 "Aaron is a fantastic player and he will be a great personality to have around the dressing room."
Before moving to the Coral Windows Stadium, McLean spent most of the last two years playing Championship football with Hull and during loan spells at Ipswich Town and Birmingham City.
The striker did feature for Hull in the Premiership during their fixture away at Tottenham Hotspur earlier this season, however, while he scored in their recent F.A Cup third round win at Middlesbrough as well.
McLean also has experience of playing at League 1 level before having netted 18 goals in 39 appearances for Peterborough United in the 2008/09 season.
Load more updates
Back to top