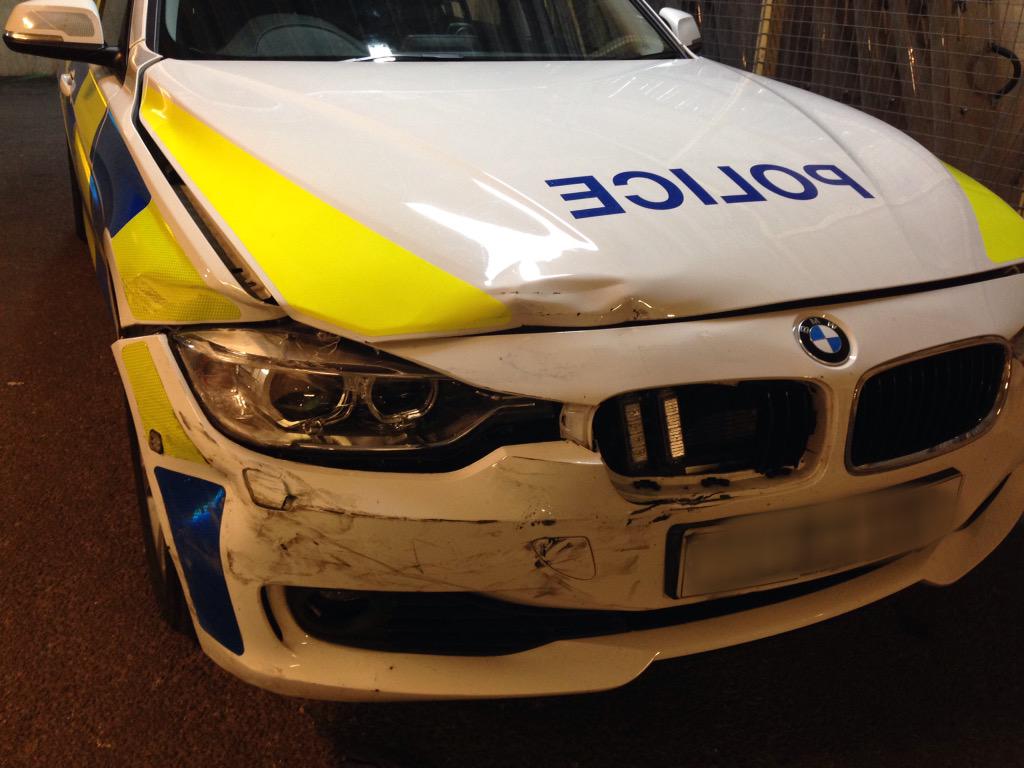 A man is due in court this morning charged with causing death by dangerous driving.
James Gilbey, 25, died on Monday night when he was struck by a car on Stanningley bypass.
Majid Malik, 27, from Bradford will appear before magistrates in Leeds.
Seven other men arrested in connection with the collision have been released on bail.
Advertisement
Police investigating a fatal road traffic collision in Leeds have charged a man with causing death by dangerous driving.
Majid Malik, aged 27, of Silverhill Avenue, Bradford, has been remanded to appear before Leeds magistrates from 9.45am tomorrow.
The charge is in relation to the death of James Gilbey, 25, who died after he was struck by a VW Golf on Stanningley bypass on Monday night.
Police have today arrested another man, aged 28, from Bradford, on suspicion of causing death by dangerous driving.
He is believed to be the driver of the Audi A5, which was travelling in convoy with the Golf at the time of the collision.
He remains in custody this evening while enquiries continue.
Seven other men, aged 23, 29, 24, 22, 25, 25 and 27, have been released on bail.
A crash has closed the A650 Drighlington bypass in both directions.
The bypass is closed between the A58 Whitehall Road and the A650 Wakefield Road, between the roundabouts.
The collision happened near the A650's junction Field Head Lane.
Sorry, this content isn't available on your device.
Four kittens abandoned by their owner at a pet store in Bradford yesterday are looking for a new home.
Staff at Pets at Home in Bradford say they discovered the kittens - believed to be around 10-12 weeks old - in a bag which had been left around the till area.
An appeal has now been put out by Bradford Cat Watch Rescue to find the quartet a new home.
Police in Bradford are looking for the driver of a silver car after an eight-year-old boy was injured in a hit and run last Friday.
The driver, who is described as a young Asian female, left the scene following the collision on an access road to the rear of Canterbury Avenue at about 4.50pm.
She was believed to be driving a Toyota Yaris or similar type car, which drove off towards Luke Road.
The boy was taken to hospital with serious leg injuries which required surgery.
He has since been released from hospital.
Advertisement
Anti-blood sport activists campaigning to ban the tradition of grouse shooting on Ilkley Moor will present their case to Bradford Council today.
They claim it's having an adverse affect on other wildlife - but those who organise the shoots say it's a good way of managing the countryside.
Bradford City teenage striker Ollie McBurnie has moved to Swansea.
McBurnie, 19, who made only four senior starts for Bradford, has put pen to paper on a three-year deal and will join the Swans' development squad.
"I'm really excited about getting started," McBurnie told Swansea's official website.
"I've known about the interest for a little while now but it all got finalised pretty quickly and the hard work starts now.
"I'm thankful for everything that Bradford has done for me, but when a club like Swansea comes in for you then you can't say no.
"It's the perfect opportunity for me and the right time to sign. Hopefully I can have a good start for the Under-21s and continue to learn and develop during my time here.
"Swansea are now playing Category One games and they are the best fixtures in the country. You want to challenge yourself against the best players and I'm really looking forward to getting started."
McBurnie made his debut for Bradford against Rotherham in the FA Cup in November 2013 and the first of only two league starts followed a month later against the same club.
He made a total of 20 appearances for the Bantams, 16 as a substitute, but failed to score and had two loan spells at Chester last season, scoring five goals in 14 games.
Former 1D star Zayn Malik seems to have fallen out with collaborator Naughty Boy after calling him "a fat joke" on social media.
Read the full story ›
Load more updates