A year since one of the world's most deadly chemical weapons attacks - Syrian refugees living in Yorkshire have told Calendar they fear they may never be able to return to their homes.
It is estimated around 500 Syrians have come to Bradford to escape violence and oppression in their home country.
Michael Billington reports:
Leeds Bradford Airport has launched new twice-daily flights to Dublin with Irish national carrier Aer Lingus.
Aer Lingus has routes to North America, including recently introduced flights to San Francisco, so airport bosses hope there will now be better links between Yorkshire and the US.
They hope business and leisure passengers from both Ireland and America can now visit the region more easily, which could provide a boost to the local economy.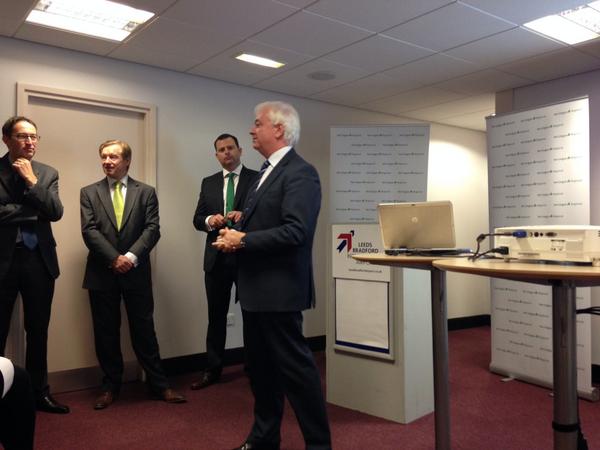 Advertisement
A man accused of assaulting controversial MP George Galloway has been remanded in custody.
Neil Masterson, 39, appeared at Hammersmith Magistrates' Court in west London charged with religiously aggravated assault against the Bradford West MP.
The pro-Palestine politician was attacked in Golborne Road, Notting Hill, London, on Friday evening and needed an overnight stay in hospital.
Mr Galloway suffered bruising and swelling to his face, the court was told.
Masterson of Campden Hill, Kensington was remanded in custody to appear at Isleworth Crown Court on September 15.
Mr Galloway did not attend today's hearing.
A 39-year-old man is due to appear in court later today charged with a religiously aggravated assault on controversial Bradford West MP George Galloway who was left battered and bruised in an alleged street attack in London on Friday night.
Winger Danny Williams has today agreed a permanent contract to become the nineteenth addition to Bradford Bulls' 2015 roster.
The 27-year-old has put pen to paper on a two-year contract with the Bulls, confirming his departure from parent club Salford Red Devils.
Having initially arrived at the Provident Stadium on a short-term loan deal, Williams will be a Bradford player until at least the end of 2016.
"I was really excited about coming to Bradford to begin with, so am obviously delighted to be extending my stay.

"This is a club with big ambitions for the future and I want to be a part of what is eventually achieved here.

"I love working with James Lowes and am excited about what the next couple of years could bring.

"I am happy with how I have performed since joining the Bulls but, most importantly, I am happy to be part of this team.

"With the way the squad is shaping up for next year, I think our supporters can be confident of us making an immediate return to Super League.

"I fully intend to keep fit and find my very best form in order to help ensure that happens."
– Danny Williams
Williams, who has previously played for Leeds, Castleford and Hull and had a stint in rugby union with Newcastle Falcons, arrived as James Lowes' first addition in July.
And the Bulls boss says he is delighted to have secured the three-quarter's services – on a permanent basis.
"Danny is a very experienced player, who has age on his side.

"I am really pleased that the deal has gone through, as I feel Danny provides good competition out wide.

"I am looking forward to working with him during pre-season training and going into next year, where he could prove fairly key for us.

"Wherever he has gone in the past, he has always worked extremely hard and that is what I like about him. His attitude is first class."
– James Lowes. Bradford Bulls coach
Meanwhile, Bradford Bulls have also confirmed that Jamie Foster will be leaving the club at the end of the season.
A vigil has been held in Bradford to mark the anniversary of one of the deadliest chemical weapons attacks in almost three decades.
Syrian refugees and members of the Syrian Association in Yorkshire gathered in the city this afternoon to remember the victims of the atrocity in Ghouta- when rockets containing the chemical Sarin - were fired. It is thought it claimed the lives of up to seventeen hundred people, many of them civilians.
Advertisement
Controversial MP George Galloway has been released from hospital after he was battered and bruised in a street attack, police have said.
The pro-Palestine MP suffered a suspected broken jaw and rib as well as facial bruising when a man leapt at him and punched him after shouting about the Holocaust, his spokesman said.
A 39-year-old man arrested shortly afterwards on suspicion of assault occasioning actual bodily harm remained in police custody, a Metropolitan Police spokesman said.
Controversial Bradford West MP George Galloway has been taken to hospital with a suspected broken jaw after he was attacked in the street.
The Respect MP, who also suffered a suspected broken rib and severe bruising to his face and head, was posing for pictures with people in Golborne Road, Notting Hill, west London, last night, when a man shouted a comment about the Holocaust and allegedly attacked him. Police were quickly on the scene and made an arrest.
Mr Galloway was taken to St Mary's Hospital, Paddington, where he remained overnight.
His spokesman said: "George was posing for pictures with people and this guy just attacked him, leapt on him and started punching him.
"It appears to be connected with his comments about Israel because the guy was shouting about the Holocaust."
Mr Galloway was interviewed earlier this month by West Yorkshire Police following a speech in Leeds in which he claimed Bradford was an Israeli-free area.
A Metropolitan Police spokesman said: "Police were called at approximately 1940 hours to Golborne Road, W10, after a man was assaulted in the street.
"Officers attended. The suspect was found a short time later and stopped. He was arrested on suspicion of ABH (actual bodily harm) and taken to the south London police station where he remains."
Members of The Syrian Association in Yorkshire (SAY) are holding a vigil in Bradford today to mark the first anniversary of chemical attacks on Syrian people by the Assad regime.
It's believed around 1,500 people died in the attacks, said to be the among the deadliest chemical attacks in recent history.
The atrocities in Syria are still ongoing with civilians being killed on a daily basis. Humanitarian crises are on the rise and the number of homeless, displaced and refugees is on the increase, with no international will to help. Thousands of children are lacking the most essential means of living, not to mention adults and the elderly.
– SAY Spokesperson
Relegated Bradford have announced the re-signing of promising teenagers Alex Mellor, Nathan Conroy, Sam Bates and Adam Brook ahead of their Championship campaign in 2015.
Back-row forward Mellor and hooker Conroy, both 19, have signed new 12-month deals, while 18-year-old prop Bates and 19-year-old half-back Brook have secured two-year contracts.
Mellor has made nine substitute Super League appearances over the last two years and is tipped by Bulls coach James Lowes for a bright future.
Alex is an exceptional young player who has risen through the club's academy ranks in recent years. He has all of the attributes and potential to become a key player here.
– James Lowes, Bradford Bulls coach
Load more updates