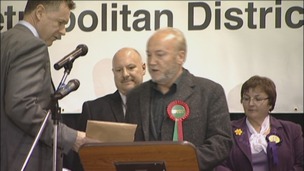 George Galloway's victory in the Bradford West by-election is the latest in a long line of notable by-election shocks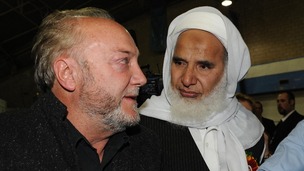 "Gorgeous" George Galloway's victory is the latest chapter in the career of one of the country's most controversial politicians.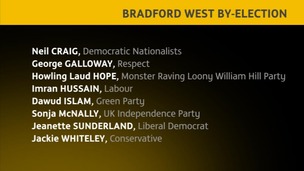 "Mini-manifestos" written by the Bradford West by-election candidates themselves.
Live updates
Labour has continued a winning streak dating back to the 1930s by winning the Rotherham by-election. Sarah Champion was elected as the town's newest MP, replacing veteran Denis MacShane who resigned over his Parliamentary expenses.
It was a good night for UKIP who's 2nd place finish left the party confident that it's only a matter of time before it gets its first MP in the commons.
Bradford West by-election
Advertisement
Bradford West by-election
Bradford West by-election
After touring the streets to the strains of Aretha Franklin's R.E.S.P.E.C.T, George Galloway switches to Bill Withers' "Lovely Day".
Bradford West by-election
The town hall is the next to fall. I will stand for everyone, no matter their colour or how they pray. Respect to our Armed Forces but let's bring them home. This is a movement that has started here and I don't think it will be confined to here."
– George Galloway
Bradford West by-election
Advertisement
Bradford West by-election
A protester has attempted to pelt George Galloway with eggs as he left for open top bus victory of Bradford.
The new MP for Bradford West was unhurt as the man threw around a dozen eggs, shouting "he's a parasite, a sycophant, we don't want him here".
Galloway seemed unfazed by the attack, climbing on to the bus, lighting a cigar and giving a victory sign. Onlookers applauded and car horns were sounded as the bus moved through the city centre.
Bradford West by-election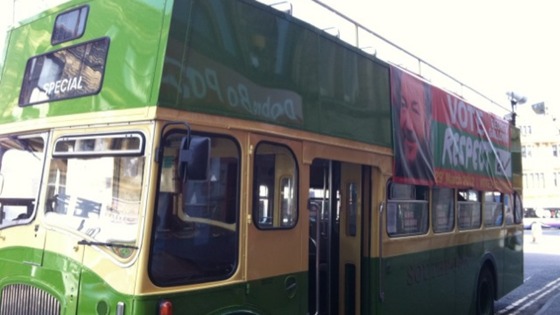 The bus has been prepared, a throng of cameras and reporters await its departure to carry a triumphant George Galloway through the streets of Bradford. Details of his route remain sketchy, as does the time he is due to leave.
No stranger to attention, the new MP for Bradford West has been attracting plenty of it, with dozens of people arriving at the solicitor's office he is using as a base to catch a glimpse of him.
One onlooker said: "I think to call it a 'Bradford Spring' is a bit much, but this has shown people how their vote can make a difference. I don't think something like this will happen again but it's got everyone talking hasn't it? And they talk about voter apathy?"
Bradford West by-election
Bradford West by-election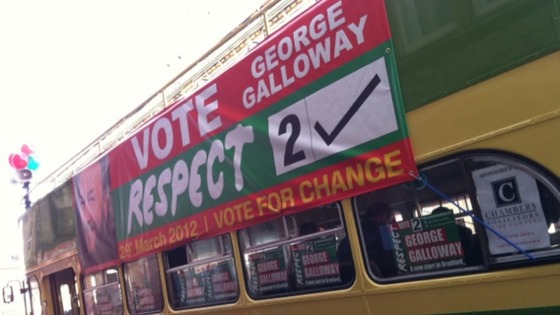 Load more updates
Back to top