A group of Rotherham United fans visiting all the country's 92 football league stadiums are considering adding an extra stop to their tour.
Coventry City have been playing their home games at Northampton's Sixfields Stadium this season so the group removed Coventry's Ricoh Arena from their route.
They originally replaced it with Wembley Stadium, but are now considering a stop at the Ricoh on Friday.
Asking supporters on Twitter if they should swap the two, they have now announced they hope visit both.
Going to try and pop in to the Ricoh on Friday to do a Coventry picture. So do we drop Wembley or make it 93 in 92?
Heres the deal. If Coventry fans raise us enough money on our justgiving page we'll visit the Ricoh. Cant say fairer than that.
If the team visit the Ricoh Arena they'll increase their tally of stadiums to 93 visited in 92 hours.
They have taken on the challenge to raise money for the Motor Neurone Disease Association after their friend was diagnosed with the illness.
Before the lads set off last night, we spoke to them about their fundraising for Motor Neurone Disease.
Stuart Burns came up with the idea after his brother Steve was diagnosed with the illness.
Check back with us for the latest on the challenge.
Advertisement
A group of fans visiting 92 Football League stadiums to raise money for their friend who has Motor Neurone Disease have been tweeting their progress.
Stuart Burns came up with the idea of visiting all the grounds when his brother, a keen football fan, was diagnosed in 2012.
They set off from Rotherham's New York Stadium and are hoping to be back there again in time to see the Millers take on Bristol City on Saturday.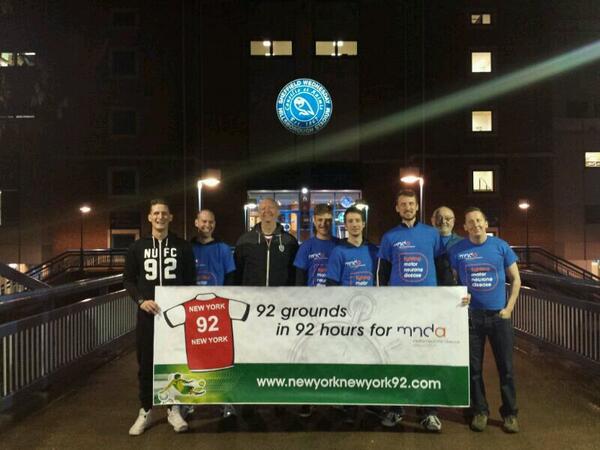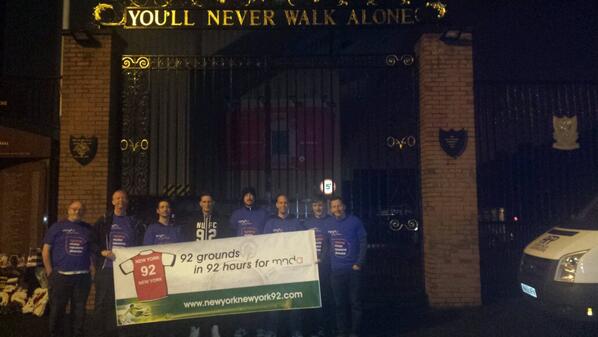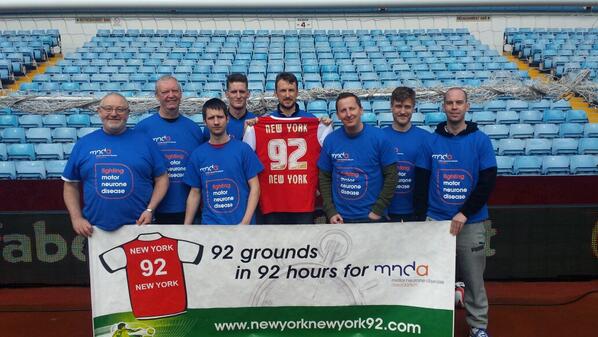 We will keep you updated of their progress throughout the week.
A group of Rotherham football fans are attempting to visit all 92 Football League stadiums in just 92 hours.
They're raising money for the Motor Neurone Disease Association after their friend was diagnosed with the disease.
Stuart Burns decided to take on the challenge after his brother, Stephen, was diagnosed with Motor Neurone Disease in 2012.
He and a group of supporters set off from Rotherham's New York Stadium tonight and hope to be back in time for Saturday's league game against Bristol City.
Stuart said: "My brother has always been a keen footballer. Stephen was diagnosed with Motor Neurone Disease in October 2012 aged 31 and needless to say **hasn't played football since.
"As a group of friends, we wanted to do something for him, or more accurately, for the people that now help him to live as good a life as possible."
For more information on the fundraising effort click here.
A Scunthorpe woman has raised over £750 for cancer charity Macmillan by performing a sponsored skydive.
Rebecca Heald, 20, was inspired to help after the death of her grandmother, Barbara Jean Watson, in July last year, from lung cancer.
It was Barbara's wish to stay at home towards the end of her life, a wish that was granted thanks to Macmillan nurses out in the community.
Overall £783 has been donated to the Macmillan community local equipment fund through the event.
Rebecca said: "It made a real difference for nana to stay at home where she felt comfortable and relaxed.
"The nurses were great and I am glad to have been able to do something to give back."
After a two and a half year goal drought, Tom Huddlestone will finally get his afro chopped for charity at Hull's KC Stadium today.
After canvassing opinion from fans and fellow players, the midfielder has his chosen barber, Lance Lowe on site to do the deed.
"My teammates have made various suggestions. A Mr T style Mohawk seems quite popular, but I don't think it'll be that extreme."
More than 1,300 people have donated to the charity effort, raising over £36,000.
Advertisement
Hull City's Tom Huddlestone is at the KC Stadium today preparing for his first haircut in two and a half years.
The midfielder has raised over £36,000 for Cancer Research UK after pledging not to cut his hair until he scored.
The goal finally came in a 5-0 win over Fulham and the lock of hair cut off by Hull physio Rob Price during the celebration is being auctioned online with a current value of £3,400, also for charity.
More than five hundred pounds has been raised for a hospital thanks to a charity effort by two Richmondshire District Council officers.
Sheila Cantrell and Jean Stott completed a 5km obstacle course for the Scott Suite at the Friarage Hospital in Northallerton. The suite is currently seeking cash for a new machine to detect cancer in the lymph nodes.
They spent part of their weekend on the Major Series obstacle course at Bramham Park, Leeds which saw them crawl through muddy ditches, swim under marine barriers, navigate a darkened trench filled with ice and complete an electric obstacle course.
Doncaster streets will be lined with people sleeping rough tonight. It's part of a campaign by the Safe at Last charity to raise money and awareness for homeless children in the region.
Bluebell Wood Children's Hospice in Sheffield is celebrating it's fifth birthday. Fundraising began in 1998 after 11-year-old Richard Cooper died from a rare disease and longed for care outside a hospital.
Load more updates