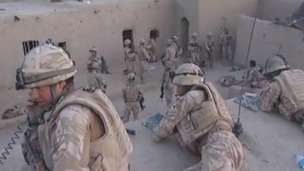 A new initiative to support Armed Forces veterans acclimatise after service has been set up in Chesterfield.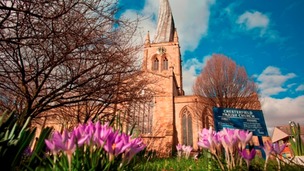 Chesterfield's crooked spire is a recognisable landmark - but it will be even more noticeable today as workmen fix the historic clock.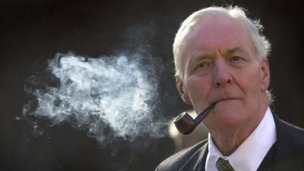 MPs have spoken to honour former Labour MP Tony Benn who died last week aged 88.
Live updates
One mother's experience of post natal depression was so extreme she contemplated suicide - and even harming her own child.
Natalie Ellis, from Chesterfield, has decided to speak out in the hope that other mums find the courage to seek help, if they find themselves in the same situation.
Some viewers may find the story upsetting.
Victoria Davies reports:
Towns and cities breach air safety levels
British towns and cities including Leeds, Sheffield and Chesterfield have been named and shamed by the World Health Organisation for breaching safety levels for air pollution.
The global health body said that across the world most cities that measure outdoor air pollution are failing to meet its guidance for safe levels and are putting residents at risk of respiratory disease and other health problems.
Overall, only 12% of the people living in cities reporting on air quality reside in places which comply with WHO's safety levels.
Too many urban centres today are so enveloped in dirty air that their skylines are invisible.

Not surprisingly, this air is dangerous to breathe. So a growing number of cities and communities worldwide are striving to better meet the needs of their residents - in particular children and the elderly.
– Dr Flavia Bustreo, World Health Organisation
Advertisement
A woman has died after her car crashed into a tree in Chesterfield.
It happened at around 9pm last night on Sheffield Road close to the Sandpiper Hotel.
A grey Citroen C3 with three people inside left the road, went through a metal railing and hit a tree.
The driver, a 35-year-old woman, suffered fatal injuries and was pronounced dead at the scene.
Two male passengers also sustained injuries and were taken to Sheffield Northern General Hospital. One of the men suffered serious injuries.
Any witnesses are asked to contact Derbyshire Police.
There could be tears of joy and despair across the region this weekend as the season enters its penultimate round.
Scunthorpe currently top the League Two table, two points clear of second placed Chesterfield.
The Iron are currently on an incredible run of 28 games unbeaten, whereas the Spirites, who have already been to Wembley this season in the Johnstone's Paint Trophy final, have been consistently in or around the top three all season.
Both managers are optimistic despite the pressure:
Employees at the clockmaking firm Smith of Derby have had the unenviable task of replacing the hands on the clocks of Chesterfield's famous crooked spire - after they stopped suddenly in January - by abseiling down the 14th century church. Helen Steel reports.
Repairs have begun to replace the hands on the clock of Chesterfield's crooked spire.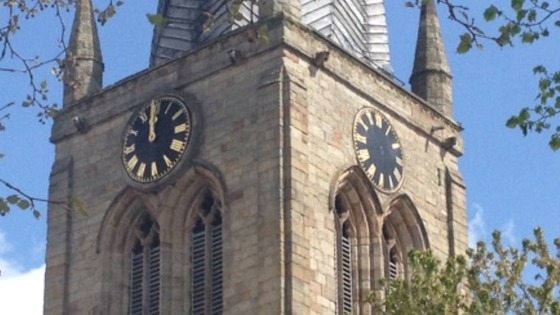 Advertisement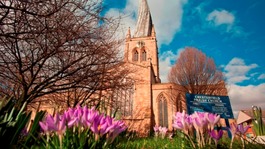 Chesterfield's crooked spire is a recognisable landmark - but it will be even more noticeable today as workmen fix the historic clock.
Read the full story
Police are appealing for information after racist graffiti was sprayed in numerous public places around Dronfield.
Offensive language was written on a park bench and litter bin at the back of the Civic Centre, on a children's play area on Thirlmere Drive and on the side of garages at Greendale Court.
The graffiti was reported to police on Sunday, March 30.
Officers are keen to speak to anyone who has any information about those responsible.
Criticism over Chesterfield's four metre cycle lane
Derbyshire County Council has defended a cycle path in Chesterfield, which local cyclists have criticised for being four metres long. They say it is simply a section of a longer cycle lane.
"This is not a four-metre long cycle path - it is part of our Chesterfield town-wide network. The photograph makes it look odd because it is a busy part of town and it is intersected by two road junctions.

We're keen to promote cycling and make our towns accessible to cyclists. This cycle path runs from West Bars, along New Beetwell Street, ending at Park Road. It is a continuation of a longer cycle path from the A61 Derby Road, through the picturesque Queen's Park into the town centre.
Criticism over Chesterfield's four metre cycle lane
Council chiefs in Chesterfield have been left red faced after cyclists criticised a brand-new bike lane - which is just four metres long.
The short cycle lane was painted in Beetwell Street earlier this month and was almost instantly criticised by cyclists in the town.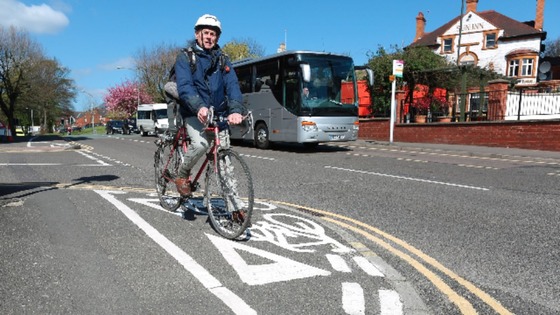 Bike commuter Will Jones, said: "It makes the council a laughing stock really."Why on earth would anybody need a cycle lane so short? It's stupid."
Cyclist Lisa Jennings, said:
"It's an embarrassment to the town. There are so many dangerous roads which really do need a cycle lane, but don't. So to paint this pathetic little lane is just an insult to cyclists who are forced to use genuinely dangerous roads which still don't have a cycle lane."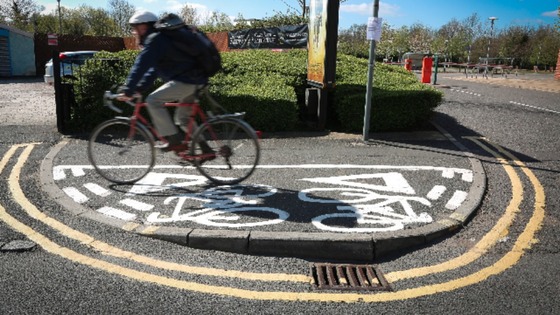 Load more updates
Back to top