Seven people have been charged following protests in Rotherham town centre yesterday.
There were clashes when around 1,000 people from various groups, including the English Defence League, marched through the town.
12 people were arrested. Seven of them have been charged for a variety of offences including criminal damage, assaulting a police officer, and racially-aggravated public order.
Three men who were arrested in Wickersley before the protests on suspicion of going equipped to commit crime have been released on bail. One other Middlesborough man has been bailed for assault.
Around 1,500 police officers were drafted in to police the event and to ensure the safety of local residents and those taking part in the protests.
A glass door has been smashed at a Rotherham mosque during a day of protests in the wake of the child sex exploitation scandal.
South Yorkshire Police say 10 people have been arrested during the day, including a 20-year-old man from Mexborough who has been questioned on suspicion of damage to a mosque.
An 18-year-old man from Rotherham has been arrested on suspicion of assaulting an officer. A 34-year-old man and a 44-year-old woman from Rotherham were arrested on suspicion of causing racially and religiously aggravated fear, alarm and distress.
Three men from Newark, Cambridge and Nottingham were arrested from a vehicle in the Wickersley area on suspicion of possession of an offensive weapon. A 19-year-old man has been arrested on suspicion of threatening behaviour. A 25-year-old man from Wigan has been arrested on suspicion of a public order offence. And a 40-year-old man from Middlesborough has been arrested on suspicion of assault.
Police say two 26-year-old men received injuries believed to be minor and were taken to hospital. Senior officers say around 1,000 people from various groups walked through the town. They say there were "sporadic outbreaks of disorder."
Advertisement
Riot police have come under attack from far right protestors as a controversial rally went ahead in Rotherham this afternoon. 1,500 officers were drafted in from across the country to police the EDL demonstration held in the wake of the town's child sex abuse scandal. Jon Hill reports.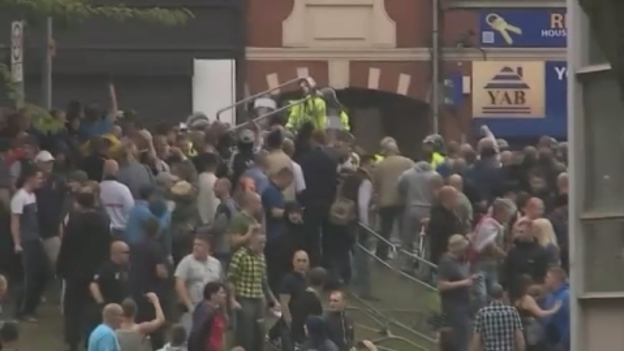 Advertisement
Rotherham police station's main desk is closed as members of the English Defence League gather outside at the end of their march through the town.
Load more updates