Live updates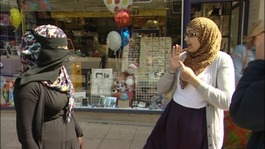 There is criticism of Kirklees Council for reducing the number of teachers of the deaf.
Read the full story
Hearing dog training
There is a need for more people to volunteer in North Yorkshire training puppies for Hearing Dogs for Deaf People.
So-called volunteeer "puppy socialisers" are needed in the York and Harrogate. They will be involved in training future hearing dogs.
. Hearing dogs change lives. They bring new levels of independence, confidence and companionship to a deaf person as well as helping to remove some of the loneliness and isolation that deafness - which is in essence, an invisible disability - can unfortunately create. A hearing dog puppy's journey to becoming a hearing dog begins with a volunteer puppy socialiser at eight weeks when they are placed at home with a puppy socialiser.
– Tom Green, Hearing Dogs for Deaf People
Advertisement
Hearing aid row
A deaf footballer says he's determined to play on - despite being told by a referee he can't play with his hearing aids in.
But team mates of Craig Beech, from Rotherham, were so angry at the decision they abandoned their Sunday league match in protest.
Now the matter's been referred to the Football Association. .
Back to top