Three people - including a child - have died in a house fire in Derbyshire.
It happened on North Street in Langley Mill and 4am today.
A man, a woman, and a little girl were killed in the blaze, which badly damaged the house and a car parked outside it.
Firefighters evacuated neighbouring houses because the fire caused a gas leak. Engineers are currently working to fix the problem.
Police are working with the fire service to find out how the fire started.
Advertisement
Anti-austerity groups and activists are planning a protest in Chesterfield today, days after the Queen's speech.
Demonstrators will meet at Rykneld Square around midday to protest against what they describe as the Conservative government's public service cuts.
Police are growing increasingly concerned about the whereabouts of a missing Chesterfield man.
James Wheelhouse, 29, of Nether Avenue, Killamarsh was last seen on Sunday, May 10 at a friend's house on Sheffield Road.
Mr Wheelhouse is described as white, 5ft 11ins tall, of a slim build with brown spiked receding hair. He was last seen wearing a light coloured t-shirt and blue jeans.
Anyone who sees Mr Wheelhouse or knows of his whereabouts is asked to contact police.
Chesterfield have confirmed that manager Paul Cook has been released from his contract to join Portsmouth.
"I would like to thank Paul for the fine job he has done as manager of Chesterfield and wish him well for the future," said chief executive Chris Turner.
"I could not have wished for a better working relationship than the one I have enjoyed with Paul over the last two-and-a-half-years and there is nobody more disappointed than me to see him leave.
"We will be looking to appoint Paul's successor as soon as possible and the incoming manager will be in the enviable position of inheriting a strong squad."
I'd like to place on record my thanks to Chris, chairman Dave Allen and the rest of the board for giving me the opportunity to manage such a great club. I'd like to thank the staff in all departments of the club for everything they have done during my time at the club. Most importantly, I'd also like to thank the players, who have been fantastic, both on and off the pitch. Finally, thanks to the fans for their superb support.
– Paul Cook
Cook, who joined Chesterfield from Accrington Stanley in October 2012, guided the Spireites to the League Two title in 2014 and the League One play-offs this season.
Assistant-manager Leam Richardson has also left the club. Richardson said: "I echo the manager's sentiments and would like to thank everyone at the club, from the chairman and chief executive down, together with all the players, past and present. Thanks also to the fans for their tremendous support."
Several people have been taken to hospital following a coach crash on the M1 near Mansfield.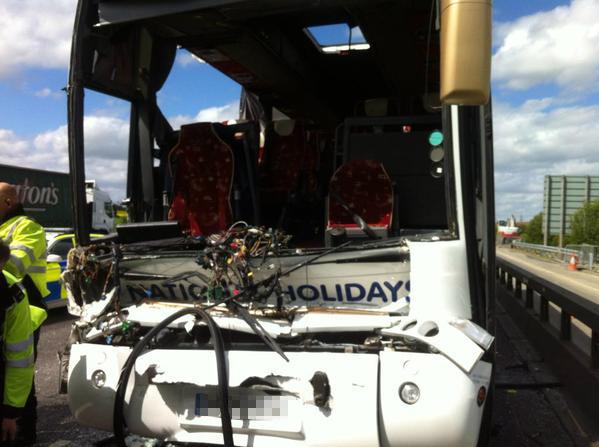 Around 36 people in total are thought to have been injured.
Ten people were taken to the Chesterfield Royal Hospital, three in seriously injured.
One person was taken by Air Ambulance to Queen's Medical Centre in Nottingham.
The coach was travelling from Gateshead to Nottingham.
M1 RTC UPDATE 1/3: 36 PT's in total. 3 PT's taken by ambulance to @royalhospital. @helimed54 taken 1 PT to QM.
Chesterfield Hospital had declared an emergency, but that has since been stood down and all ten patients are now expected to be discharged.
Major incident after M1 coach crash 'stood down' - all ten patients expected 2be discharged after treatment @peakfm @d_times @jethropickard
Advertisement
Now for many people getting older is a chance to take life a littler easier and put their feet up.
But for husband and wife Eric and Lynn Dolman from Tupton, near Chesterfield, that's not for them.
Instead the dynamic duo have just won a British title each.
So what have they been doing? Well it involves heavy metal, lycra and their converted garage.
Martin Fisher went to meet them:
The A57 Snake Pass at Glossop is closed in both directions due to snow. Police warn the road is particularly bad between Hurst Road and A6013 (Ladybower Reservoir).
A chief fire officer from Huddersfield has been found not guilty of the rape of a woman at a pub in 2006.
A jury took just over 10 minutes to clear 48-year-old Sean Frayne who denied raping the woman, claiming to have had a consensual sexual encounter with her after she kissed him passionately.
His lawyer criticised the decision to prosecute Frayne instead of launching a blackmail inquiry after it emerged that a friend of the alleged victim wrote to him suggesting she may "avoid publicity" for a substantial out-of-court payment.
Jurors at Derby Crown Court had been told the alleged rape took place while Frayne's wife was in another room. He wiped away tears and left the court with his wife after the jury returned its unanimous verdict.
Frayne, formerly of Etwall in Derbyshire but now living in Fixby, Huddersfield, was arrested by police after a formal complaint was made in December 2013.
A five-day trial heard that Frayne, the £140,000-a-year head of Derbyshire Fire and Rescue Service, went to talk to the alleged victim before his arrest after receiving an anonymous letter branding him a rapist.
The court heard that the letter went on to suggest the out-of-court payment. But the Crown said the woman, who cannot be named, knew nothing of her friend's attempts to "achieve some form of informal justice" on her behalf by sending the letter.
In her closing submission, defence barrister Laura Pitman said: "They (the police) have investigated one side of the story and they have not investigated the other. If this is nothing to do with money why is there even mention of an out-of-court payment?"
Chesterfield manager Paul Cook has signed a one-year extension to his contract.
Cook, whose previous deal was due to expire in 2016, is now tied to the club until the summer of 2017, together with his assistant, Leam Richardson.
Cook joined the Spireites in October 2012 and has overseen the club's rise from League 2 as champions in 2013/14 and their stabilisation in League 1 during the current campaign.
The contract extension comes in the wake of the January transfer window, which saw the Spireites bring in five new players and sell striker Eoin Doyle to Championship side Cardiff City for a seven-figure fee.
Cook is delighted to commit his future to the club given the volatile nature of football management.
Along with the rest of the coaching staff, I was brought in to do a job and in football it's always a difficult job in an ever-changing world. I've been here now for two years and four months and I think I'm in the top 20 longest-serving managers, which is quite amazing. I'd just like to thank the chairman, Chris [Turner], the board of directors and all the supporters for all the faith they've shown in me. We feel we have a very strong unity here together as a club. Any manager will be clamouring for time, but in football today we don't get that. The club is very important to us all. Loyalty in football now is a very hard thing to come across and as a manager or a player I think you need to show that.
– Paul Cook, Chesterfield manager
Load more updates