A Yorkshire pilot who was hoping to write his name into the record books by becoming the first person to fly a microlight to the North Pole has had to call off his expedition.
Dave Sykes, a wheelchair user from Dewsbury, made the decision to end his journey after a combination of bad weather, runway closures and a broken hand.
He says that he will attempt the record again next year.
The photos of two 17-year-old boys from Dewsbury who fled to Syria have been released.
News of the disappearance of Talha Asmal and Hassan Munshi emerged earlier this week.
Advertisement
Two teenage boys from West Yorkshire are feared to have travelled to Syria, the latest British youngsters to slip the net and make their way to the stronghold of so-called Islamic State.
The 17-year olds from Dewsbury are thought to have fled to the war-torn country a week ago, making their way through Turkey.
One of them is the brother of Hamaad Munshi, Britain's youngest convicted terrorist.
Tonight police say they're extremely concerned for their safety.
From Dewsbury Jon Hill sent this report:
Both families are devastated by the events of the last few days and in particular, we are extremely concerned about the safety and well-being of our loved ones.

Our number one priority is to get Hassan and Talha back home with their families and we implore anyone who may have any information whatsoever to get in contact with the Police.

Naturally, we are in a state of profound shock and are trying to come to terms with the predicament we find ourselves in and we hope and pray that no other family finds itself in our situation.

These were just two ordinary Yorkshire lads who enjoyed the things that all young people enjoy at their age – both Hassan and Talha had a promising future as an apprentice and an A level student respectively, and we are praying they will be back with us soon and are able to realise that future.

We would implore all parents to be extra vigilant, although as we found, it's near impossible to know your children have been groomed and brainwashed. Syria is a frightening war torn place and we need to urgently educate our young children about the dangers posed by those who prey on impressionable teenagers.

West Yorkshire Police have been incredibly supportive since we raised our concerns with them and we appreciate all their efforts to date.

Finally, we would ask that the media respects our privacy at this incredibly difficult and sensitive period for our families.
– Statement from the families of Hassan Munshi and Talha Asmal
The spokesman of the family of the two 17-year-olds from Dewsbury who have travelled to Syria has named the boys.
The town's former MP Shahid Malik has named them as Talha Asmal and Hassan Munshi.
Malik says the family are 'distraught' and in 'complete shock'.
A Muslim commentator has argued that the "grooming" of young Muslims by Islamic State militants online is similar to child sexual exploitation.
Mohammed Shafiq from Ramadhan Foundation - a moderate Muslim group which aims to foster better community relations - also told ITV Calendar that today's news of two 17-year-old boys from Dewsbury flying to Syria is "deeply concerning"
Advertisement
Thomas Cook Airlines has said that it "cannot confirm" the names of passengers that have travelled with the firm amid reports of two 17-year-old boys from Dewsbury who are believed to have travelled to Syria via one of the company's flights to Turkey.
"Whilst we cannot confirm the names of any of our passengers who travel with us, we can reassure all our customers that we work closely with all authorities to ensure the safety of our flights in and out of the UK," a spokesman for Thomas Cook Airlines said.
West Yorkshire Police have confirmed that they are investigating after receiving a report that two 17-year-old boys from Dewsbury are believed to have travelled to Syria to join Islamic State.
In a statement, the North East Counter Terrorism Unit has said that since their disappearance last week West Yorkshire Police has been supporting their families and carrying out extensive enquiries.
Police say the boys were last seen by their families early on Tuesday March 31 and are believed to have boarded a Thomas Cook flight at Manchester Airport later that day to Dalaman in Turkey.
We are extremely concerned for the safety of these two boys and would urge anyone with information to come forward and speak to us. Our priority is for their safe return; their families are gravely worried about them and want them home.
– Assistant Chief Constable Mark Milsom, West Yorkshire Police
Several main roads in Dewsbury are closed following a large fire this evening.
Emergency crews are still at the scene of the blaze above a shop on Bradford Road.
It is too early to say what caused the fire but disruption is expected to continue through the evening and motorists are advised to avoid the area.
SERVICE UPDATE Services 205/212/281/282/283 unable to use dewsbury town centre due to a fire using ring road both directions.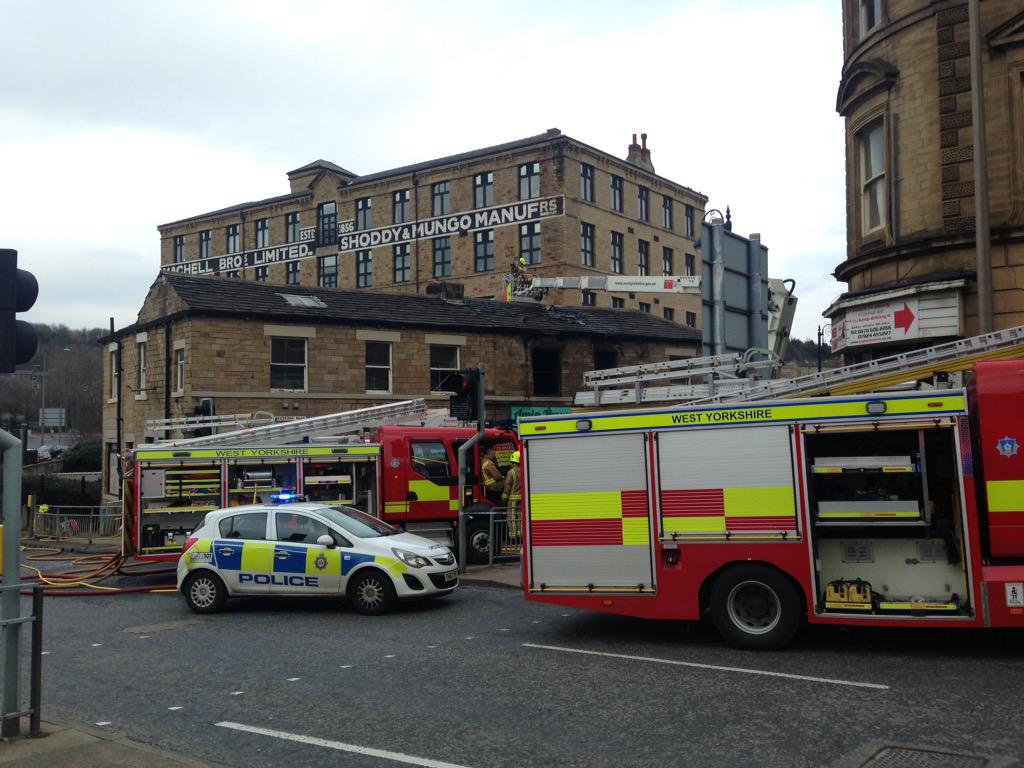 Load more updates