A businessman who provided mattresses for some of the UK's leading high street stores has been jailed for 27 months for human trafficking.
Read the full story ›
Dewsbury residents have been thanked after demonstrations through the town ended peacefully.
Around 120 Britain First members demonstrated near Old Town Hall Street while around 80 counter protesters held a separate event on Long Causeway.
No arrests were made at either of the demonstrations. One man was arrested earlier in the day for assaulting a police officer at Dewsbury Train Station and remains in custody this evening.
Four men were also arrested at Barnsley railyway station by British Transport Police for racially aggravated public order offences, in connection with the Dewsbury event.
I want to pass on my thanks to residents in the town for their calm and considered response to today's events and to traders and local businesses for their support.

We have worked hard with partners to keep road closures and disruption to a minimum to allow life to go on as normally as possible."
– Chief Superintendent Steve Cotter of Kirklees District Police
I especially want to pass on my thanks to local people and businesses who have all stayed calm and behaved with dignity. It's not easy for them to stand by and watch people who don't care about them coming into Dewsbury showing their disrespect. Once again we have shown that as a community we stand tall and proud and nothing can change that."
– Cllr David Sheard, Leader of Kirklees Council
Advertisement
Strong police presence in Dewsbury as members of Britain First gather for a march through the town. https://t.co/GVqhIw1AfB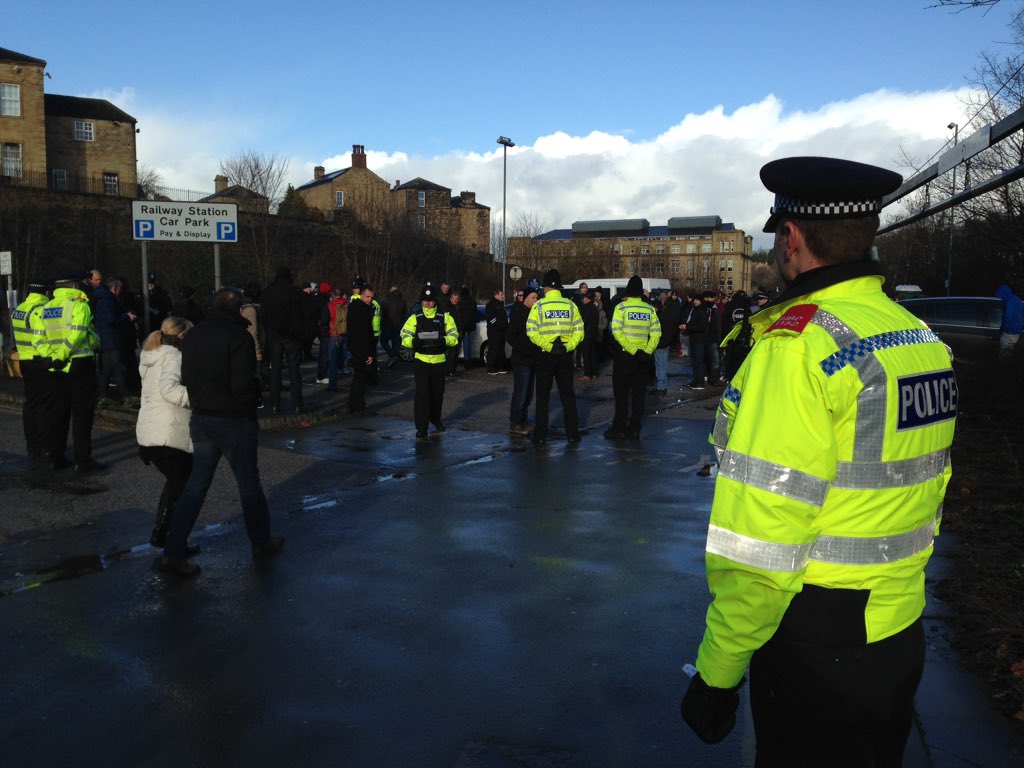 The far-right group Britain First will be holding a protest in Dewsbury today.
The group released a video showing a recent march through Bury Park in Luton and advertised the next event in Dewsbury.
West Yorkshire Police have imposed restrictions on the protest forcing the group to change their route and barred them from holding placards marked "No More Mosques."
Two sex offenders are facing more than 26 years behind bars following a major police investigation into a child sex and indecent images ring in West Yorkshire.
Andrew Lynes from Huddersfield and James Bould from Dewsbury, were sentenced to 12 and a 1/2 years and 14 years respectively at Leeds Crown Court today for a number of sexual offences.
Bould was sentenced after pleading guilty to eight offences including sexual activity with a child, causing a child to engage in sexual activity, distributing indecent photographs of a child and making indecent photographs of a child.
Lynes pleaded guilty to 11 offences including sexual activity with a child, paying for the sexual services of a child and taking indecent pictures of children.
Police are appealing for help to find a man who has gone missing from Dewsbury.
Rehan Ahmed, who is 19, has not been seen since 11am on Tuesday December 29th.
He is described as being Asian, around 5ft 5ins, medium build with short black hair and a full beard. He was last seen wearing a maroon woollen jumper, a dark blue body warmer, dark blue jeans and he was carrying a brown Gucci bag.
Anyone with information is urged to contact police.
Advertisement
Police investigating the death of a pedestrian in West Yorkshire are appealing for witnesses.
The man in his 70's, was involved in a collision with a gold DAF heavy goods vehicle at around 2.35pm on Quarry Lane at its junction with A653 Leeds Road in Dewsbury yesterday afternoon.
He suffered serious injuries and died at the scene a short time later.
Police would like to speak to anyone who witnessed the accident or the manner of driving of the heavy goods vehicle immediately prior to this incident.
A Muslim charity group from West Yorkshire has raised more than £5,000 in five days for those affected in the Cumbria floods.
World Charity Organisation (WCO) from Batley in West Yorkshire launched the Cumbria Flood Appeal 2015 after seeing the unfolding tragedy that afflicted Cumbria early this month.
The organisation raised £5,300 pounds in 5 days and collected items generously donated by the mosque community within Batley and Dewsbury.
WCO visited the Old Fire Station Penrith in Cumbria where a cheque of £5,300 was presented to trustee Ian Burke of Cumbria Community Foundation (CCF) and donated goods to Eden Flood Appeal on Wednesday 23rd December 2015.
WCO is honoured to have taken part in this worthwhile cause raising much funds for the people of Cumbria boosting sprits during the season of goodwill
– Yusuf Patel, Founder, World Charity Organisation (WCO)
A woman has been seriously injured during a struggle with a robber in Dewsbury.
The 54-year-old was getting out of a taxi in Frances Road in the early hours of Saturday morning when a man tried to snatch her handbag. She fought back and was dragged by the man towards a nearby car. As he drove off with her bag, she was dragged along with the vehicle. Police say she may have been followed to the scene after a night out in a local pub.
Police are concerned for the welfare of a 47-year-old man who has been reported missing.
Ginthras Streckas, who is believed to be originally from Lithuania and not speak English as his first language, was last seen at 6.30am on Monday, September 7, at Dewsbury hospital, where he was receiving treatment for a medical condition.
Mr Streckas is described as 5"10 tall, of slim build with short black greying hair, and was last seen wearing a long sleeve grey sweatshirt and dark coloured trousers.
"We are growing increasingly concerned for Mr Streckas as he has not been seen since yesterday morning.

"Ginthras was receieving treatment at the time he was reported missing and we concerned for his welfare.

"I would appeal to anyone who has seen or heard from Ginthras, or who knows where he is presently to come forward. Enquiries are ongoing."
– PC Sally Brook, Kirklees District Safeguarding Team
Load more updates