Police say they are concerned for the safety of a man who may have been living in a tent near to the River Calder in Dewsbury.
Detectives say a purple tent was found pitched on the river bank on Wednesday March 30th. They say the items inside it led them to speak to a local supermarket, and have now released CCTV images of the man they think may own the tent.
We are keen to speak to the man pictured to verify that it was him living in the tent, and that he is OK. If anyone can assist in identifying the man pictured, has seen or heard from him recently or knows where he is now, I would ask them contact Kirklees CID
– Detective Inspector Stef Wiseman
The body of a man found in the River Calder in Dewsbury yesterday has been identified as missing man Daniel France.
The 38-year-old was last seen in Dewsbury on 12th March.
His family have been informed.
Police were called to Sands Lane, in Dewsbury to a report of a body seen in the water.
Enquiries in to the circumstances of his death are ongoing.
Advertisement
West Yorkshire Police have released an image of the man who dragged the girl into his car.
Read the full story ›
West Yorkshire Police are appealing for information after a man was reported missing from Dewsbury.
Daniel was last seen on Ravens Avenue in Dewsbury on Saturday 12th March. There has also been a possible further sighting on Heckmondwike Road at 11pm on Sunday 13th March.
He is known to be a drug and alcohol user and has associated health issues. He has no known access to money and left his mobile phone at home.
If you have any information, you can contact West Yorkshire Police on 101.
Police in Dewsbury say they are increasingly concerned about a man who has been missing since Saturday.
38-year-old Daniel France was last seen in Ravens Avenue, Dewsbury, at 4pm on 12 March, and has not been seen or made contact with his family since.
He is described as white, 5ft 9ins tall, with short, dark brown hair. He was last seen wearing a black jacket, blue jeans and white and black K Swiss high-top trainers.
A man has been charged with attempted murder after a man suffered serious injuries in an incident in Dewsbury yesterday.
Wayne Walshaw, 44, of Mountain Crescent, Thornhill, was also charged with possession of a weapon in a public place.
He is due to appear at Leeds Magistrates Court today.
The 46-year-old victim has now been released from hospital.
Advertisement
West Yorkshire Police are appealing for information following a violent confrontation in Dewsbury.
Police say the incident happened on Halifax Road on Saturday 13th December at 9pm.
The 22-year-old victim was driving a blue Toyota Celica, when a silver car pulled in front causing him to stop. Three men got out of the silver car and verbally abused the victim. One of the men punched the victim and attempted to get in the drivers seat. The group damaged the victim's car and then fled from the scene.
The suspects are described as Asian, with a local accent and in their early 20's.
A businessman who provided mattresses for some of the UK's leading high street stores has been jailed for 27 months for human trafficking.
Read the full story ›
Dewsbury residents have been thanked after demonstrations through the town ended peacefully.
Around 120 Britain First members demonstrated near Old Town Hall Street while around 80 counter protesters held a separate event on Long Causeway.
No arrests were made at either of the demonstrations. One man was arrested earlier in the day for assaulting a police officer at Dewsbury Train Station and remains in custody this evening.
Four men were also arrested at Barnsley railyway station by British Transport Police for racially aggravated public order offences, in connection with the Dewsbury event.
I want to pass on my thanks to residents in the town for their calm and considered response to today's events and to traders and local businesses for their support.

We have worked hard with partners to keep road closures and disruption to a minimum to allow life to go on as normally as possible."
– Chief Superintendent Steve Cotter of Kirklees District Police
I especially want to pass on my thanks to local people and businesses who have all stayed calm and behaved with dignity. It's not easy for them to stand by and watch people who don't care about them coming into Dewsbury showing their disrespect. Once again we have shown that as a community we stand tall and proud and nothing can change that."
– Cllr David Sheard, Leader of Kirklees Council
Strong police presence in Dewsbury as members of Britain First gather for a march through the town. https://t.co/GVqhIw1AfB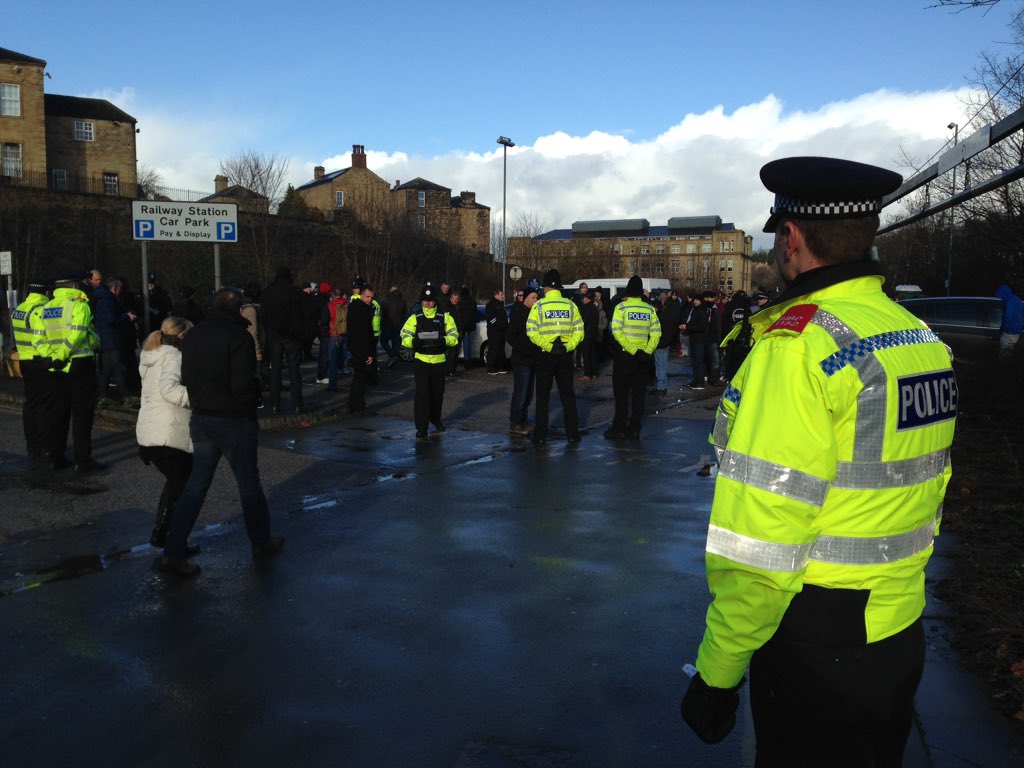 Load more updates