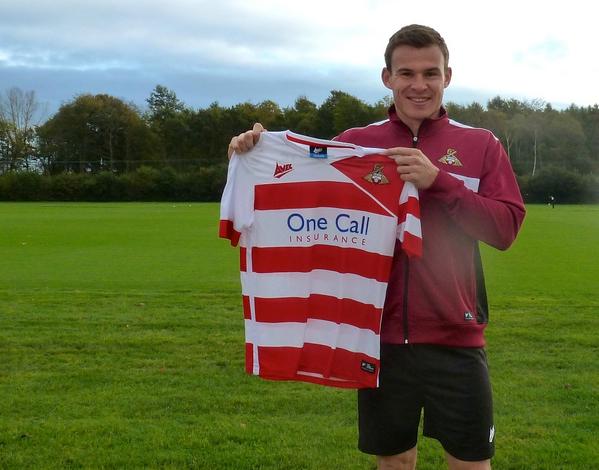 Doncaster-born Andy Butler has signed a loan deal with Doncaster Rovers. The defender is joining the club from Sheffield United. Butler will go straight into the Doncaster squad for this weekend's clash with MK Dons, as Paul Dickov's side look to record a first win in three matches.
Paul Sheridan, a policeman from Doncaster has returned home after facing an avalanche in Nepal, which killed at least 30 people.
Advertisement
A Police officer from South Yorkshire is safely home with his family, after being caught up in a series of avalanches that killed almost 40 people in the Himalayas.
Paul Sherridan landed back in the country yesterday. He will be on Calendar tonight (Monday October 20).
The number of people killed in a blizzard in an area of the Himalayan mountains popular with trekkers has risen to 30 with up to 65 people including 35 tourists reportedly still missing.
Nepali troops are searching rugged snow-covered Himalayan terrain in an effort to find any remaining survivors of the blizzard which has led to one of the country's worst mountain disasters.
Twelve helicopters have dropped searchers in otherwise inaccessible spots, while soldiers fanned out in different directions.
Unseasonal weather in peak trekking season unleashed avalanches in the area and many hikers were caught unprepared and unawares by the sudden change.
It's believed a number of patients have been taken out of Doncaster Royal Infirmary this evening after a fire. A spokesperson for South Yorkshire Fire Service said the fire was in a sterilising machine in the basement and that whilst it was now out the evacuation had been carried out because of smoke.
A police officer from South Yorkshire who has survived what is fast becoming Nepal's worst ever mountaineering disaster has spoken of the horror he witnessed on the Himalayan slopes and of how he believes dozens of trekkers were herded to their deaths.
Paul Sherridan, who's a custody sergeant from Doncaster, has blamed ill-equipped guides for leading people into deadly blizzards. Mr Sherridan himself helped to take more than one hundred people to safety through what he has called 'a white abyss'. Lisa Adlam reports.
Advertisement
A 25-year-old man has been charged with murder, in connection with the death of Adam Szurgocinski in Doncaster.
Mateusz Halabura, from Doncaster, is due to appear at Doncaster Crown court today.
The 23-year-old man arrested yesterday remains in custody.
The 24-year-old man also arrested yesterday has been released on police bail, along with the six other men and a woman, who were previously arrested on suspicion of murder, pending further enquiries.
Mr Szurgocinski, 26, from Doncaster, was found at an address in Jubilee Road at 9.20am on Sunday 14 September, suffering from a serious neck injury.
He was taken to hospital where he later died.
A British survivor of a Himalayan mountaineering disaster has recounted how he escaped the horrific blizzards and avalanches which led to at least 29 deaths earlier this week.
Paul Sherridan said walkers were left stumbling through "an abyss of nothing" as dense snow left them unable to orient themselves on the slopes of the Annapurna range in northern Nepal.
Mr Sherridan said that trekkers should have been prevented from going up the mountain, but were "herded to their deaths" by guides who he alleged were not carrying the correct emergency equipment.
Rescuers have pulled out more than 230 trekkers - most of them foreigners - since rescue efforts began on Wednesday, and are still searching the Annapurna range looking for more survivors, who are believed to be stranded in lodges and huts. Hiking remains difficult because of waist-deep snow.
The Nepalese government has announced a high level committee with two senior ministers to monitor and co-ordinate rescue efforts in what is shaping up to be the country's worst mountaineering tragedy.
Speaking to ITV News, Mr Sherridan described the ordeal.
Mr Sheridan said in a radio interview that he believed the "incident could have been prevented."
I knew the weather forecast before I set off.

Having spoken to my guide, who wasn't there but obviously has been there, they say that the weight that the porters carry is so great that they leave their own personal safety equipment behind to lighten their load. That to me is an absolute disgusting folly.

If someone had taken the responsibility just to stop people going up there, I'm sure the fatalities would have been a lot less. They were herded up that mountain to their death, and something needs to be done to address those facts.
– Paul Sherridan, Avalanche survivor
Police are growing increasingly concerned for a 21-year-old woman who is missing from her home in South Yorkshire.
They say it is very out of character for Samantha Pepper to go missing and they would like to hear from anyone who can help to find her.
Samantha, from Balby, was last seen in Doncaster town centre at around 4.30pm today (October 16th) and has not been seen or heard from since. Police have been working with Samantha's family and friends and have been carrying out searches to find her.
Doncaster will be one of eight towns across the country to get a boost from online retailer Amazon, which is set to expand its UK workforce by adding 1,000 full-time jobs over the coming months.
The firm added that the permanent roles will start on an average of £7.39 per hour and earn up to £8.90 per hour after two years.
The US-based firm said it had invested over £1 billion at its UK operations and has created over 2,000 jobs in the last two years.
In January the retailer said it would begin Sunday deliveries to Leeds and six other UK cities.
Load more updates