Detectives investigating the death of a teacher in Doncaster will appeal for witnesses tonight outside the bar where he was reportedly assaulted.
24-year-old Lewis Siddall was found dead in bed at his home last Friday, hours after he was apparently assaulted in VDKA bar.
He died from a head injury.
Police are hoping to speak to anyone who was at the bar at the same time as Mr Siddall last Thursday 13th August.
The investigation is still in the very early stages and we are carrying out a vast amount of work to establish the full facts about what happened to Mr Siddall. A team of officers will have a clear presence in Silver Street outside the VDKA bar tonight - we will be there simply to speak to anyone who might have information about what happened. We are committed to finding answers for Mr Siddall's family and urge anyone with information to tell us what they know.
– Detective Chief Inspector Steve Handley
A 22-year-old man was arrested on suspicion of murder and has been released on bail pending further enquiries.
The father of a six-year-old boy severely injured in a fairground ride accident says not enough has been done to improve safety standards.
Thomas Russon, from Beighton, near Doncaster, suffered extreme burns after falling from a carriage on a ghost train ride and being dragged along the tracks at Skegness Pleasure Beach on July 20. His dad David says there should be greater restrictions on the height and age of youngsters allowed onto certain rides, unless they're accompanied by an adult.
Calendar has contacted the pleasure beach for a comment but they have been unavailable. However we understand the owners have been asked to install cctv cameras on the ride.
Advertisement
Sally Simpson reports from the scene of a large fire at industrial units in Hexthorpe, near Doncaster. At its height a huge pall of black smoke could be seen for miles around. People living close by were warned to keep windows and doors closed when it emerged a cocktail of chemicals inside the units was on fire.
Train services between Doncaster and Sheffield are now back to normal after disruption caused by a large fire at Hexthorpe near Doncaster
The fire at industrial premises at Hexthorpe near Doncaster has destroyed two units - including one containing hundreds of 'Minion' toys. The soft toys are the latest craze amongst youngsters following the hit animated movie of the same name.
And hundreds of them were being stuffed at The Stuffing Plant Ltd, a firm which specialises in soft toy filling and manufacture. The load went up in flames along with neighbouring Ample Fuel Ltd.
The incident has now been scaled down although there are still several crews at the scene. Train services between Doncaster and Sheffield have been disrupted as a result of the fire and delays are expected to continue until at least 4pm.
Due to the large amount of smoke in the Hexthorpe area, residents are asked to remain in doors if possible and keep windows & doors closed.
Advertisement
A huge plume of smoke can be seen around South Yorkshire following a large fire at an industrial unit at Hexthorpe, near Doncaster.
Wendy Scott took this picture in Sheffield showing a plume of smoke from the fire at Hexthorpe, near Doncaster.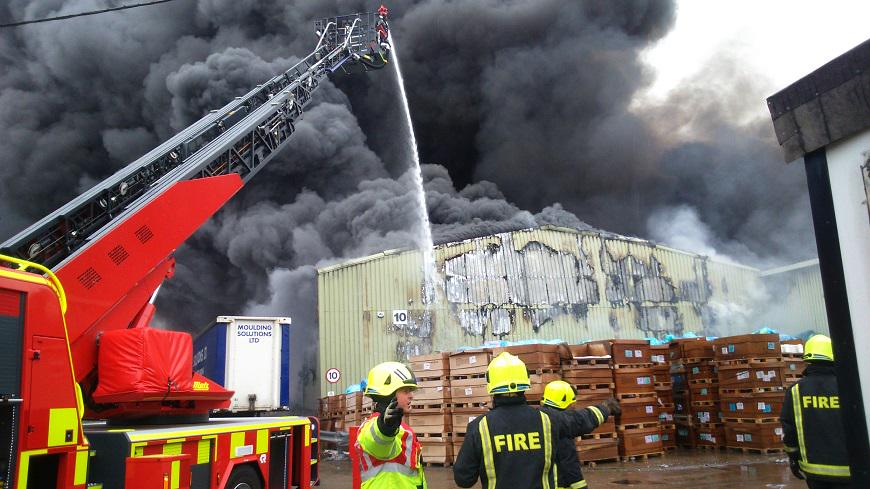 Over 40 firefighters are tackling a fire at an industrial unit in the Hexthorpe area of Doncaster.
The blaze is contained to one area and local residents are being advised to keep windows and doors closed. There have been no casualties but surrounding premises have been evacuated as a precaution.
Fire crews were called to Albion Terrace around eight o'clock this morning and are likely to remain there for most of the day. The fire may cause some disruption to train travel through the Doncaster area and commuters are advised to check their routes before travelling.
Load more updates