Sarah Stevenson, the olympic medal winning taekwondo star from Doncaster, has announced the birth of her first child.
Elsie Diana Jennings was born earlier this week.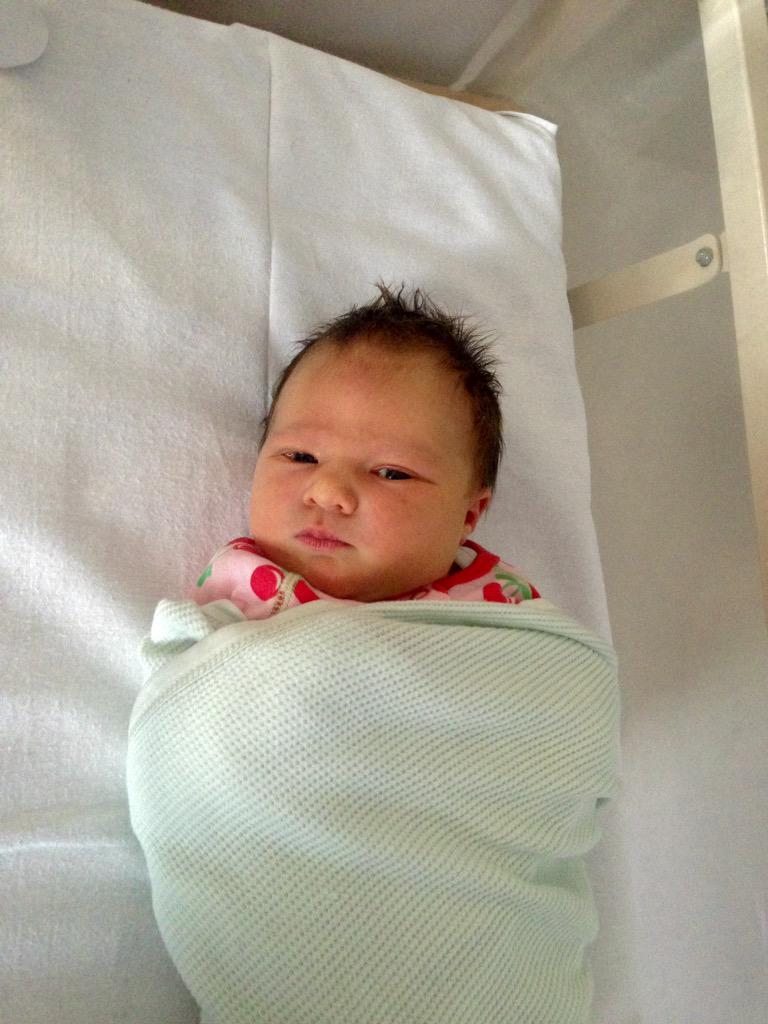 A motorcyclist is fighting for his life after a collision in Doncaster last night. A second man, riding pillion on the bike, is also in hospital with serious injuries.
It happened at around 8.40pm on Wednesday on The Avenue between the junctions of Elm Street and Alexander street. No other vehicle was involved.
The 30-year-old driver and the 48-year-old passenger remain in hospital.
Police are appealing for anyone who saw the crash to contact them.
Advertisement
Concerns are growing for a man missing from Doncaster.
Officers say Carl Ashton may be in the Cleethorpes area.
He was last seen yesterday at around 12pm when he left his home address in Auckley, Doncaster.
Police say he is believed to have travelled to Cleethorpes and officers are working with Humberside Police to try and locate him.
Carl is white, approximately 5ft 8ins tall and of a slim build.
He is reported to be driving a silver Honda Accord.
This coming Thursday, Doncaster's world boxing champion Jamie McDonnell will fly out to Texas to prepare for his biggest challenge to date.
He takes on fellow world champion, unbeaten Tomoki Kameda from Japan, in a bantamweight unification fight on 9th May.
Jamie and his twin brother Gavin, a European super bantamweight champion, joined Duncan and Christine in the ITV Calendar studio:
A man from Doncaster has been jailed after admitting child abduction and a number of sexual offences against a teenage girl.
Leslie Thornton, 21, was sentenced to three years in prison at Sheffield Crown Court today after pleading guilty to 10 counts of sexual activity with a child and two counts of child abduction at a hearing in January.
Thornton began a relationship with the then 14-year-old girl in October 2013 and admitted knowing her age when he started a sexual relationship with her.
The victim's mother contacted police in August 2014 to raise concerns about her daughter's relationship after she found out the age of Thornton and that their relationship was sexual.
Thornton was arrested and forensic evidence was recovered. He was served with an abduction notice as the investigation continued and he breached that by seeing the victim on several occasions.
He was charged with a number of sexual offences and two counts of child abduction.
The trial of six men has begun at Sheffield Crown Court following the death of a 26-year-old man in Doncaster last year.
Police were called to an address on Sunday 14 September, by the ambulance service, who were there to treat a man with serious, unexplained injuries.
Adam Szurgocinski later died at hospital and police launched a murder investigation to establish the circumstances surrounding his death.
The post mortem concluded that Mr Szurgocinski had suffered from a haemorrhage, which officers believe had been caused by an injury to his neck during an assault.
After extensive enquiries, spanning a number of months, a total of 16 people were arrested on suspicion of murder.
Following further enquiries, Mateusz Halabura, 25, Pawel Wergorzewski, 20, Rafal Palinski, 29, Jaroslaw Owczarczyk, 32 and Sebastian Mariusz Gurski, 30 were charged with murder and appeared at court today.
Dariusz Bagusz, 32, was charged with perverting the course of justice and was at court this afternoon.
Nine of the other people arrested were all later released, without charge and one remains on police bail.
Advertisement
The human remains found on a railway embankment near Hexthorpe Junction in Balby last month are of long-term missing person Alan Brown, police say.
Mr Brown, who was 59-years-old when he was last seen, went missing from his home address on Westfield Road in Balby on Wednesday, 17 October, 2012.
Despite extensive enquiries and appeals by South Yorkshire Police, Mr Brown was never found.
British Transport Police launched an investigation on Sunday, 29 March, 2015, following the discovery on the railway embankment.
Officers forensically recovered Mr Brown's body and working alongside South Yorkshire Police, the process of formal identification commenced.
A post-mortem examination carried out was inconclusive and a file has now been prepared for the Coroner. Mr Brown's family have been informed.
Police say the death of Mr Brown is at this stage not being treated as suspicious.
Yorkshire Wildlife Park has released CCTV footage of the birth of three endangered tiger cubs.
Tigress Tschuna and the cubs' father Vladimir are Amur Tigers, whose numbers in their native habitat in the Russian Far East have dwindled to approximately 450 due to poaching and disappearing habitat.
"We watched the birth as it happened on the CCTV camera, as Tschuna had hidden herself away in peace and quiet of the cubbing den. It was a very special moment and an incredible privilege," said Kim Wilkins, Carnivore Team Leader.
"It was so heart-warming to see how Tschuna took to motherhood and how natural the new family is. Both the birth and her bonding to the cubs was all captured - it is truly enchanting footage and I am glad that we are able to share it with everyone "
The cubs were born on March 29th and Tschuna is still caring for and feeding her cubs inside the house in the Park's Land of Tigers.
They will not be seen by visitors at the Park for some weeks to come, but the Park says it will be releasing further footage as the cubs grow.
Do you recognise these men?
British Transport Police has released CCTV images of a group of men they believe could have key information about graffiti damage at Mexborough Station.
The passenger subway at the station was vandalised at around 5.30pm on Wednesday, 25 March.
Police say that CCTV cameras were sprayed out and walls and roof of the subway were also sprayed. Two cameras were damaged by the spray paint in an attempt to obscure any view of the offenders.
Graffiti is criminal damage and costs money to remove. We believe the three men in the images could have vital information about the criminal damage and we urge them or anyone who recognises them to come forward to assist with our enquiries.
– PC Helen White, investigating officer
A rare female goshawk has reportedly been stolen near Doncaster.
Ian Trotter, the owner of the Russian white female goshawk, says the bird was stolen from the aviary in his garden in the village of Mattersey near Doncaster over the weekend.
She is a very large albidus sub-species and was in full breeding condition so is very vocal and can be heard constantly cackling.
– Ian Trotter, owner
Load more updates