Yorkshire MEP Jane Collins has opened UKIP's conference in Doncaster with a speech about the child abuse scandal in Rotherham. Our political correspondent Paul Brand is there:
"Nearly every agency in Rotherham had grossly failed to protect it's children" says @jane4ukip on #Rotherham abuse
UKIP's largest ever conference gets underway in Doncaster. 1st up, Yorkshire MEP Jane Collins on scandal of Rotherham http://t.co/4FdveXrjHl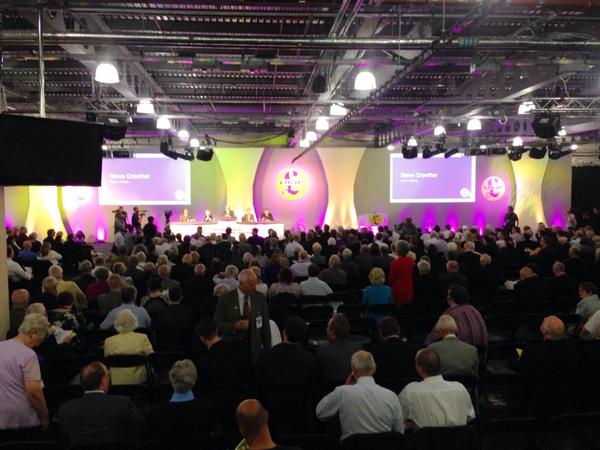 Advertisement
Just hours before he addresses Ukip's annual conference, Nigel Farage has revealed he has not yet written his keynote speech.
He told LBC Radio: "I've been so busy this week I haven't yet had time to even sit down and write the speech, that's going to happen at lunchtime. I'll work it out later."
Asked about Ed Miliband's recent conference speech, the Ukip leader said there was not "a great deal of passion, or fire, or belief or connection" in the Labour leader's delivery.
Nigel Farage has claimed Labour have overseen the emergence of a fraud-ridden postal voting system in northern English constituencies "which would not be out of place in a country like Zimbabwe".
Writing in the Independent, the Ukip leader says Labour's dominance of northern England "has resulted in the emergence of a postal vote system rife with fraud and intimidation".
Ukip are holding their annual conference today in the Yorkshire town of Doncaster, a move Mr Farage describes as "parking our tanks on a rival party's lawn".
Ukip could take a number of seats from Labour in next year's general election, research by the University of Nottingham showed.
Vulnerable areas include:
Shadow women's minister Gloria de Piero's Ashfield constituency.
Retiring veteran Austin Mitchell's Great Grimsby
Sarah Champion's Rotherham, where Ukip came second in a recent by-election.
And Plymouth North View and Dudley North.
The UK Independence Party (Ukip) will directly try to capture the "blue collar" vote as they kick off their annual conference later today.
Ukip will outline plans to help low-paid workers by overhauling income and capital gains taxes, and set out reforms for the NHS.
It will also pledge to transform the way military veterans are treated by guaranteeing long-servers a job in the police, border force or prison service when they return to civvy street.
Nigel Farage's party are holding their conference in the town Labour leader Ed Miliband represents, Doncaster.
Mr Farage who will fight South Thanet, Kent, in next May's election, is expected to use his keynote speech this afternoon to make a "full frontal assault" on the Opposition, claiming it has failed the people it was founded to represent.
Advertisement
A charity claims its educational work in Doncaster prison is putting habitual offenders onto the straight and narrow, and saving the taxpayer millions.
The Cascade Foundation, which works with inmates who have learning difficulties, says by helping them to read and write, they are much less likely to reoffend. Emma Wilkinson reports:
The leader of UKIP, Nigel Farage, says he is preparing to take his fight for the votes of Labour supporters into the heart of the Labour leader's constituency.
UKIP's annual conference opens in Doncaster tomorrow - the town represented by Ed Miliband:
Detectives investigating the death of a man in Doncaster say they need to find out what happened to him before he died.
Giovanni Leggieri, 44, died from a single stab wound, on 14 September.
Officers state that Mr Leggieri, who was known as John or Johnny, had shorter hair than shown in the photograph and it had also started to go grey.
Mr Leggieri also had a moustache and is believed to have been living in Doncaster for around four to five months. Prior to this, he lived in West Yorkshire.
Those investigating say they are not seeking anyone in connection with his death, but need to speak to people who saw him the weeks running up to it.
Police officers in South Yorkshire who had been searching for a man reported missing say he has been found safe and well.
32-year-old Anthony Fairlamb was found in the Intake area of Doncaster. Officers would like to thank people for their assistance in the search.
Load more updates