They were once two separate groups but last year they pleased fans all over the world by uniting.
After a sell out tour that ended in the region last year, supergroup McBusted will soon be back at the Leeds and Sheffield Arenas this coming March and it's all eighties inspired... or so we thought.
Daniel Harris reports:
The Brownlee brothers are no strangers to the odd triathlon, but it would seem a heavy outburst of snow is enough to stop the pair in their tracks.
Either that, or they're making moves for snow-cycling to become a winter olympic sport.
We'll let you decide.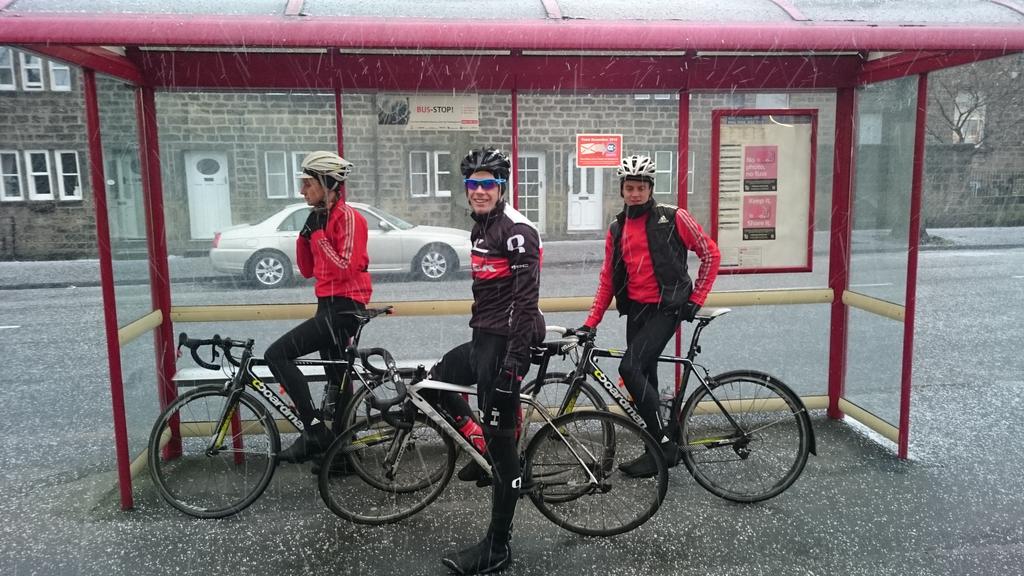 Advertisement
Tesco stores across Yorkshire are among 43 nationwide that the retailer has confirmed will close.
Doncaster (Superstore)
Crossgates (Metro)
Mexborough (Metro)
Woodseats (Metro)
Sheffield Manor (Express)
In addition, a Tesco Express store at Raymouth Lane, Worksop will close.
These are the stores that Tesco have revealed are set to close.
Bedlington
Chatham
Connswater and Cregagh Road in Belfast
Doncaster
Kirkcaldy and Wrexham Dodds Lane
Bristol Cribbs Causeway
Chelmsford
Chester
Edinburgh
Southampton
Staines
Bicester
Bootle
Caerphilly
Crossgates
Devizes
Grangemouth
Mexborough
Morecambe
Ormskirk
Runcorn
Smethwick
Woodseats
Tesco Express convenience stores
Bearwood
Belvedere
Church Street, Ballymena
Heaton Chapel
Heybridge, Essex
Houghton Regis
Liverpool Kensington
Longbridge Road, Barking
Northfield, Birmingham
Raymouth Lane, Worksop
Sheffield Manor
South Tottenham High Road
Tredegar
Troon
Walsall Wood
Wealdstone
Whitley Bay
York Road, Hartlepool.
Around 2,000 Tesco workers have been told their jobs are at risk after the supermarket giant announced the location of 43 store closures.
Seven superstores and six Homeplus outlets are among the unprofitable shops identified for closure by new chief executive Dave Lewis.
Mr Lewis said: "The decision to close the stores has been exceptionally difficult to take. I recognise it will affect many hard-working colleagues, our customers and local communities.
"Our priority is to explain what this announcement means for our colleagues and, wherever possible, offer them alternative roles with Tesco."
Advertisement
An anti-fracking protest camp near Crawberry Hill has cost East Riding of Yorkshire Council around £75,000.
The council revealed that protestors had dug a tunnel under the main access road into the side, which had to be filled in with concrete. Other costs include the collection of waste from the site and repairing hedge rows and land in the area.
The council served legal notices on 2 December 2014, under sections 143 and 149 of the Highways Act 1980 at the camp, following a number of safety concerns raised by local residents, police, the highways authority, landowners and a parish council.
In the notices, the council requested that the protesters removed all caravans, tents and wooden structures within a 35 day time frame (no later than 7 January) to ensure compliance with the notices.
The council said those terms were ignored and it was left with no alternative but to remove the fencing, timber buildings, caravans and tents from the highway verges to ensure the safety of motorists, the travelling public and the protesters themselves.
The council had hoped that a common sense solution could have been reached but, following the refusal of the protesters to move the caravans and structures, the council had to act in the interests of public safety. The size and scale of structures that had developed on the highway over recent months had become a real hazard to motorists, the travelling public and the protesters themselves. It was with great regret that the council had to take enforcement action, which has come at considerable cost to the public purse, and the authority will use all legal recourse available to recover the costs from the protesters.

While the council fully supports the right to protest, the operational costs and ongoing spend related to this enforcement action, such as storage of possessions, administration, staff time and resources to restore the site, is shocking and comes at a time when budgets are being reduced. This is a pressure that both the council and Humberside Police could well do without. To be clear, the council has and does not seek to obstruct or deny the protesters' democratic right to protest and the offer of a safe area of highway for protest, in person only, is available
– Nigel Leighton, director of environment and neighbourhood services
Click here for more on the Crawberry Hill camp.
Liam Mower from Hull was first on Calendar in 2004 as he embarked on a run of shows playing Billy Elliot on the West End.
Now, more than a decade on, he is back performing in Yorkshire as Edward Scissorhands.
Natalie Grey caught up with him:
The Met Office has issued an Amber Warning for snow in Yorkshire and the Humber.
It is expected to begin from around 5pm today and last until tomorrow morning.
Click here for the latest weather forecast.
Unions are to demonstrate outside Tata steelworks in Scunthorpe today to ask the Government for more support for the industry.
A Government spokesperson said:
The steel industry is an important part of the UK economy. It is facing anxieties, challenges and opportunities at the moment and we are working as hard and fast as we can on all of them in partnership with the sector. We have provided a multi-million pound compensation package for energy intensive industries, and will be doing more as soon as possible. To help the industry win orders we have identified a pipeline of over 500 infrastructure projects. More than £8million of government funding will support a new Tata Steel Research and Development Centre. To boost skills we are funding postgraduate research students and apprenticeships. We are also supporting the metals sector on the industrial strategy it hopes to publish later in the year.
– Government spokesperson
Load more updates