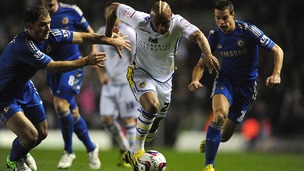 Chelsea defied jet lag as they overturned a one-goal deficit with a five-goal second-half show to beat Leeds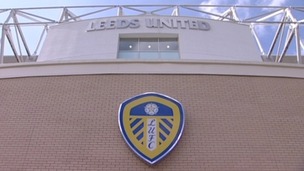 Leeds United have won their High Court action over who should pay for policing of matches at their Elland Road stadium.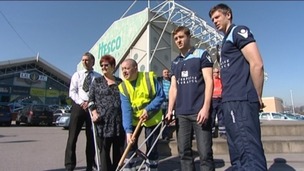 Leeds United's players have swapped their strip for overalls and joined forces with the council to keep to the streets clean.
Live updates
It is less than 600 days until the start of next year's Rugby World Cup. England is hosting the competition and Elland Road is an official venue. Today, building on the success of the London Olympics' volunteer games makers, organisers have started a search for an army of volunteers.
They will be helping welcome fans and making sure people get to the stadiums. 6000 volunteers are needed and as David Wood reports they are keen to reward people who already volunteer at grassroots clubs.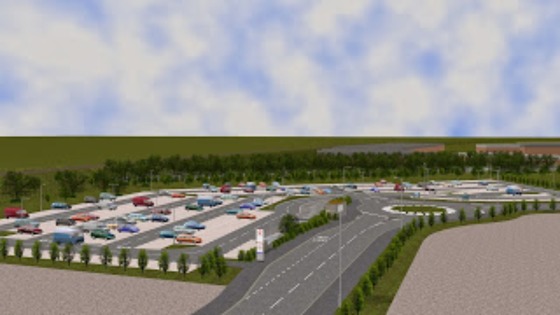 Final approval for the creation of the city's first major bus-based park and ride scheme will be considered by senior councillors in Leeds next week.
At its meeting at Civic Hall on Wednesday 6 November, the council's executive board will be asked to give the go-ahead to the £2.8million project to create a new park and ride scheme to be run from the council-owned car parks to the west of Elland Road Stadium.
The plan and designs have been drawn up by Leeds City Council and Metro, with the scheme seeing the introduction of an express bus service running every 15 minutes to and from Boar Lane in Leeds city centre.
The service would run from 7am to 7pm Monday to Saturday, excluding Saturday matchdays when Leeds United are playing at home. Running initially for a five-year period, the service would provide parking space for up to 800 vehicles.
Work on site would see a formal parking area being put in place along with bus waiting facilities, a shelter, lighting, signage, ticketing machines, fences, CCTV and landscaping .
Planning permission was granted last week, so should executive board approve the plans work would be expected to start on site in February 2014 with the service scheduled to start operating three months later in May.
Advertisement
Leeds United chief executive Shaun Harvey has welcomed the announcement that Elland Road will host two games when Rugby World Cup 2015 comes to England.****
Rugby World Cup is the third largest global sporting event and will see the top 20 international teams compete for the Webb Ellis Cup.
The stadium has already staged England football internationals, Rugby League internationals and was among the venues for Euro 96.
The stadium will play host to two games, on September 26/27 2015, featuring Scotland and Italy.
"We're delighted that the stadium has been selected as one of the venues to be used during Rugby World Cup 2015," said Mr Harvey.
"It promises to be an exciting event showcasing all that is good about sport and this gives us the opportunity to play host to a prestigious global competition.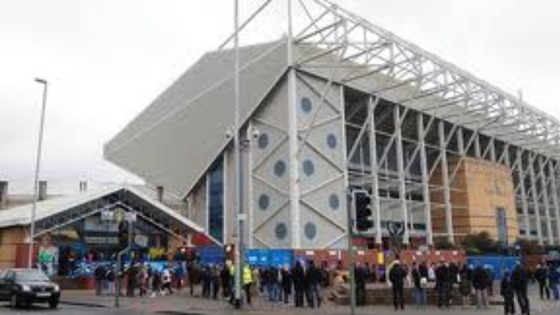 Leeds United's Elland Road stadium has been confirmed as one of 13 venues for the 2015 Rugby World Cup, tournament organisers announced today.
The stadium will host two games during the six week long festival of rugby.
England will kick off the tournament at Twickenham on the evening of Friday September 18, 2015, against a team from the Oceania qualifying group, likely to be Fiji.
The 13 venues selected are: Twickenham (10 matches); Wembley Stadium (two matches); Olympic Stadium (five matches); Millennium Stadium, Cardiff (eight matches); Etihad Stadium, Manchester (one match); St James' Park, Newcastle (three matches); Elland Road, Leeds (two matches).
King Power Stadium, Leicester (three matches); Villa Park, Birmingham (two matches); Kingsholm, Gloucester (four matches); stadium mk, Milton Keynes (three matches); Amex Stadium, Brighton (two matches) and Sandy Park, Exeter (three matches).
Leeds vs Chelsea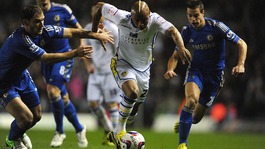 Chelsea defied jet lag as they overturned a one-goal deficit with a five-goal second-half show to beat Leeds
Read the full story
Advertisement
Leeds vs Chelsea
Leeds United have suffered a 5-1 defeat to Chelsea in the quarter final of the capital one cup at Elland Road. The home side scored early on with this shot from Becchio in the 36th minute.
Chelsea were denied a goal just before the break from a Lampard free kick...and it wasn't until the secod half that they finally got on the scoresheet. Mata with the first, which opened the floodgates - for goals from Ivanovic, Moses, Hazard and Torres.
Leeds vs Chelsea
Follow this link to ITV sport for the latest result.
Leeds vs Chelsea
Seven Chelsea players who started the Club World Cup loss to Corinthians in Japan on Sunday shook off their jet lag to line-up in the Capital One Cup quarter-final against Leeds tonight.
Only substitutes Ashley Cole and Eden Hazard and the suspended Gary Cahill and Ramires failed to make the cut, with the likes of Frank Lampard, Juan Mata and Fernando Torres joined in the starting 11 by starting debutant Marko Marin.
Leeds made three changes to their side from the one which beat Ipswich 2-0 on Saturday, with regular cup goalkeeper Jamie Ashdown starting in place of PaddyKenny and Jason Pearce and Michael Brown taking the field instead of Alan Tate and David Norris.
Leeds takeover latest
It's been reported that the Dubai-based company that wants to buy Leeds United has invested £2m in the club this summer. There are further claims that figure could actually be nearer £6m.
The transfer of £2m is understood to have taken place during the summer when Leeds were rebuilding their squad and talks between the board at Elland Road and GFH Capital ( a private equity firm owned by a Bahraini investment bank) were gathering speed.
For almost 5 months now United have been in negotiations with GFH Capital over a £52m buy-out of the club. Though speculations over the financial state of the parent company has raised concerns about the viability of the takeover.
Load more updates
Back to top