David Cameron and George Osborne have visited the Emmerdale village on a trip to Yorkshire
Read the full story ›
As awards season gets in full swing, Michael Parr is hoping to be the first Emmerdale actor to take home the 'Best Newcomer' award since Lisa Riley in 1996. Daniel Harris caught up with Emmerdale's resident bad boy on the set of the soap.
Advertisement
A question mark will hang over whether two of Emmerdale's childhood sweethearts will tie the knot for a second time in this Christmas' episodes. Andy Sugden and Katie Addyman are due to get married on Christmas Day but with Andy's step-brother Robert threatening to cause trouble, along with other surprises it is not clear whether the wedding will go ahead.
James Webster has been speaking to actors Kelvin Fletcher and Ryan Hawley who play the two brothers to find out more about what we can expect from the special festive episodes:
Confirmed: All Star Family Fortunes Christmas special (Coronation Street v Emmerdale): Sunday 28 December, 8pm on ITV http://t.co/uW3qZ7XrzB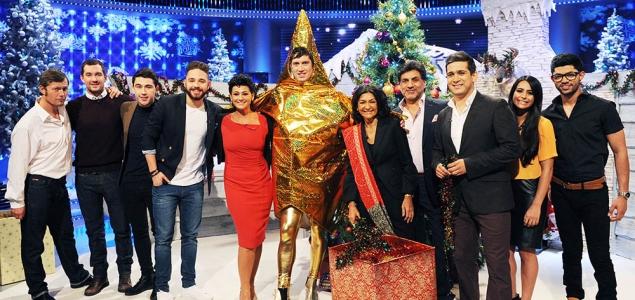 Former Brookside actress Gillian Kearney has joined ITV Yorkshire's award winning soap Emmerdale.
Gillian, who is best known for her role in Brookside as Debbie McGrath, will play Emma Barton, the estranged mother of Finn, who tracks her down after 22 years of absence.
Emma Barton is a woman with a secretive past. With James and Moira's affair now out in the open, viewers will be left wondering how the complex Emma will react when she finds out James also fathered a son, Adam with her sister in law, Moira.
"As an avid fan of Emmerdale, I'm delighted to be playing Emma Barton.

She's a fascinating and complex character and I'm excited to find out what lies ahead for her.

"The team at Emmerdale have all made me feel really welcome and I'm loving being part of such a brilliant show."
– Gillian Kearney
"I'm thrilled to welcome Gillian to the show. The arrival of Emma Barton has been long awaited, so her arrival is sureto cause fireworks in the volatile Barton family!"
– Kate Oates, Emmerdale series producer
Gillian will make her on-screen Emmerdale debut in January.
Soap fans know Dominic Brunt as loveable vet Paddy Kirk - but the actor has a dark side, apparently...
The Emmerdale star previously appeared on Calendar to tell viewers he had directed his very own crime thriller, 'The Taking'.
Now, the film is going to open the 28th Leeds Film Festival tomorrow night.
Dominic appeared on Calendar tonight along with his two leading ladies, his wife Joanne Mitchell and Irish actress Victoria Smurfit:
Advertisement
It is one of the most notorious addresses in soap land - Home Farm in the village of Emmerdale. With nine previous owners including the Tates, the Wyldes, and the Kings there's never a dull moment at the "big house".
Now the Whites are about to take up residence. Gaynor Barnes met actor John Bowe who plays millionaire businessman Lawrence Wright...
Over two and a half thousand people have taken part in a walk in Leeds to help raise awareness for those suffering from dementia. Emmerdale star Adele Silva, whose grandma sufferred from dementia, officially started the walk in Roundhay Park alongside former Emmerdale actor Mathew Bose. They explain why they back the campaign.
Load more updates