Emmerdale are celebrating a double success after picking up two awards at the British Soap Awards.
Verity Rushworth picked up the Scene of the Year award for Donna Windsor's goodbye to her on-screen daughter, Amelia Flanagan, who plays April Windsor.
It was a successful evening for Amelia too, who won Best Young Performance for her role as April:
One of the highlights of the television soap calendar takes place on Saturday night, the British Soap Awards is set to take place on Saturday night.
The event will be on television next week and stars from all the main soaps, including Emmerdale, will be attending the event.
Today, members of the press were invited by the cast to the Emmerdale Village as they prepare for the big night - among them our own Daniel Harris, and it wasn't the usual sort of Press Day!
Advertisement
Emmerdale is up for a dozen gongs at this year's British Soap Awards.
The soap, which is made at ITV Yorkshire , has been nominated in a dozen categories in the annual awards which take place next month.
Among the Emmerdale nominees are Michael Parr, who plays Ross Barton, who is up for Best Actor and best -on screen partnership with Verity Rushworth, who played Donna Windsor.
Natalie Anderson, who plays Alicia Metcalfe, is also up for two awards - best actress and best dramatic performance.
Paula Tilbrook will leave Emmerdale this year after playing Betty Eagleton for 21 years, it has been announced.
Betty first appeared in April 1994 for just three episodes when she ordered a sweet sherry in the Woolpack. Being an old friend of Seth Armstrong, she soon put down roots in the Village and even fell prey to wheeler dealer Eric Pollard. Seth proposed at the end of her first year but the marriage never happened as they postponed it indefinitely - remaining a couple until Seth's passing on a trip home from Australia.
The 85-year-old's final scenes will be aired in mid-May.
Today is both the saddest and the happiest day of my life. Happy because I've got everyone here with me but the sad part is I'm leaving. But there is a great atmosphere and it is nice to go out on a high.
– Paula Tilbrook
Emmerdale's newest arrival, Gemma Atkinson, makes her debut on the show tonight. She says viewers will either love or hate her character.
Read the full story ›
Emmerdale actor Bhasker Patel is celebrating after receiving an award at a ceremony at the House of Commons.
Mr Patel, who plays Rishi Sharma, was voted Actor of the Year by the magazine Asian Voice.
Describing himself as a 'jobbing actor', Mr Patel has infact appeared in more than 100 feature films, alongside the likes of Robin Williams and Harrison Ford.
Advertisement
David Cameron and George Osborne have visited the Emmerdale village on a trip to Yorkshire
Read the full story ›
As awards season gets in full swing, Michael Parr is hoping to be the first Emmerdale actor to take home the 'Best Newcomer' award since Lisa Riley in 1996. Daniel Harris caught up with Emmerdale's resident bad boy on the set of the soap.
A question mark will hang over whether two of Emmerdale's childhood sweethearts will tie the knot for a second time in this Christmas' episodes. Andy Sugden and Katie Addyman are due to get married on Christmas Day but with Andy's step-brother Robert threatening to cause trouble, along with other surprises it is not clear whether the wedding will go ahead.
James Webster has been speaking to actors Kelvin Fletcher and Ryan Hawley who play the two brothers to find out more about what we can expect from the special festive episodes:
Confirmed: All Star Family Fortunes Christmas special (Coronation Street v Emmerdale): Sunday 28 December, 8pm on ITV http://t.co/uW3qZ7XrzB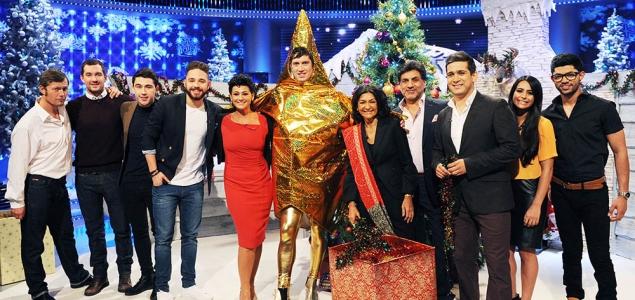 Load more updates