Live updates
Rallies in Rotherham over 'child protection scandal'
Riot police have been deployed to keep order at the English Defence League's demo in Rotherham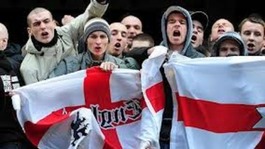 More than 100 members of the far-right English Defence League are to demonstrate in Keighley
Read the full story
Advertisement
Transport Police are appealing for witnesses after several youths were assaulted at Paragon Station in Hull. The large group were at the front of the station at about 6.30pm on July 14 when a man wearing a Grimsby English Defence League (EDL) top launched an assault on them.
Kirklees terror arrest
Three men have appeard in court charged with terrorism offences over an alleged plot to attack a rally by the English Defence League in Dewsbury last month. The men were arrested after their car was routinely stopped and searched on the M1 in South Yorkshire. Alison McKenzie reports.
Back to top