Emergency services are warning residents in New Farnley, Churwell, Gildersome and the surrounding areas to keep their doors and windows shut due to the large amounts of smoke in the atmosphere from the large building fire in Waterloo Road, Bramley.
West Yorkshire Police say they are in attendance at the large fire in a derelict building in Bramley.
The cause of the blaze is not yet known, and no injuries have been reported.
Road closures are currently in place in Waterloo Lane, Town Street in Bramley, Broad Lane and Raynville Road.
These are likely to remain in place overnight to allow the fire service to tackle the blaze.
Police say they are monitoring the situation to see whether any nearby buildings need to be evacuated.
At this time the safety of all those involved is paramount. We're working with partners to minimise disruption and I would like to thank local residents for their co-operation.
– Detective Inspector Phil Jackson
Advertisement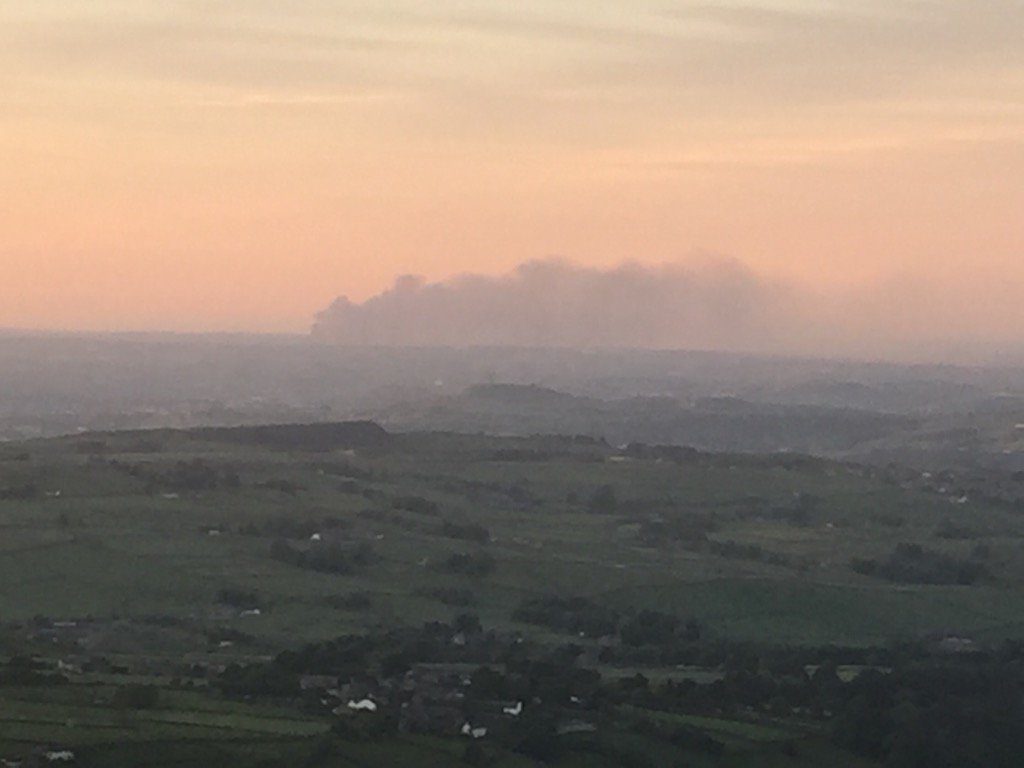 Six fire crews are currently tackling a blaze at a derelict industrial premises in Bramley, West Yorkshire. They were called to the incident on Waterloo Lane at 8.40pm.
Local roads around the area have been closed and bus routes are being diverted.
Sorry, this content isn't available on your device.
South Yorkshire Fire and Rescue Service is launching a safety campaign after an increase in the number of electrical fires in the county.
Read the full story ›
Fire officers are asking the public to avoid the Milnsbridge area due to the fire on Dowker Street. Diversions are in place.
Advertisement
Several fire crews are fighting a blaze at a derelict mill building in Huddersfield. They were called out just after 7.30am this morning to the building on Dowker Street in Milnsbridge.
Officers say the whole of the three storey building is involved and that they are using three large jets with appliances from Huddersfield, Rastrick, Brighouse and elsewhere in West Yorkshire.
Dowker Street is closed. Diversions are in place and there is some traffic disruption.
Three members of a family are in hospital after being rescued from a house fire in Pool in Wharfedale last night.
A man, woman and child were all found unconscious inside the property.
The man, who was rescued by a neighbour, suffered 25% burns.
The woman and child were saved from the blaze by firefighters.
West Yorkshire Fire Service says smoke detectors were installed in the property but not working.
Fire appliances from Otley, Rawdon and Cookridge attended the blaze at Wharefe View plus a fire investigation officer.
A man, a woman and a child have been rescued from a house fire in Pool in Wharfedale in West Yorkshire.
Fire crews were called to Wharfe View just before 11pm Thursday 14 April. Neighbours had already rescued a man from the terraced property. Firefighters saved a woman and a child from the house. All have been taken to hospital. Their condition is not known.
A family of four had to flee their home after their cat set fire to it in the middle of the night.
It's thought the fire on Foxwood Avenue in Sheffield started after the family's cat walked across the hob in the night, accidentally switching it on.
A plastic toolbox which had been left on top of the hob then caught fire.
The family were alerted to the blaze by their smoke alarm and managed to get out of the house safely.
Fire crews used specialist equipment to ventilate the property.
Smoke alarms are one of the best ways of preventing deaths and injuries in house fires. If a fire does start, smoke alarms can give you an early warning, giving you the vital extra seconds needed to escape.

But smoke alarms only save lives if they are working properly. To ensure your smoke alarms are working when you need them, test them regularly by holding down the 'test' button until it beeps.
– Steve Helps, South Yorkshire Fire
Load more updates