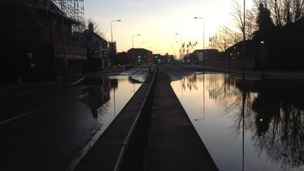 A report out today warns the Government must make flood protection for communities in our region a priority over cost-cutting.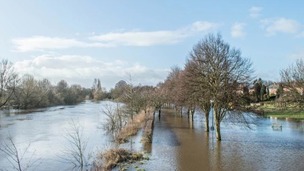 A welcome break in the weather today as a ridge of high pressure pulled in. The new week looks changeable, mostly frost free and breezy.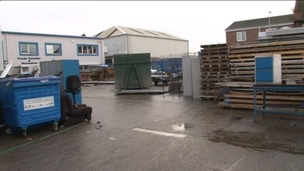 Large parts of Hull are still dealing with the aftermath of last week's flooding caused by a tidal surge on the River Humber.
Live updates
An MP from East Yorkshire has warned that failure to invest in better flood defences could cost the region billions of pounds.
David Davis said the Humber is a national strategic asset which needs protection and failing to do so could lead to flooding on a bigger scale than last December, as Fiona Dwyer reports.
Contributed to the debate on the Humber Flood Risk & raised the issue of the need for good defences to ensure flood insurance is available.
MPs and councillors from across the political parties attended a debate in Parliament today, to advance the case for improving the Humber's flood defences.
They say the £32 billion of potential damage, disruption and loss of investment at risk dwarfs the £888 million needed to implement the Environment Agency's strategy and build up defences. The group will also be meeting with the Prime Minister next week.
Just spoken in debate on Humber flood risk. MPs on both sides of Humber and from both parties united in our fight for long term solution.
Advertisement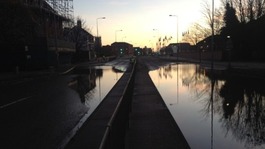 A report out today warns the Government must make flood protection for communities in our region a priority over cost-cutting.
Read the full story
It is six months since Boston experienced the worst flooding it had seen in decades.
Yet many residents are still living in water-damaged homes while thousands of pounds put aside to help them goes unclaimed.
The Environment Agency says less than a fifth of those living in flood risk areas have signed up for its free alerts.
Meanwhile it has been revealed that the damage done to St Botolph's Church is far worse than first thought.
Adam Fowler has the story:
Thousands of pounds set aside for property repairs following the floods in Boston is going unclaimed.
According to the Citizens Advice Bureau, only around a a hundred and fifty households out of the eight hundred have applied for the five thousand pound "Repair and Renewal Grant."
An event has been held today in Boston Market Place where people could get information about grants, flood warnings and defence systems.
Ultra violet light is being used to clean up sea water along the east coast as part of a multi-million pound development by Yorkshire Water.
A huge new tank on Scarborough's seafront stores storm water which would normally cause sewers to overflow into the sea, or back up into people's homes. UV light is then used to kill bacteria in the water, before it's emptied back into the sea.
Yorkshire Water say it will make bathing water cleaner:
Advertisement
A new training centre in Grimsby is being opened to train fire fighters for work in flooded areas.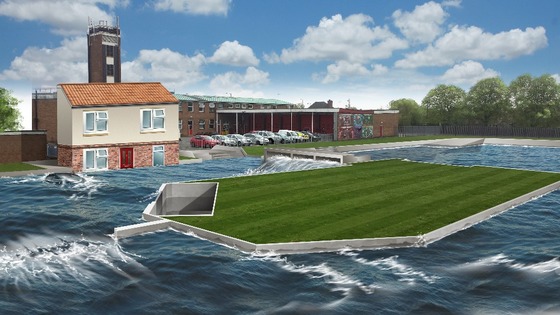 The Ark Project will be the first of its kind in the UK, recreating domestic flooding conditions.
The effect of severe weather and flooding has become a major feature for the Humber region over the past ten years and it is anticipated that this will worsen.
The facility will provide a single point of contact, providing co-ordinated, innovative interventions, for the preparation, planning, resourcing and training for all water related incidents.
This will include flood and fast moving water situations, such as the recent tidal surge in December 2013 and all other aspects of water rescues.
The state-of-the-art training facility will be a bespoke moving water training centre and it is intended to be housed at Peaks Lane Fire Station in Grimsby. It will consist of a water tank large enough to submerse a vehicle and other hazards.
The new facility will imitate rapids for fast moving water scenarios and enable effective and safe rescue training to be delivered to responders, on call staff and volunteers using many possible water incident interventions.
Dene Sanders, Chief Fire Officer at Humberside Fire and Rescue, said:
"This new training centre will be used to ensure our own staff are trained to the highest standard by simulating what happens when large scale flooding occurs. It will create a realistic environment for crews to train in water rescue scenarios, whilst simultaneously reducing training costs."
A major new flood defence in Leeds, which will protect hundreds of homes and businesses and safeguard the future economy, has begun construction.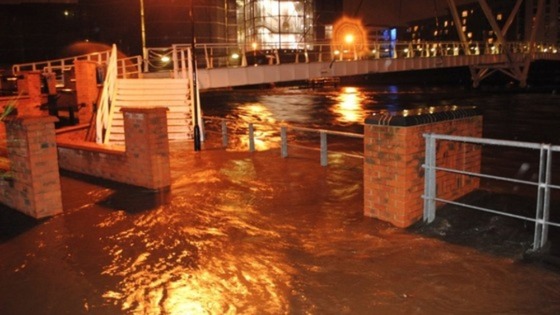 The new £50 million defences are the first of their kind for the area. In total, they will protect over 150 businesses and reduce the potential disruption caused by flooding for 3,000 city centre flats.
The scheme includes new gates to control the flow of the River Aire, removing the island between the river and the nearby canal, and building new raised defences.
Almost 19,000 jobs are estimated to be created within the protected area over the next 10 years, so the new defences will play a vital role in protecting the Yorkshire economy.
Funded by £35 million worth of government funding, together with contributions from both Leeds City Council and the private sector, this scheme is an example of the success of partnership funding in creating new defences to make the country more resilient.
Speaking at the launch of the construction, Environment Secretary Owen Paterson said:
"In addition to protecting existing homes and businesses we expect to see a substantial number of new jobs created in Leeds over the next ten years so it is vital we invest in infrastructure to protect the area.
A businessman from Hull says he's had to lay off staff, after his insurance premium rocketed because of last year's tidal surge.
Les Bennett runs a complex providing serviced offices for fledgling companies.
After being badly damaged in the December flooding, the cost of his buildings insurance has now risen from £1,100 to £6,500
People still homeless four months after floods
The residents of a north Lincolnshire village who say they're still no closer to knowing when they can move back into their homes following last December's tidal surge.
Four months ago 120 homes in South Ferriby were devastated after several feet of water swamped the village, wrecking homes and businesses.
Our reporter James Webster has been to speak to some of the residents whose lives remain on hold - including one man who now admits the trauma of what happened was almost too much for him.
Load more updates
Back to top