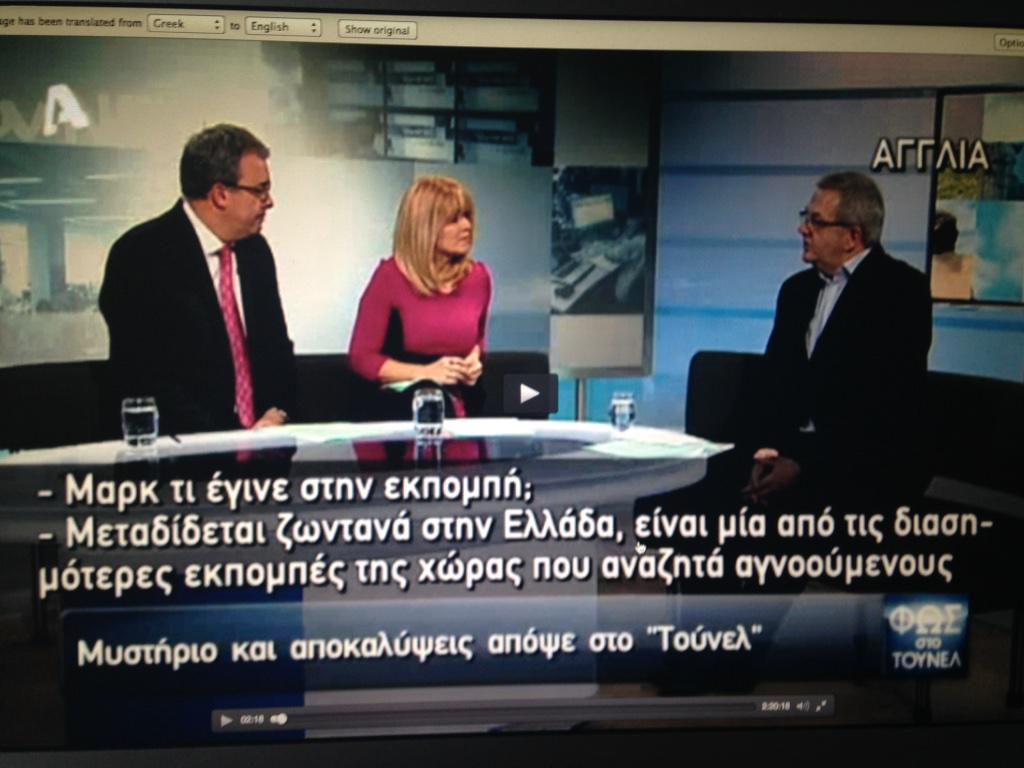 A new lead has emerged in the case of Ben Needham after "Calendar" helped one of Greece's biggest TV shows.
Read the full story ›
Advertisement
There has been a major breakthrough in a family's campaign for justice for their 17-year-old son who died after being allegedly attacked by bouncers at a Greek nightclub more than five years ago.
Matthew Cryer, from Killamarsh, was on his first holiday abroad without his parents when he was killed on the island of Zante.
Lawyers have told his family that the Greek authorities are finally going to charge four members of the nightclub staff in connection with his death. David Hirst reports.
The parents of a Yorkshire teenager who died after being allegedly attacked by bouncers at a Greek nightclub have had a major breakthrough in their fight for justice. Lawyers for Matthew Cryer's family say the Greek authorities are about to charge four members of the nightclub staff.
David Hirst talks to Jo Froud Matthew's mum about the family's five year fight for justice in his report.
The mother of a teenager from South Yorkshire who died at the foot of a nightclub stairs on a Greek island has welcomed the news that there could at last be prosecutions.
17 year-old student, Matthew Cryer, was on his first holiday without his parents when he was ejected from a nightclub and found dead at the bottom of a steep flight of stairs on the island of Zante.
His parents have been campaigning for justice since his death five years ago and now they have been informed by their lawyers in Zante that prosecutors are going ahead with a case against the nightclub owners and three of the bouncers.
Matthew's mother, Jo Froud, from Killamarsh, near Sheffield, said it was likely a lesser charge than murder could be brought against the men.
it could be next year before the case comes to trial.
There is new controversy at one of the country's most criticised hospital trusts tonight amid claims staff shortages are so bad, health chiefs are flying to Greece to recruit more nurses.
NHS bosses at three hospitals in Lincolnshire leave for Athens tomorrow - with the aim of taking on 50 Greek nurses to work on wards back here.
It comes after Lincolnshire's Hospital Trust was exposed for its high death rates, low staffing and poor training. So will flying in nurses from fifteen hundred miles away solve the problems? Kate Hemingway reports.
Advertisement
A team from Lincolnshire's Hospitals Trust is preparing to fly out to Greece, to try and recruit more foreign nurses to work in the county.
35 new nurses, who were all required to take an English test, have already been appointed by United Lincolnshire Hospitals Trust following a drive earlier this year in Spain and Portugal.
This trip to Greece is to interview further candidates. The Trust's Chief executive Jane Lewington says it's facing a major battle when it comes to recruiting and keeping nurses in their jobs
The trial is due to start today of a man accused of beating his girlfriend to death in Greece.
Luke Walker, who's 25, will appear in court charged with murdering Chelsea Hyndman from Castleford on the island of Crete. The pair were working there together in 2010 when Chelsea died. Walker denies killing the 20-year-old and claims she fell during a night out.
Duncan Wood has the latest on the search for Ben Needham this Monday 22nd October
Police from the UK are using metal detectors in Greece to search the farmland where missing toddler Ben Needham was last seen alive.
Read the full story ›
Load more updates