New laws surrounding how authorities deal with animals killed on the roads are to be brought in.
A petition by a pet owner from Halifax sparked a debate in Westminster after it reached 100,000 signatures.
Nina Blackburn's friend spent 13 weeks looking for her dog Harvey, and the pair wanted MPs to discuss laws making it compulsory for animals to be scanned for microchips.
Colne Valley MP, Jason McCartney tweeted from the debate that the Transport Minister would implement the law known as Harvey's Law:
YES! Transport Minister to implement #HarveysLaw for mandatory collection, identification & contacting of owners of pets killed on roads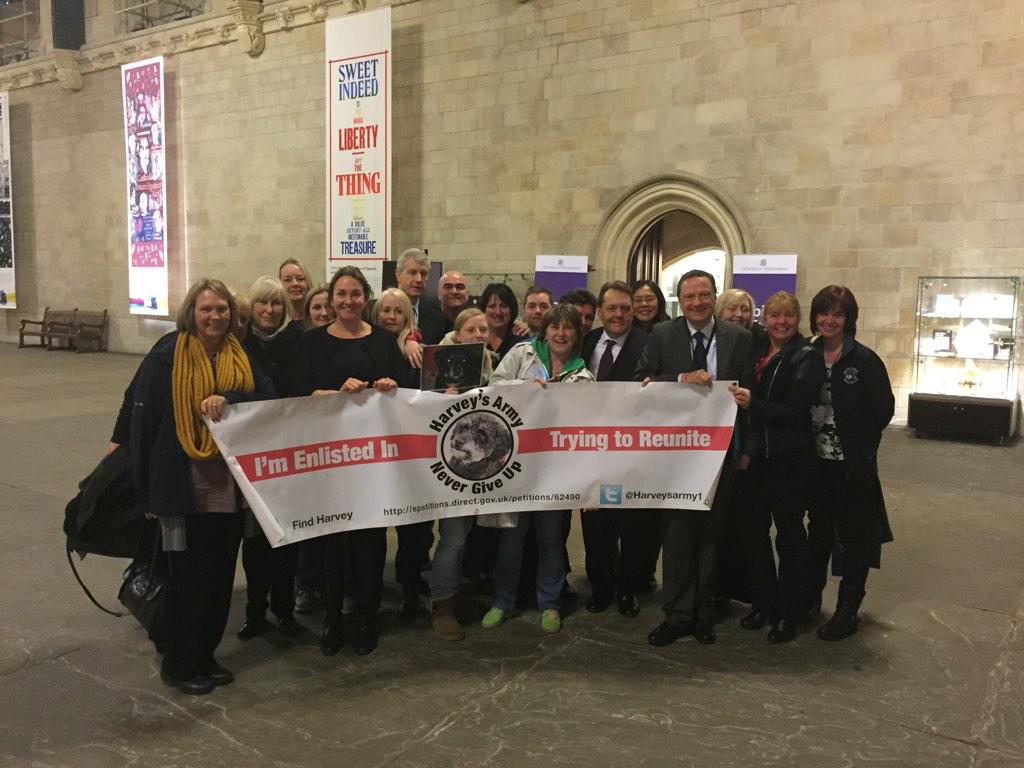 The Women's Rugby World Cup has gone on show in Halifax today.
England, under the captaincy of Katy McLean, won the tournament in France this year, courtesy of a 21-9 victory over Canada in the final.
Now the cup's been brought to Ovenden Park, as Halifax Ladies play Derby Vipers.
This is a fantastic honour for the club. With our game against Derby now taking place on the same day we are hoping that the appearance of the cup will act as an inspiration to the ladies and show what hard work and determination can achieve.
– Ladies head coach Matt Bradley
Advertisement
A campaigner fighting to have stray animals routinely scanned for microchips is preparing to set off to Westminster after her petition hit one hundred thousand signatures and sparked a debate in parliament.
Nina Blackburn from Halifax is calling for all animals found by the roadside to be scanned after her friend spent 13 weeks searching for her dog Harvey.
Police investigating an armed robbery at a jewellers in Halifax have released more information about the suspects' getaway route.
Officers say three men were involved in the robbery at Lister Horsfall on Cornmarket on Thursday February 5th. They threatened staff at gunpoint and then escaped on foot at 4.40pm and ran up Cheapside carrying a holdall between them. They turned right at Rawson Street, crossing Fountain Street in front of the Salvation Pub. The suspects then split up. One man ran along Harrison Road turning right up Carlton Street. The other two walked past the Salvation Pub and Plummet Line to Bull Close Lane.
It is thought all three of them got into a vehicle in the Council car park on the streets around the Irish Centre.
We have already put out quite a lot of information about this incident as we continue our enquiries to bring those responsible to justice. Hopefully by giving such a detailed break down of the route three people who we want to speak to in connection with this incident took then someone might remember seeing something that could help us with our enquiries."
– DC Lee Mason, Calderdale CID
Labour leader Ed Miliband has thanked Halifax MP Linda Riordan for the 'huge contribution' she has made to parliament and for 'tirelessly' serving her constituents.
I know how proud she has been to represent the town in which she was born and has lived all her life.She has been a strong voice for Halifax people on workers' rights, speaking out against the Tories' hated Bedroom Tax, and most recently being a leading figure in the fight to protect local NHS services.The people of Halifax need a strong Labour voice standing up for them, and a Labour government building a better future for our young people, tackling the cost of living crisis and protecting our NHS.
– Labour leader Ed Miliband
Around 20 members of the EDL have gathered close to Calderdale magistrates court in Halifax, where 25 men are due to appear accused of child sex offences. Police are keeping the protestors away from the entrance to the building and have cordoned off Blackwell in Halifax town centre as a precaution because of a planned demonstration
The 25 men are are accused of various offences including rape, sexual grooming,trafficking and sexual activity with a child under 16. The offences are alleged to have taken place between 2006 and 2011.
Advertisement
Halifax MP Linda Riordan told her local newspaper that poor health has prompted her decision to stand down at the General Election and that the decision was an "incredibly tough" one .
She told the Halifax Evening Courier: "Over recent weeks and months my health, particularly my long-standing rheumatoid arthritis, has made it increasingly difficult to carry out the job as effectively as I would like. I think this decision is the best one for the people of Halifax and the constituency. I don't want to go into a vital General Election campaign knowing that I can't give that campaign the energy and commitment it needs."
Mrs Riordan informed her local Labour Party colleagues of her decision last night and a formal announcement is expected to follow today. Halifax is one of the battleground seats in May's election with Labour defending a majority of just 1,472 from 2010.
Leaving her decision until so close to election day means that the party nationally will be able to exert more control over who is selected to stand in the town.
Mrs Riordan continued: "I would like to thank Halifax residents for putting their trust in me to serve two terms as MP. I would also like to thank local Labour Party Members who have supported me over the last decade. Finally, I also want to say how grateful I have been for the hard work of my staff, past and present, who have been committed, loyal and dedicated.
"Over the next few weeks I will continue to represent constituents to the best of my ability. There are some big issues and challenges ahead for the town. Not least, the ongoing campaign to save Calderdale Royal Hospital A & E from closure. I will go on speaking out on that and other issues that matter for communities across Halifax. It has been a real honour to have been Labour MP for the town I was born, grew up in and have always lived in."
Halifax MP Linda Riordan will stand down at the next election. That's one of the Tories' key target seats in Yorkshire...could boost them.
Very sad to hear that my friend, @linda_riordan is standing down at the next election. She's been a great servant to Halifax and @uklabour
The Halifax MP Linda Riordan has announced she will stand down from her seat in May. She made the announcement at a party meeting last night. The Labour MP has held the seat for the town where she was born and grew up since 2005.
Load more updates