A new engineering train - one of the longest and most expensive ever - is aiming to make land slips like the one in Hatfield last year a thing of the past, by keeping the condition of the track up to scratch.
The huge slip in South Yorkshire in 2013 cut off the railway line at Hatfield, causing a mass of twisted tracks which put the line out of action for five months while repairs were carried out. It cost tens of millions of pounds to put right.
ITV's Mike Pearse has been to see the new train in action: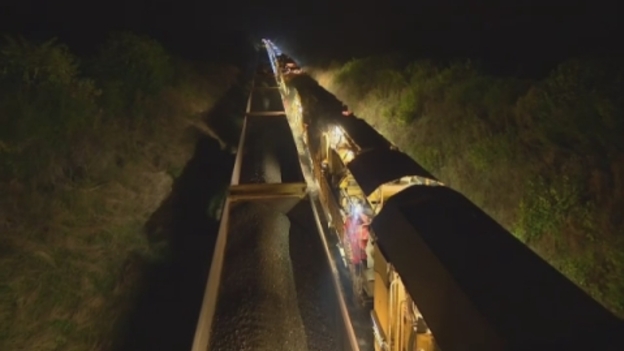 This is the latest inmate to have absconded from HMP Hatfield in DOncaster. Mounir Jaouane, had been released on temporary licence to his former home address in Lathkill Road, Woodthorpe, and failed to return to prison.
Jaouane was sentenced to an indeterminate prison sentence for robbery in January 2007. He's the sixth person to disappear from the open prison in recent weeks.
Advertisement
Police in South Yorkshire are searching for a man who absconded from prison on Tuesday.
Richard Brown, 27, who was serving an indeterminate prison sentence for an aggravated burglary absconded from HMP & YOI Hatfield.
Police are advising the public not to approach him.
He was sentenced in 2007 to an indeterminate sentence of which he had to serve a minimum of 40 months.
Brown has friends and family in the Scunthorpe area and police believe he may attempt to make his way back there but he could also still be in the Doncaster area.
The RAIB are also investigating other rail breaks that have occurred on the East Coast Main Line. These include:
a vertical rail break discovered on a section of continuously welded rail, after a member of public had reported unusual levels of noise as trains passed over a stretch of line near Corby Glen, Lincolnshire (September 14 2012)
a 100mm gap due to a broken rail on the Up Main line at Copmanthorpe, near York, that was reported by the driver of a train on the adjacent line (November 28 2012)
Network Rail strongly deny the claims and a dip was identified - but it turned into a crack the day before they were due to repair it.
Advertisement
RMT union say they face "massive pressure" to keep services running - in the face of cutbacks.
RMT say a crack near Selby, due to staffing cuts, has crumbled to a much bigger gap.
RMT claim there is massive pressure from the Government to keep the East Coast Mainline running, as they look to re-privatise the service. They say there are also demands on Network Rail from the budget-holder, the Office of Rail Regulation, to cut back on rail renewals work.
Rail union RMT say there could be "another Hatfield" after releasing a picture of a six inch gap in the East Coast Mainline track near Selby.
An investigation's been launched by the Rail Accident Investigation Branch after the picture was taken last Friday at Hambleton South junction, and the union says it is due to staffing cuts.
An investigation found the Hatfield crash - which killed four people when a train travelling from London to Leeds derailed in 2000- was caused by "critical cracks" on the track.