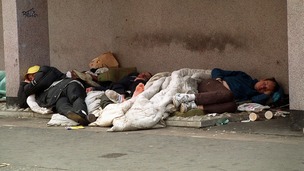 The number of homeless people in the region has risen by more than a quarter in the last three years.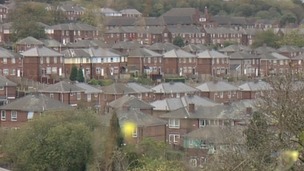 A report claims that over a million young people will be locked out of the housing market in the next eight years.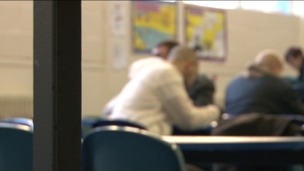 A study has found that a brain injury can contribute to becoming homeless.
Live updates
Restauraunt to provide free food for homeless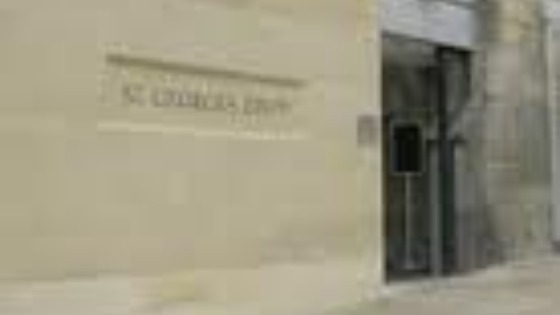 The Casa Mia Millennium restaurant in central Leeds has teamed up with nearby St George's Crypt to launch a pioneering scheme to provide free food and drink for the city's poor and homeless.
The scheme, based on the Italian goodwill tradition caffe sospeso, is called Suspended and Delivered.
"Like most good ideas, it is very simple. Suspended and Delivered enables our customers to buy an extra coffee, tea, soft drink or a pizza or lasagne, which is then available for anyone with a St George's Crypt voucher to claim," said restaurant boss Francesco Mazzella.
"We will deliver our food and drink to the Crypt to make the whole process easier. Our customers can also buy suspended items on line when they order a takeaway at www.casamiapronto.co.uk.
Martin Patterson,of St George's Crypt, said : "We are tremendously grateful to Casa Mia for being our partners in this wonderful initiative. We never cease to be amazed by how generous people are."
£125,000 boost for homeless shelter in Lincoln
A new building to provide temporary accommodation for rough sleepers in Lincolnshire has been given a £125,000 boost.
The City of Lincoln Council has approved the contribution for the development on the corner of Friars Lane and St Rumbold's Street.
The money comes from payments towards affordable housing from other residential developments around the city.
Framework Housing Association will lead the project and had identified a site at South Park, which was deemed too far away from amenities.
"This is a facility that is definitely needed in the city and we are delighted to be able to support this vital project.

"The facility's prime role is as a treatment centre where people can be put on programmes and while they are there they will be regularly tested for alcohol or drugs abuse."
– Cllr Peter West, City Council Housing Portfolio Holder
Advertisement
Special measures for homeless during severe weather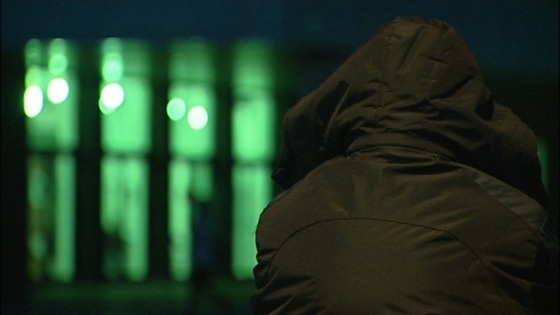 Leeds Council is urging all residents to report anyone seen sleeping on the streets. It's part of a special programme to provide accommodation for everyone when the temperature drops below zero.
The "Leeds Severe Weather Protocol" (SWP) is activated when the night temperature drops below zero. This means that during the period that SWP, arrangements are in place so that no one needs to sleep on the streets.
he arrangements are co-ordinated by LCC Leeds Housing Options service with partner agencies including the Police, Commissioned Supporting People services, homeless charities and the voluntary sector.
The main point of contact for people needing accommodation during SWP is St George's Crypt. People will receive hospitality, a hot drink, a meal and somewhere to sleep. A number of homeless hostel services make temporary beds available for people who otherwise would not be eligible.
During this time, council officers also attend the Hub and other commissioned services to office advice and assistance to customers on the housing options available to them.
If you are aware of someone who may be sleeping rough, contact Leeds Housing Options Team on 0113 222 4412 for further information.
Mobile soup kitchen in Bradford
A mobile soup kitchen has been set up in Bradford to meet the needs of homeless people in the city.
A trailer is parked in Bradford City Centre, behind City Hall, every Monday from 7pm to 10pm to distribute hot food and drinks. Local restaurants and take-aways have been involved in donating food.
3,000 people are homeless or at risk of becoming homeless each year in Hull. And with more Government cuts to come, it's feared that the number will rise, if local homeless centres don't get the funding and shut. Sarah Clark reports.
Business rally together for homeless charity
Businesses in East Yorkshire are rallying together to help a homeless charity bring the festive sprit to vulnerable people. The companies are using offices in Hull and nearby towns as drop off centres for people to donate food, clothing and toiletries ALL for the Salvation Army.
They were inspired after the charity reported one of its centres was running low on food and some homeless people had to be turned away. Judi Lurie is with the Hudson Group
Advertisement
Sleeping rough for charity
Around 100 people are sleeping rough in Leeds tonight to raise money for a homeless charity.
It follows a similar event in the city last year. Those taking part have been challenged to raise £200 each and will learn how to build their own bed using only a cardboard box.
For further details click here.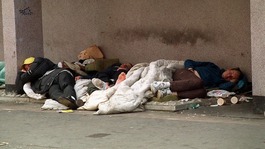 The number of homeless people in the region has risen by more than a quarter in the last three years.
Read the full story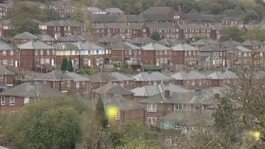 A report claims that over a million young people will be locked out of the housing market in the next eight years.
Read the full story
Homelessness and brain injury
Shocking new research shows that people who have suffered a brain injury could be at a much higher risk of ending up homeless.
Load more updates
Back to top