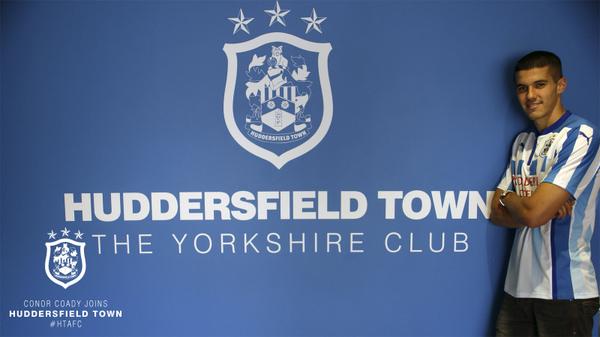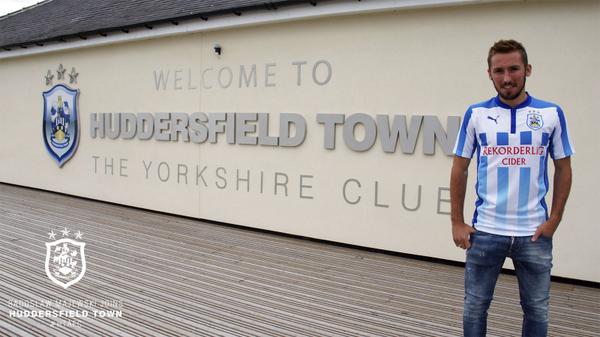 MR: "He is a top class Championship player, especially in the number 10 role, and we're delighted to bring him to the Club." #htafc (DN)
Advertisement
Huddersfield Town's fundraising partnership with Yorkshire Air Ambulance is to continue for another three years.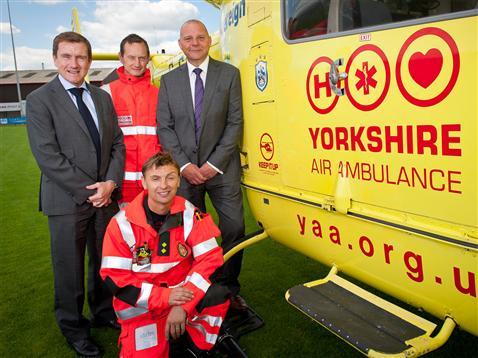 It was launched back in 2009 to help raise money for the charity and at the same time generate funds for Huddersfield Town's Youth Academy,
It was announced this year that the campaign had raised more than £1 million through a series of charity cycle rides covering hundreds of miles across the UK.
The most recent ride saw nearly 300 cyclists embark on the 'Chapman Trail' cycling the 250 miles back to Huddersfield's John Smith Stadium from Arsenal's Emirates Stadium in London.
Over the five 'Pedal for Pounds' rides, 635 different cyclists have taken part, covering a total of 1,250 miles and raising in excess of £700,000 to the 'Keep It Up' campaign.
We are absolutely delighted that HTAFC is looking to continue our partnership for at least another three years. When we launched the 'Keep It Up' campaign five years ago none of us quite knew just how successful it was going to be – so to be extending that to at least eight years is phenomenal. HTAFC staff and fans have very much become part of the YAA family over the years and we are looking forward to seeing what the next three years bring.
– Paul Gowland, YAA Director of Fundraising
Huddersfield Town has revealed that supporters have raised more than £1 million for Yorkshire Air Ambulance (YAA) and the club's youth academy over the past five years.
The Championship club launched its Keep It Up campaign in 2009. From every £1 raised, 50p goes to YAA and 50p to the Huddersfield Town Youth Academy.
Supporters have taken part in a series of fundraising events such as the recent Pedal For Pounds challenge, which saw 300 cyclists bike 250 miles from Arsenal's Emirates stadium to the John Smith stadium in Huddersfield.
Huddersfield Town chairman Dean Hoyle said: "Huddersfield Town is committed to making a difference to the local community and there is no better example of the club and its fans working together, alongside a charity with this goal than the Keep It Up campaign.
"The Yorkshire Air Ambulance provides a vital service across our county and I'm delighted to report that the money generated for the charity through Keep It Up has funded every life-saving flight the YAA has undertaken in a Huddersfield postcode since we launched this partnership in 2009.
"Keep It Up has also been of huge financial benefit to our academy, the success of which is very important to the long-term sustainability of the club."
YAA needs to raise £3.6 million a year to keep both of its helicopters running.
YAA director of fundraising Paul Gowland said: "Five years ago we could never have predicted just how successful this partnership was going to be. It was new territory for both us and Huddersfield Town who have been fantastic at driving the campaign.
"However, the success of it has been down to the fans getting behind Keep It Up and showing their support. Their passion and dedication to the campaign over the last five years is amazing and they should all be commended. We cannot thank them and the club enough."
Huddersfield striker, James Vaughan, is set to miss the rest of the season due to a knee problem.
The 25 year-old had only just returned after a thigh problem, but will now need surgery on a cyst on his knee.
Vaughan is the club's leading scorer in the Championship, with 12 goals. Boss, Mark Robins, will now have to turn to record signing, Nakhi Wells for the rest of the campaign.
Billy Sharp will come back into the Doncaster squad after serving a three-match ban but Bongani Khumalo will be sidelined for around six months. The South African ruptured his kneecap this week while on international duty.
Midfielder Mark Duffy and defender Paul Quinn could also return following injuries.
Huddersfield striker Jon Stead could return to contention after he returned from his loan spell at Oldham. Leading goalscorer James Vaughan (calf) remains sidelined while defender Joel Lynch (groin) is in rehab.
Midfielder Jonathan Hogg (calf) missed last week's 5-0 win against Barnsley and remains doubtful.
Advertisement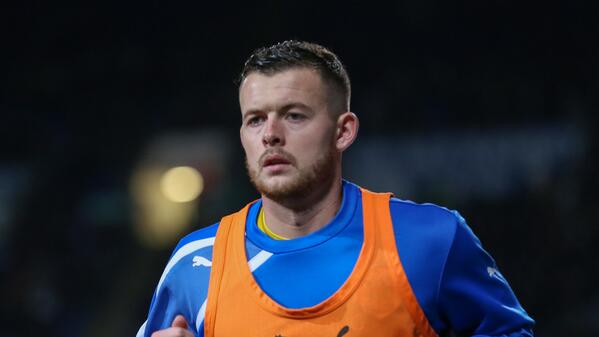 Huddersfield Town travel to third placed QPR in good shape after winning three of their last four matches, and with two new strikers in their ranks.
Nahki Wells - signed from Bradford City a week ago - scored on his debut last Saturday against Millwall, and will feature in the squad, but manager Mark Robins has yet to decide whether he will include Joe Lolley, brought in for £250,000 from non-league Kidderminster on Wednesday.
Robins spoke to Calendar's John Shires, and says he expects to give QPR a good game:
Huddersfield's leading goalscorer James Vaughan hopes to return from injury and latest signing Nahki Wells could make his full debut against promotion chasing QPR.
Vaughan has been sidelined since December 21 due to an ankle injury, while Wells stepped off the bench to score the Terriers' last-minute winner last week following his £1.3million switch from Bradford.
Boss Mark Robins is still without defender Joel Lynch (hip) and skipper Peter Clarke remains sidelined following knee surgery as Town chase their first league win on the road in four matches.
Load more updates