A giant inflatable banana has been stolen from a display by Fairtrade campaigners in Huddersfield.
The bizarre theft took place in Honley on Tuesday. The banana was tied to a yellow Tour de France bike.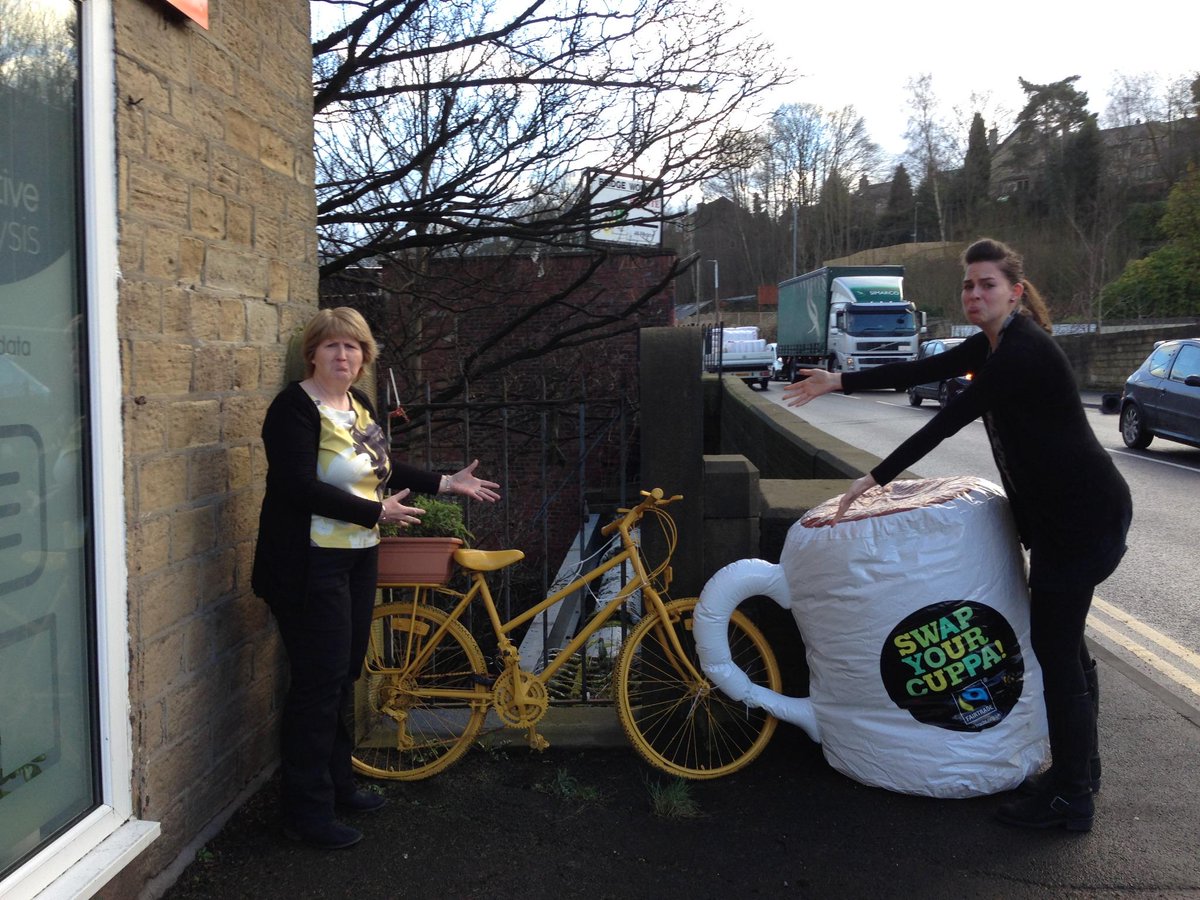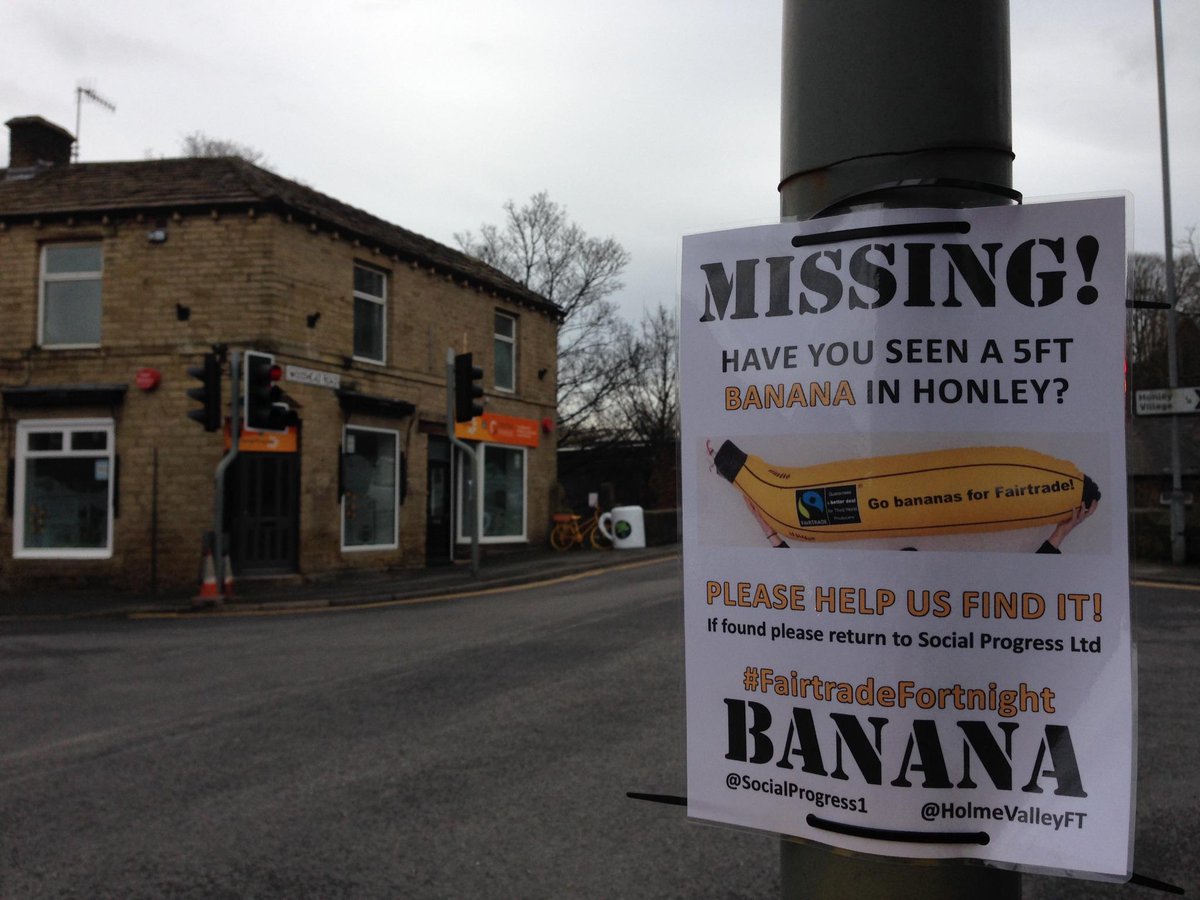 The Slaithwaite Moonraking Festival is celebrating its 30th anniversary, with the finale of the week long event being this evening's lantern parade.
The festival, which has been going for more than 30 years, takes place in the village of Slaithwaite, near Huddersfield, every two years and has grown into an exciting celebration of creativity, crafts and storytelling.
At its heart is a week of lantern making workshops, where people of all ages create willow lanterns of all shapes and sizes. This is interwoven with storytelling, music workshops and performances building to the finale day.
The parade starts at 6pm. For more information click here and for a taste of what is in store - this was the last parade in 2013.
Advertisement
A man wanted over a house fire which killed eight people has been arrested in Pakistan after a 13 year global man hunt
Read the full story ›
A man wanted for the murders of eight people in Huddersfield has been arrested abroad.
Five children and three adults, all members of the Chisti family, died in the house fire in Birkby in 2002. Plans are underway to bring 32-year-old Shahid Mohammed back to the UK.
Police believed he had been in Pakistan.
He was initially arrested in 2002 in connection with the fire but failed to answer bail and police have been been searching for him since.
West Yorkshire Police described the investigation as the biggest multiple murder inquiry in the county for 30 years.
Watch: Family's emotional appeal for information over fire suspect
[This] has clearly been a major and long running enquiry and I thank residents who have come forward with information over the years for their support. We remain utterly focussed on working with the UK Foreign Office and authorities in the nation in which the 32-year-old is currently being held to bring him back to the UK to be put before a court.
– Detective Superintendent Lisa Griffin, WYP
The fire killed Nafeesa Aziz, 35, and her daughters Tayyaba Bootall, three, Rabiah Bootall, 10, Ateeqa Nawaz, five, Aneesa Nawaz, two, and Najeebah Nawaz, six months. Miss Aziz's brother, Mohammed Ateeq-ur-Rehman, 18, also died in the fire, and their mother, Zaib-un-Nisa, 54, died a week later in hospital.
In July 2003, three Huddersfield men - Shaied Iqbal, Shakiel Shazad Amir and Nazar Hussain - were convicted for their part in the crime.
A public meeting will be held today to discuss plans to build a new skate park in memory of 12-year-old Isaac Nash from Huddersfield.
Isaac drowned whilst on a family holiday in Aberffraw on Anglesey in Wales last August.
Police are appealing for help to find a missing student from Huddersfield.
Gloria Maina,19, of Tunnacliffe Road in Newsome was last seen leaving Huddersfield University campus at around 11.30am yesterday, Friday February 6, 2015 and walking in the direction of Queensgate. She was wearing a black jacket, scarf, dark trousers, brown knee high boots and carrying a black rucksack. She is described as around 5ft tall, black and of slim build.
"This is completely out of character for Gloria and I would appeal to her directly or to anyone who sees her to call police urgently on 101."
– Det Insp Stef Wiseman, Kirklees CID
Advertisement
Book lovers are being encourged to visit their local libary and celebrate National Libraries Day.
In Huddersfield , Barnsley born novelist Joanne Harris is giving a reading to support the day and the importance of keeping libraries open as many are under threat of closure.
There are over 700 events taking place at libraries across the country to mark the event.
To find out what is happening where you live visit the National Libraries Day website
A chief fire officer from Huddersfield has been found not guilty of the rape of a woman at a pub in 2006.
A jury took just over 10 minutes to clear 48-year-old Sean Frayne who denied raping the woman, claiming to have had a consensual sexual encounter with her after she kissed him passionately.
His lawyer criticised the decision to prosecute Frayne instead of launching a blackmail inquiry after it emerged that a friend of the alleged victim wrote to him suggesting she may "avoid publicity" for a substantial out-of-court payment.
Jurors at Derby Crown Court had been told the alleged rape took place while Frayne's wife was in another room. He wiped away tears and left the court with his wife after the jury returned its unanimous verdict.
Frayne, formerly of Etwall in Derbyshire but now living in Fixby, Huddersfield, was arrested by police after a formal complaint was made in December 2013.
A five-day trial heard that Frayne, the £140,000-a-year head of Derbyshire Fire and Rescue Service, went to talk to the alleged victim before his arrest after receiving an anonymous letter branding him a rapist.
The court heard that the letter went on to suggest the out-of-court payment. But the Crown said the woman, who cannot be named, knew nothing of her friend's attempts to "achieve some form of informal justice" on her behalf by sending the letter.
In her closing submission, defence barrister Laura Pitman said: "They (the police) have investigated one side of the story and they have not investigated the other. If this is nothing to do with money why is there even mention of an out-of-court payment?"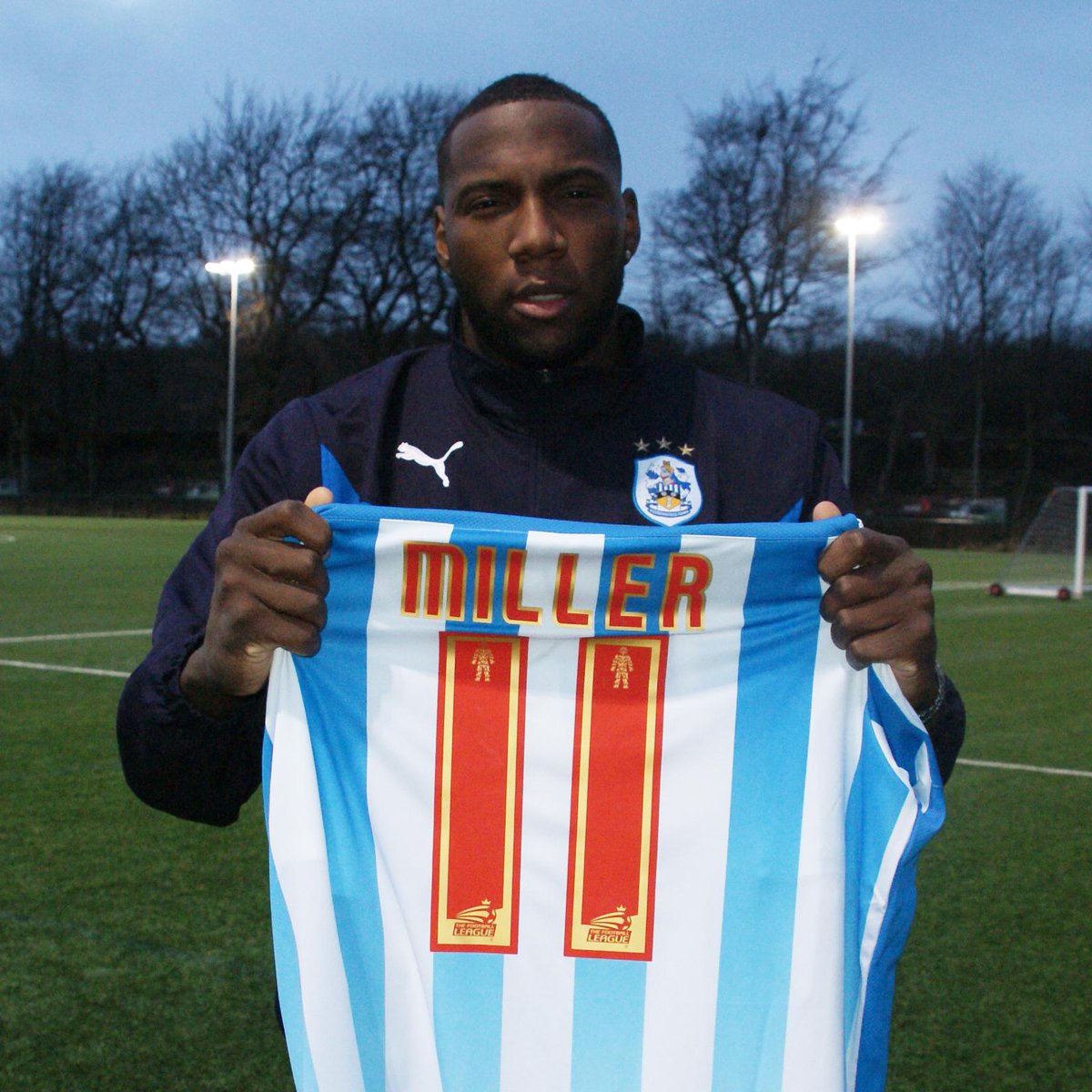 The Bishop of Huddersfield has blessed a life saving defibrillator, attached to the outside of a community centre in Huddersfield.
Stars of the panto in Birchencliffe, who raised the £2000 needed to buy the equipment, joined him for a special service and parade, in which they prayed the difibralator would never have to be used.
It is the first in Kirklees that has 24 hour public access. A code will be given to open the case by a 999 operator.
Load more updates