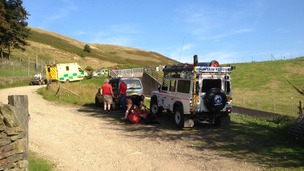 A mountain biker had to be rescued after becoming injured in the Wessenden Valley above Marsden.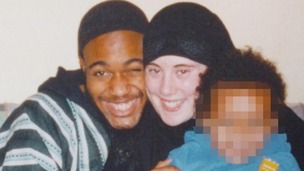 There is speculation that a British woman allegedly involved in a terrorist attack at a Kenyan mall could be the widow of a 7/7 bomber .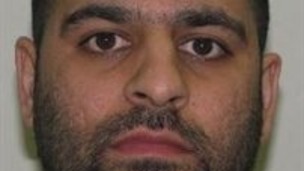 Police officers in West Yorkshire have joined the hunt to find a man jailed for his part in a house fire, which killed eight people.
Live updates
Huddersfield striker James Vaughan is hoping to return to action against Blackburn having been sidelined since the end of January due to a calf injury.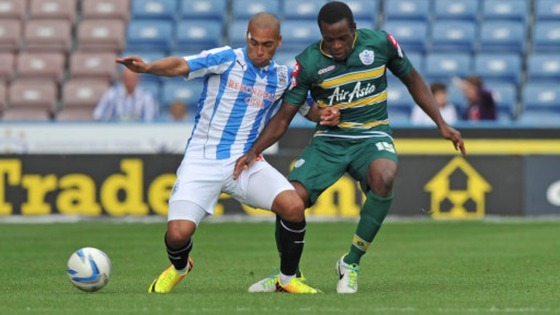 Defender Anthony Gerrard remains doubtful due to a fractured toe that kept him out of the goalless midweek draw at Charlton.
Peter Clarke will continue if Gerrard misses out, while midfielder Jonathan Hogg hopes to retain his place after returning at Charlton following a calf injury.
Police in Huddersfield are appealing for information after a man was left in a critical condition, following a shooting.
The 31 year-old man was sat in a stationary Audi A3 on Springwood Avenue when he was shot in the head, around 9:30 pm last night.
A Mini and a VW Golf, which are thought to have been involved, have been recovered on Quarmby Road in Huddersfield and at Holthead Road at Slaithwaite.
Two men aged 35 and 24 have been arrested and are currently in custody. Police say they are treating the incident as attempted murder.
Advertisement
Police are appealing for witnesses after a 58-year-old man died when his car crashed into a lamp post off a slip road on the M62. It happened around 2.45am on the slip road of junction 25 of the westbound motorway at Brighouse.
The driver, was pronounced dead at the scene. Police are appealing for anyone who may have seen the Renault Megan travelling south on the M606 from Bradford towards the M62 or anyone on the M62b westbound between Bradford and Brighouse to contact them.
Huddersfield backpacker murderer withdraws appeal
Lawyers for Bradley John Murdoch, convicted in 2005 of murdering Huddersfield backpacker Peter Falconio, have withdrawn an appeal against his conviction.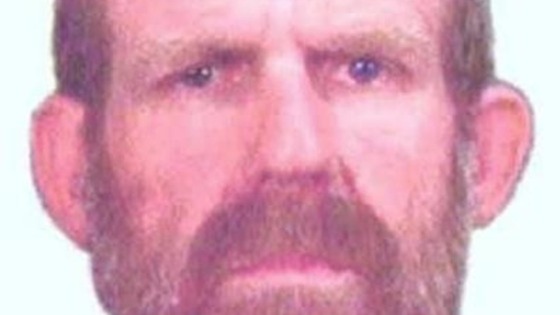 Murdoch is serving a life sentence with a 28-year non-parole period, but wanted his conviction quashed and a retrial ordered due to what his lawyers called a miscarriage of justice.
He launched a leave to appeal in December, but a notice to withdraw was lodged at the Northern Territory Court of Criminal Appeal today.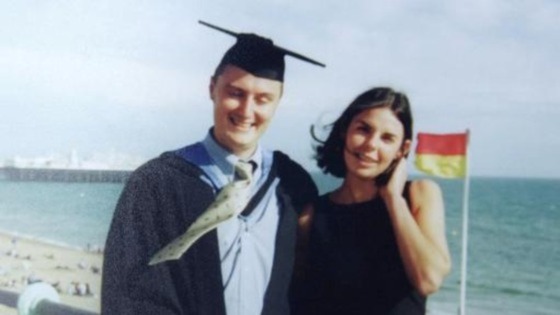 Murdoch believed a News Corp interview with prosecutor Rex Wild QC showed the prosecution felt Joanne Lees, Mr Falconio's girlfriend and the key witness in the case, was so unlikable that she might have endangered their case.
It was suggested Mr Wild groomed her secretly, deliberately and improperly to improve her behaviour in order to obtain a conviction from the jury.
Two men from West Yorkshire among eight people arrested as part of an investigation into charity fraud involving thousands of pounds intended to help people in Syria have been released on bail.
The suspects were arrested at addresses across the UK yesterday morning by Kent Police after more than £45,000 was seized at the Port of Dover on December 23 2012.
The money - £31,816, plus 8,310 euros (£6,857) and 10,700 US dollars (£6,413) - which had come from four UK-based charities, was taken by police who believed it could be used for criminal or terrorist activities.
A 35-year-old man from Dewsbury, and a 43-year-old from Huddersfield, both in West Yorkshire, have been bailed until September 1.
A fundraising event in memory of a murdered policewoman has been held in Barnsley. PC Nicola Hughes was killed with her colleague PC Fiona Bone when they were called to a burglary in Manchester in 2012.
Bryn Hughes, Nicola's father and PC Sarah Malia from South Yorkshire Police, were at the event.
Advertisement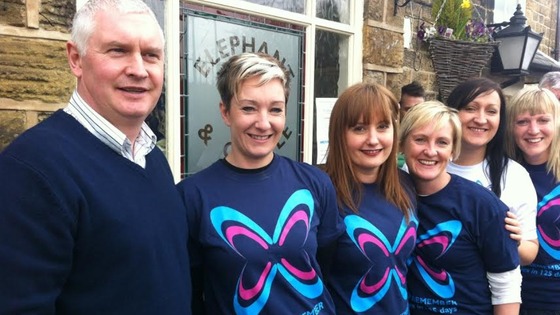 A fund-raising event in memory of a murdered policewoman has been held in Barnsley.
PC Nicola Hughes was killed with her colleague PC Fiona Bone when they were called to a burglary in Manchester in 2012. Since then PC Hughes's family, who are from Huddersfield, have challenged police forces across the country to raise money for charity.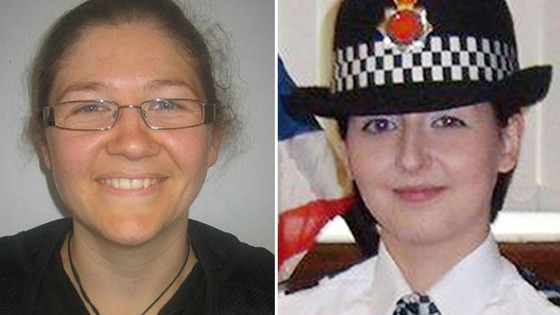 Eighty five South Yorkshire Police staff are now involved with a target of over £8000.
Police are appealing for witnesses following a serious assault in Huddersfield.
Detectives would like to speak to anyone who has information about the incident which took place between 2pm and 2.40pm on Wednesday on a footpath between Red Doles Road and Aquamarine Drive, Fartown.
The victim, a 30-year-old man who was walking home, approached two men who asked him for change and then to use his phone.
The man declined and walked by the pair. After getting a short distance away however he suddenly felt a sharp pain in his back and was shoved from behind.
He then ran home and later went to hospital for treatment to a puncture wound to his back.
The first suspect was described as white, 19-20 years old, 5ft 8 to 5ft 9ins tall and slim. He was wearing a grey hooded top with the hood up and spoke with a Yorkshire accent.
Meanwhile, the second suspect was also white, 5ft 8 to 5ft 9ins tall, and slim. He was also around 19-20-year-old had dark hair and was wearing a dark blue/black fleece style top.
Fatihul Haq from the Ahmadiyya Muslim Association in Huddersfield has been speaking to Calendar about their project to plant trees and create community orchards.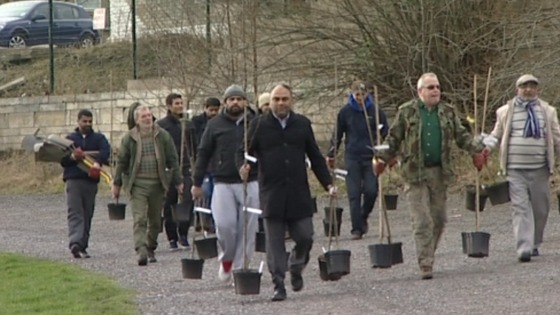 A group of volunteers from the Ahmadiyya Muslim Association in Huddersfield have been out in Huddersfield this morning planting trees for a community orchard. They have been working to clear an area in Fartown with the aim of the trees providing free fruit for the community.
Load more updates
Back to top