Advertisement
Aviation expert Dr Stephen Wright from Leeds University says it is very rare to hear sonic booms because it is a criminal offence to fly at speeds greater than Mach 1 over land in the UK. Anyone who does this normally has to answer immediately to the Civil Aviation Authority with very good reasons as to why they broke the rules.
Rugby league fans have been paying tribute to Roger Millward MBE who has died at the age of 68.
Read the full story ›
Squadrons based at RAF Coningsby in Lincolnshire are on standby 24 hours a day to defend UK airspace.
Read the full story ›
A warning has been issued to elderly residents to be on their guard after an 83-year-old woman was targeted by bogus tree surgeons in Hull.
Read the full story ›
Advertisement
The sound of two RAF Typhoons breaking the sound barrier over Yorkshire was captured on CCTV. The jets were scrambled to escort an Air France passenger plane into Newcastle airport after the aircraft lost touch with air traffic control due to communication problems.
Video courtesy of Paul Griffiths, Pulse 1.
Air France has confirmed that RAF jets were scrambled to escort one of their planes into Newcastle airport after a radio communication problem caused the flight to lose contact with ground control.
The jets broke the sound barrier as they flew to join the aircraft, causing a sonic boom which was heard across West, South and North Yorkshire.
Air France confirms that due to a radio communication problem, flight AF 1558 en route from Paris Charles de Gaulle to Newcastle and operated by CityJet had to be accompanied by two British fighter aircrafts according to the procedure. The aircraft landed normally in Newcastle at 22h20 (local time). The pilots and cabin crew are trained on a regular basis to deal with this type of incident. For Air France, the absolute priority is to maintain the safety of its clients at the highest level.
– Air France statement
Newcastle Airport has confirmed that RAF aircraft escorted a flight operated with an Air France flight code, into the airport earlier this evening:
We can confirm flight AFR1558 from Paris, Charles De Gaulle was escorted into Newcastle Airport by RAF aircraft having lost communication with Air Traffic Control. The aircraft landed safely at 22:23.
– Newcastle International Airport spokesperson
We can confirm flight AFR1558 from Paris, Charles De Gaulle was escorted into Newcastle Airport by RAF aircraft having lost... (1/2)
communication with Air Traffic Control. The aircraft landed safely at 22:23. (2/2)
The AirLive website which is run by a group of aviation enthusiasts has obtained a photograph of the plane they say was escorted in to Newcastle Airport on Monday evening by Typhoon jets from RAF Coningsby after losing contact with air traffic control: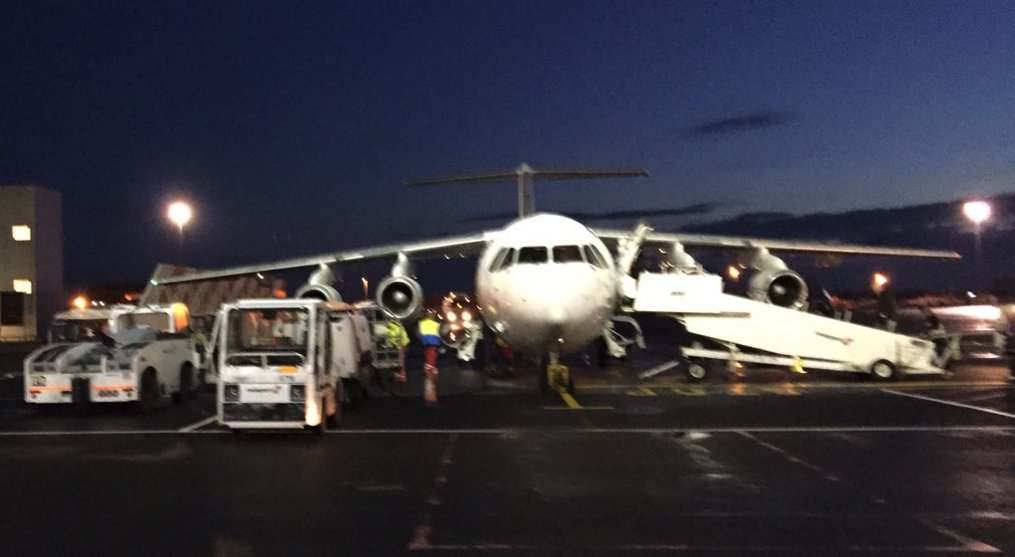 Load more updates