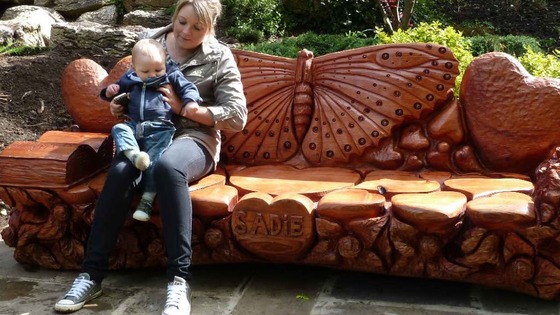 The family of a little girl who lost her battle against a rare cancer, now have a fitting memorial dedicated to her memory.
Sadie Rose Clifford, who was diagnosed with Neuroblastoma in 2010, captured the hearts of thousands with her fight. Despite members of the public raising more than £400,000 for treatment in America, Sadie passed away in June 2012, aged 2.
To celebrate Sadie's life, a specially-designed memorial bench has been placed in Bebra Gardens in Knaresborough.
The hand-carved redwood bench which features a butterfly and hearts motif, overlooks the children's paddling pool, and was created by tree sculptor Tommy Craggs.
The area surrounding the bench will now be landscaped with a scheme designed by Harrogate Borough Council and the Friends of Bebra Gardens to include flowering plants in Sadie's favourite colours.