Leeds chairman Andrew Umbers has insisted the club is not for sale after actor Russell Crowe prompted speculation he may make a bid
Read the full story ›
Leeds United have confirmed that there has been no approach for the club by Russell Crowe.
The Hollywood actor, who is a Leeds United fan, earlier today tweeted his followers asking them whether he should buy the club
Advertisement
Russell Crowe has asked his followers opinion after he was asked on Twitter if he should buy Leeds United.
Crowe is a self confessed Leeds United supporter and with owner Massimo Cellino currently banned from being a director of the club, could the Gladiator star throw his hat in the reing and buy the club?
Sorry, this content isn't available on your device.
In an exchange with the Leeds Fans LLP, a group "supporting fan ownership" of the club, Crowe laid out a plan based on his ownership of South Sydney.
While he did not say that system would translate exactly to Leeds, Crowe said any move would have to be based on a "singular vision" aimed towards creating "success on the field".
@leedsfansllp 1/3 look at a show called South Side Story you'll see how we handled this at South Sydney. It's up on you tube, 6 episodes
@leedsfansllp 2/3 we set up a member company that has its own board and seats on the football club board. There has to be a singular vision
@leedsfansllp 3/3 there has to be one voice that sets the tone. Every thought and every decision has to be about success on the field.
Massimo Cellino has made a decision to separately, and in his own name, challenge the Football League's decision on the Appeal Hearing of January 15 to reject his appeal and challenge its correctness in law. Subsequent to the Appeal Hearing on January 15, he has abided by the FL rulings on disqualification and has also disposed of any personal 'interests' in Eleonora Immobiliare S.P.A and Eleonora Sport Ltd (the majority shareholder of LUFC).

Massimo Cellino is taking this independent action so that LUFC is seen to be fully compliant with the Football League Rules and thus help the football club avoid any sanctions. LUFC are optimistic as to the outcome of the Disciplinary Panel Hearing and of the Rule K Hearing.
– Andrew Umbers, Leeds United Chairman
Leeds owner Massimo Cellino has announced he will not return to the club when his Football League ban ends in April.
Instead, the Italian, who was disqualified in January from having anything to do with the running of the Sky Bet Championship outfit until April 10, will fight to clear his name as an independent citizen.
At the time, the 58-year-old indicated he intended to return to Elland Road when his disqualification period ended.
I have considered in the best interests of the club to postpone any release of my true thoughts and conclusion in relation to the 79 days disqualification verdict of the Football League and it was for not unsettling the harmony of the team in a period of key league tournament matches that I have measured to reveal my decision only today, because the qualification for the 2016 Championship is by now achieved.

For the reason above said, at first I suggested that my intention was to resume in April the office of President of Leeds United Football Club after expiration of the disqualification term.

I will not do so and I had actually decided not to do so in January already, soon after the confirmation by the Football League of its verdict.

I wish to point out that I have immediately complied with all the requests of the Football League and, for such purposes, I instructed my consultants to arrange for all required actions in order to ensure my prompt exit from any management responsibility in the club. After a due process, I have also sold – with a clear harm to my interests – a minority stake in the club, so that in no way I could be prevented from freely acting as an independent citizen and individual before any authority.

My decision has developed because I have realised that about one year ago I had been admitted as President of the club when the latter was very close to insolvency. Only after my restructuring activities and the material funding by the new corporate member I found myself expelled from the club on the basis of interpretation and immediate application of an Italian measure that, although in Italy is ineffective and subject to reasonable cancellation, the Football League has elected to enforce under its own rules.

Moreover, while I am already ousted, the Football League is now pursuing a new claim against me based on circumstances that do not belong to me and have already been clarified and heavily stigmatized by my lawyers.

All of the above leads me to reconfirm the decision already reached in January so that I may be free of defending myself as any normal citizen, and I will not hesitate to do so before any authority because of my honesty, my commitment and due care to the club for which I have already invested one year of hard work. This is what I am called for also honouring a team that I have loved and for all the support and attachment I have received from fans, players, employees, contractors and professionals who have been close to me and I wish to thank once again.
– Massimo Cellino
Leeds United head coach Neil Redfearn believes that his side are now on the up ahead of their clash with Millwall.
Leeds have won three out of their last four matches and could move eight points clear of the Championship relegation zone if they beat the Lions at Elland Road this afternoon
Advertisement
There'll be no love lost on Valentine's day when Leeds United and Millwall meet at Elland Road on Saturday.
Just 5 points separating Millwall in 22nd from Leeds in 17th and United's head coach Neil Redfearn is expecting a tough battle:
Leeds' former technical director has brought a High Court damages claim over his dismissal for sending an email containing "obscene" images
Read the full story ›
Former Leeds United player Clarke Carlisle has revealed he tried to take his own life by jumping in front of a lorry in North Yorkshire before Christmas.
The former England star told The Sun he thought he was better off dead after losing his TV pundit job and battling depression for 18 months.
He said the final straw came in December 20 when he was charged with drink driving.
Before he leapt in front of a lorry on the A64, Clarke told the newspaper he thought about trying to drown himself and even laid down on a railway line but moved out of the way before a train came.
Describing what happened next, he said: "I saw the big truck. I stepped over the barrier. I took two steps into the road and then jumped into the truck, like a full shoulder charge. I can remember the impact. Bang. Then lights out.
"I opened my eyes and I could see my hands in front of me and there's blood dripping down them. I thought, 'You're kidding me?'"
Clarke was airlifted to hospital after escaping with just a few cuts and bruises, a broken rib and a shattered knee.
The footballer has since sought treatment for his depression and has spoken out to encourage others to get help.
He added: "My road to recovery will be eternal but today I am excited and confident because I've finally been diagnosed."
If you have been affected by any of the issues in this article, you can call Samaritans 08457 90 90 90 or visit the website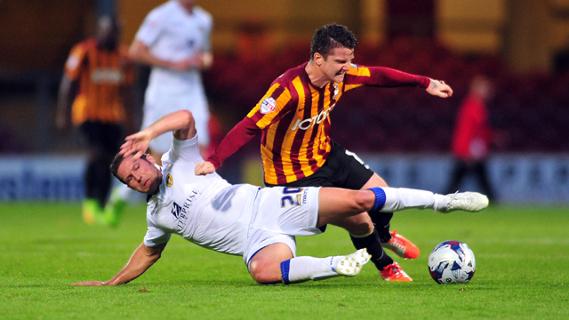 Load more updates