Skin cancer is one of the most common cancers in the world. Here's how you can spot the symptoms, diagnose and treat it.
Read the full story ›
Advertisement
A lane is closed on the M1 Northbound between J44 A6339/B6481 (Leeds South/ Rothwell) and J45 A63 Pontefract Lane (Leeds Cross Green) due to a spillage.
The inside lane on the M62 Eastbound is blocked causing heavy traffic due to a broken down lorry between J26 (Chain Bar) and J27 (Glidersome).
The leader of Leeds City Council has criticised the government's decision to ditch two 'flood envoys' appointed to oversee the flood recovery operation in the north of England.
Cllr Judith Blake said people are still anxious about the future and the government needs to provide reassurance for people across the Yorkshire region.
It comes on the day a report by the Calderdale Flood Commission said that flooding in West Yorkshire will happen again and could become more frequent.
Damien Midgley, a former riding instructor from Leeds was convicted of sexually assaulting four girls, all under the age of 13 in 2014.
Read the full story ›
Advertisement
Around a thousand bus drivers in Leeds will go on strike from next Tuesday as the row over pay continues.
Unite has accused bosses at First West Yorkshire of turning back on promised talks after the union suspended a strike, set for 11 July, as a goodwill gesture.
The union said that the management had taken an 'extremely aggressive' stance which had seen the Unite branch secretary and two other workers dismissed for legitimate trade union activity. A further 11 workers had been given final written warnings.
First Leeds denied any members of staff had been disciplined for any legitimate trade union activity although they were undertaking disciplinary action in relation to a number of 'serious allegations' that had been brought to the attention of the police.
The latest strike is due to start at 02.00 on Tuesday.
"We suspended the strike we were going to hold on 11 July as a goodwill gesture, as the management had indicated it wished to talk. "However, we waited and waited and nothing happened. It was only after we announced that we would be holding an all-out strike from next Tuesday that the company suggested talks on Monday. "However, on the bosses' past record, this could be another delaying tactic."
– Phil Bown, Unite regional officer
First Leeds claim this is a 'ridiculous' suggestion as they say talks were set and agreed on Tuesday morning and the notice for strike action was given on that afternoon.
The bus company says it is bitterly disappointed with the planned walkout. It says updates on services that will be operating on strike days will be available at www.firstgroup.com/leeds.
The pay dispute only affects First Leeds, and First bus services in Bradford, Huddersfield and Halifax remain unaffected.
"I'm very disappointed and deeply frustrated that Unite plan to cause such huge disruption for our customers in Leeds. This is not a last resort as Unite claim. Not only do we have a planned meeting before Tuesday to try and resolve the dispute, but Unite have repeatedly refused to let all staff vote on our above inflation offers. Unite seem intent on strikes supported by their war chest to pay drivers to strike"

"My team and I will continue to do all we can to bring this dispute to an end with a very fair and reasonable pay offer for our hard working drivers but not one that will damage the future of the business and bring fare rises for our customers."
– Paul Matthews, managing director of First Leeds
Campaigner Dr Kate Granger has reached her target of raising £250,000 for the Yorkshire Cancer Centre.
The inspirational campaigner was diagnosed with a rare and terminal form of cancer five years ago.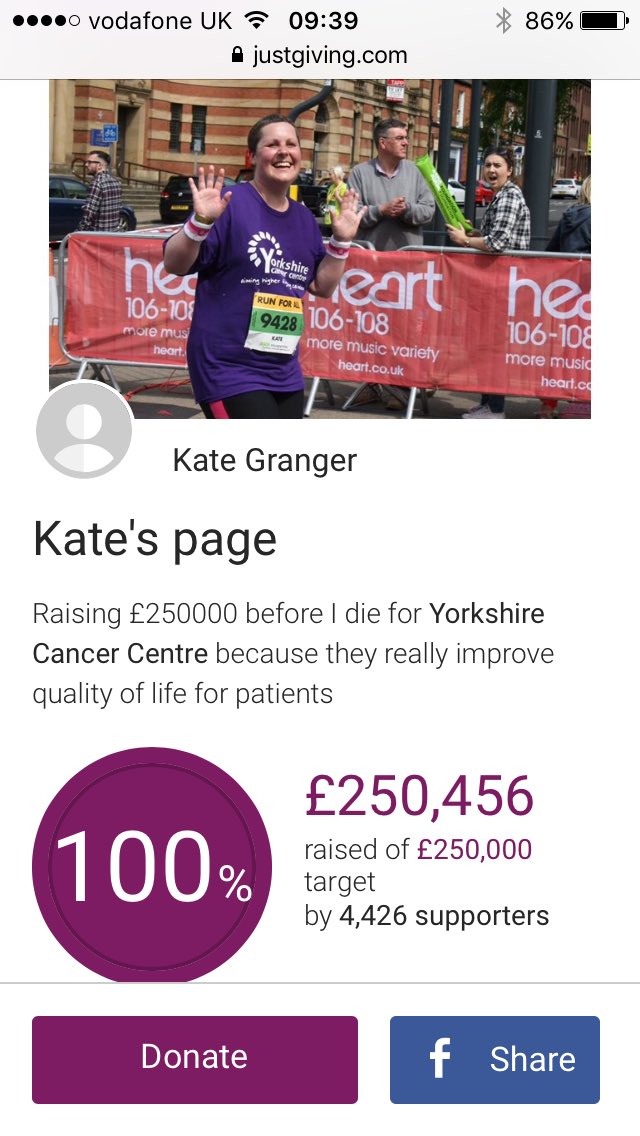 The hard shoulder has been closed and there is very slow traffic due to a medical incident on M62 Eastbound between J26 M606 / A58 (Chain Bar) and J27 M621 / A650 / A62 (Gildersome), with congestion stretching to J23 A640 / A643 (Huddersfield).
The traffic is affecting drivers travelling from Manchester towards Leeds.
A new survey reveals that more than a third of parents in Yorkshire and northern Lincolnshire believe their children to be scared of dogs.
Read the full story ›
Load more updates