Lord Falconer has resigned from the shadow cabinet, the same day that nine of his colleagues have either resigned or been sacked.
Falconer was the shadow secretary of state for Justice and shadow Lord Chancellor.
Advertisement
The shadow secretary of state for Northern Ireland Vernon Coaker has joined seven other members of the shadow cabinet and resigned.
The resignations follow the sacking of shadow foreign secretary Hilary Benn overnight.
He has released a statement saying he believes it is "time for the party to unite behind a new leader" and serve as an "effective opposition".
He adds: "I have sought to make it my priority to provide reassurance to the people and political parties of Northern Ireland that Labour remains committed to the principle of consent, as expressed through the Good Friday Agreement and subsequent agreements.
"I know my successor in this role continues this vital work."
Labour has descended into crisis as several high-profile members of the shadow cabinet have quit in the past few hours. Here's who they are.
Read the full story ›
Seema Malhotra, shadow chief secretary to the Treasury, has resigned from the shadow cabinet, sources said.
The MP is one of seven Labour cabinet members to have quit on Sunday, but ITV News Deputy Political Editor Chris Ship has said this resignation is "different" as she is closer to Mr Corbyn that her colleagues.
This is different: @seemamalhotra1 resigns. She is much closer to Corbyn than the others. Even introduced him at yesterday's speech
Kerry McCarthy has resigned as shadow environment secretary in protest of Jeremy Corbyn's leadership of the Labour Party.
The Bristol East MP joins Lilian Greenwood, Lucy Powell, Ian Murray, Gloria De Piero and Heidi Alexander, who have also stepped down from their roles.
In her resignation letter, she said: "Although I do not doubt your personal commitment to your long-held principles, I believe that a new leader is needed to take on the challenges ahead: Steering our way through the very difficult period facing this country, exerting a decisive influence on the post-referendum negotiations, and winning broad-based electoral support."
My letter to Jeremy Corbyn setting out some of the challenges facing us following Thursday's vote. https://t.co/EBbSnOlbaF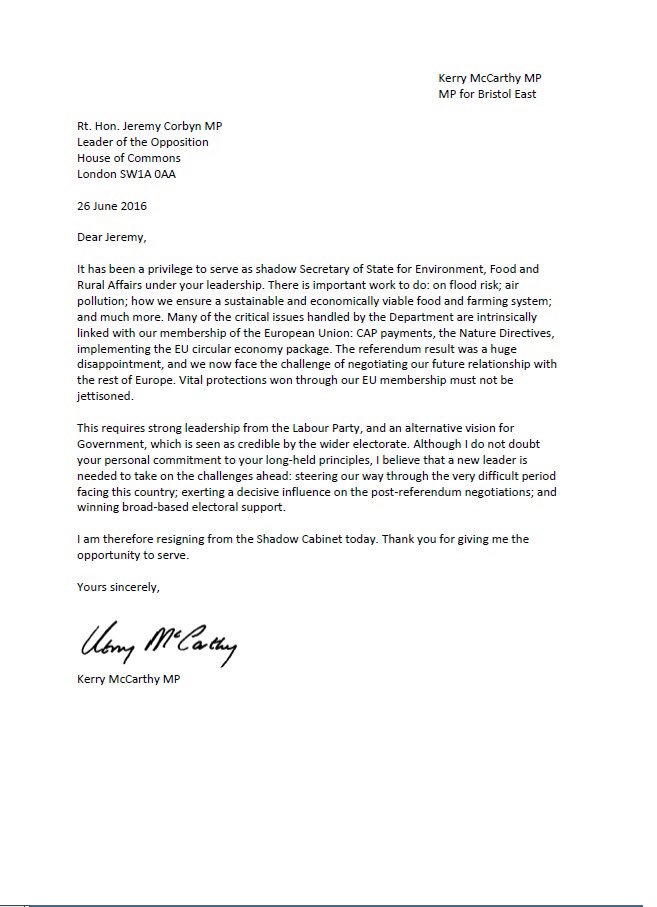 Advertisement
Shadow home secretary Andy Burnham has said he will not be taking part in a "coup" against Labour leader Jeremy Corbyn.
"At an uncertain time like this for our country, I cannot see how it makes sense for the Opposition to plunge itself into a civil war," he said.
Labour MP Lucy Powell has resigned as shadow education secretary, saying that Jeremy Corbyn's position as leader of the party is "untenable".
In a letter to the Labour Party leader, she said: "It is increasingly clear that your position is untenable and that you are unable to command the support of the Shadow Cabinet, the Parliamentary Labour Party and, most importantly, the country.
Given the big challenges faced by our country and our Party over the coming months, and the possibility of an imminent general election, I do not have the confidence that you can bring the Party together, lead us to a General Election and be an effective Opposition.
– Lucy Powell
Deputy Labour leader Tom Watson was partying at Glastonbury until the early hours, as the party's shadow cabinet began descending into chaos
Read the full story ›
Load more updates