A predatory sex attacker who assaulted three lone women while on the run from immigration authorities has been jailed for 12 years.
Read the full story ›
Leeds United will appoint a new head of recruitment with experience of the English game, director Adam Pearson has said.
The club is also looking for an assistant manager, along with a first-team coach to assist new head coach Uwe Rosler.
Rosler told reporters that he would like to work with a sporting director, adding: "It's coming more and more into English football."
The former Brentford and Wigan manager put pen-to-paper on a two-year deal at Elland Road today.
Advertisement
New Leeds boss Uwe Rosler says a top ten finish next season would be 'progression'.
The German coach has also paid tribute to his predecessor Neil Redfearn, and said he believe it is possible to work with owner Massimo Cellino.
Rosler is the club's fifth head coach in under a year.
There is a core of players with their best years in front of them, there is great potential.

Neil left a very solid foundation. This club has to be ambitious but expectations have to be realistic.
– Rosler on Redfearn
"I'm not suicidal. I wouldn't have come here if I didn't think we could work together.

The glass is half full, not half empty. That's my philosophy.
– Rosler on Cellino
Rosler has signed a two-year deal as Leeds' new head coach.
Neil Redfearn has been offered a return to the role of academy coach at Leeds United, club director Adam Pearson has said.
Confirming the appointment of Uwe Rosler as head coach, Pearson said the club is waiting for Redfearn's response to the offer.
New Leeds boss Uwe Rosler says he is delighted to have been appointed as head coach.
He told reporters:
I'm very happy. It doesn't get bigger than this. This opportunity came up at short notice and it was a no brainer.

I'm head coach. I'll be responsible for tactical approach, picking the team. I'll have an input in who comes in and who goes out.
– Uwe Rosler
Leeds United have appointed Uwe Rosler as their new head coach.
CONFIRMED: We are pleased to announce Uwe Rosler has been appointed as the new #lufc head coach on a two-year deal. http://t.co/VHhBK3b4We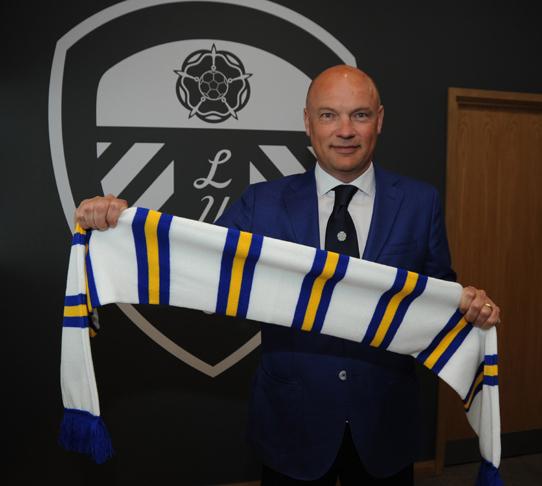 The former Wigan and Brentford boss has signed a two-year deal at Elland Road.
He is the club's fifth coach in under a year.
Advertisement
Several beaches across the region have been awarded the coveted Blue Flag for the quality of their water and management.
The central beaches in Skegness, Mablethorpe and Sutton on Sea and Bridlington North beach in East Yorkshire have all been given the status meaning they're among the best in the country.
Blue flags will also be flown at four beaches in North Yorkshire including beaches at Scarborough North Bay and Whitby.
Richard McIlwain from Keep Britain Tidy has described it as a 'phenomenal result':
Leeds United will confirm the appointment of Uwe Rosler as their new head coach, ITV News understands.
The former Brentford and Wigan boss will be presented to the media at a press conference later today.
Rosler will replace Neil Redfearn who Leeds owner Massimo Cellino described as 'a baby' earlier in the week.
Leeds United have called a press conference for this afternoon to unveil their new head coach.
A statement said that club director Adam Pearson will present Neil Redfearn's replacement to the media.
Redfearn's future has been up in the air since owner Massimo Cellino's press conference earlier in the season, where he revealed he had doubts about the coach's credentials.
According to reports, former Brentford and Wigan boss Uwe Rosler will be the new head coach.
The Yorkshire Cancer Research charity has announced it will fund £1.5 million pounds of research into whether Omega-3 can help prevent bowel cancer returning after surgery.
Four-hundred-and-fifty patients will take part in the study which has been announced to mark International Clinical Trials Day.
Some of the patients who are having surgery to treat bowel cancer which has spread to the liver will be given a concentrated form of Omega-3, while others will be given a placebo, to see if long-term treatment improves survival.
Around 15 per cent of all liver surgery for bowel cancer in the UK is performed in Yorkshire.
The study follows earlier investigations funded by Yorkshire Cancer Research, which tested the effect of EPA on cancer cells in the lab. The team also conducted a small, preliminary 'window' trial, which suggested some survival benefit.
We are extremely proud to be funding our first Phase III clinical trial. This is a highly significant development in our new strategy to drive major improvements in cancer outcomes in Yorkshire. By bringing more clinical trials to the region we will ensure patients have better access to pioneering treatment.
– Charles Rowett, Chief Executive Officer at Yorkshire Cancer Research
Load more updates