Hassan Qadri from the Muslim Youth League UK has told ITV Calendar that the government has been slow in tackling radicalisation in the UK.
Speaking on the 10th anniversary of the 7/7 London bombings, Mr Qadri urged David Cameron to reach out to the Muslim community to deal with extremism.
ITV Calendar spends a day at Park View Primary Academy in Beeston speaking to those determined that atrocities of 7/7 never happen again.
Read the full story ›
Advertisement
More than a dozen community leaders and residents from Beeston have come together to discuss how things have changed in the community since the London bombings ten years ago.
Duncan went along to host the debate with a wide cross section of the local neighbourhood:
The CEO of the Hamara Healthy Living centre in Beeston said it was "the most surreal and traumatic moment of my professional career" when he realised bombers were from Leeds.
Hanif Malik was speaking after Leeds City Councillors at an event in the city's Civic Hall marking ten years since the 7/7 bombings.
The Lord Mayor of Leeds has led the silent tribute in the city where three of four London bombers lived and made their deadly devices, saying: "They did not represent this city 10 years ago and they do not represent it now."
Judith Chapman was joined by a range of civic leaders for an official ceremony to mark the 10th anniversary of the 7/7 attacks.
Ms Chapman told the gathering in the city centre: "We stand in solidarity with the city of London in commemorating these tragic events.
"Three of the perpetrators came from Leeds yet they knew nothing of the values of this city or of tolerance, respect and democracy."
The Lord Mayor said: "We know we stand side-by-side with the people of Leeds in opposition to terrorism and we stand side-by-side in having tolerance and respect for each other."
Advertisement
Downing Street have released an image showing the message the Prime minister wrote on the wreath he laid at the 7/7 memorial this morning.
PM: To the victims of terrorism in London ten years ago today. We grieve your loss & will honour your memory forever. http://t.co/hgLiHljkvR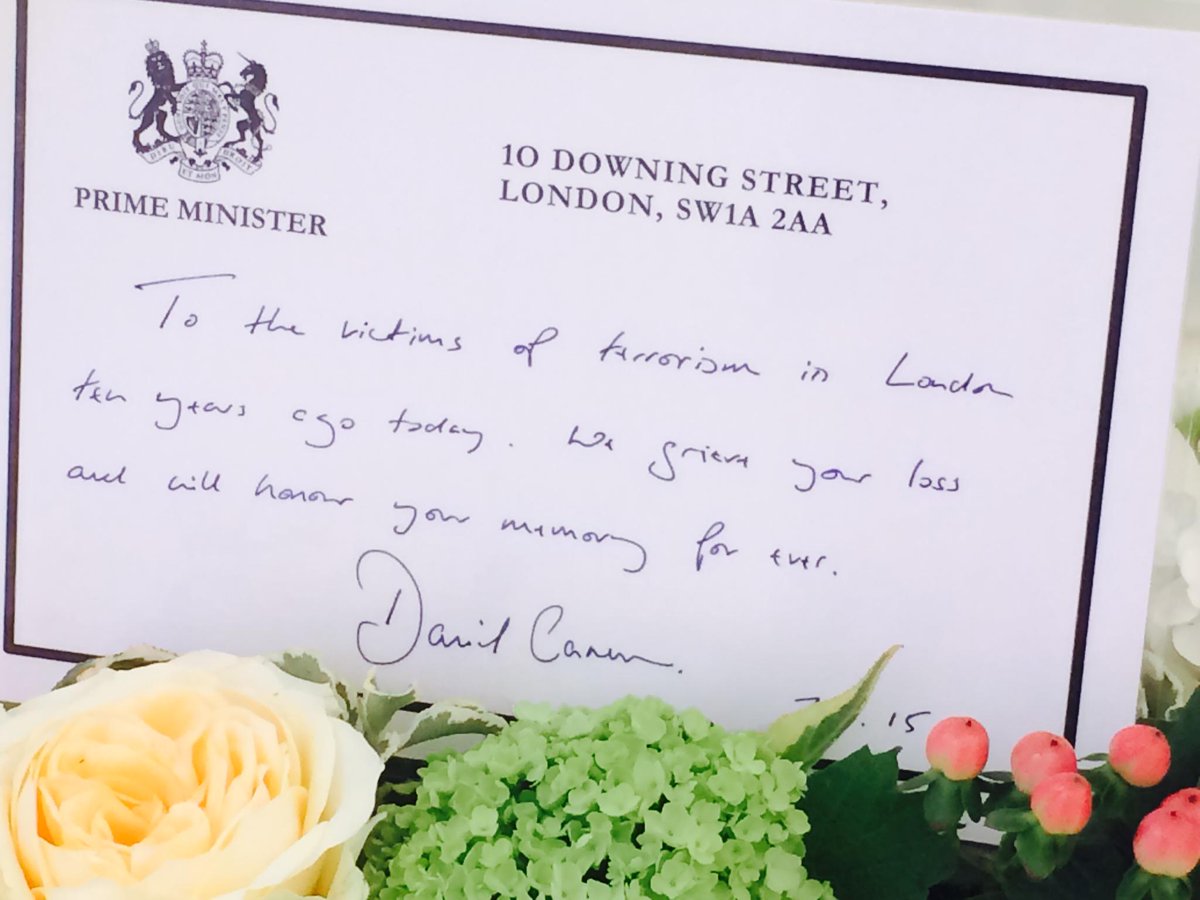 To the victims of terrorism in London ten years ago today. We grieve your loss and will honour your memory forever.
– David Cameron
David Cameron and Boris Johnson have laid wreaths at the 7/7 memorial in Hyde Park at the beginning of a day of remembrance ten years after terrorists detonated four bombs across the capital killing 52.
The Prime Minister has tweeted ahead of a day of remembrance a decade after the London July 7th bombings.
David Cameron tweeted to say that: "the threat continues to be as real as it is deadly – but we will never be cowed by terrorism."
At 11.30am today, the country comes together to remember the victims of one of the deadliest terrorist atrocities on mainland Britain.
Ten years on from the 7/7 London attacks, the threat continues to be as real as it is deadly – but we will never be cowed by terrorism.
The leader of a prominent Muslim organisation set up a month after the 7/7 attacks to campaign against terrorism and prevent radicalisation says there is still work to do, ten years after the attacks.
Mohammed Shafiq from the Ramadhan Foundation was in London on the day of the bombings and said he "saw the best of London, people of all faiths coming together in unity to send a defiant message to the terrorists that you may wish to divide our communities but you will fail and they did indeed fail".
Today ten years on from the 7/7 terrorist attacks we remember all those killed and injured and their loved ones. They were killed by evil men who were driven by hate and a poisonous ideology, which has distorted Islamic teachings. British Muslims stood with the victims on that day and do so again today; we reject this terrorism and ideology and commit ourselves to work with all to protect the safety and security of our country and fellow citizens. The terrorists were not acting in the name of Islam, their crimes are an affront against our peaceful religion and Muslim scholars from around the globe have rejected this ideology.

Sadly we still have more work to do, there are too many young people being groomed by ISIS online and in recent days more families choosing to put their own and their children's safety at risk by travelling to Syria. We need to engage young people, give them a voice and hear what it is that drives them to carry out this violence. Not to do this or ignoring young people will not help us defeat this ideology. As British Muslims, we stand with the Police and intelligence agencies for the hard work they are doing to protect our nation and stand ready to help them.
– Mohammed Shafiq, Ramadhan Foundation
Load more updates